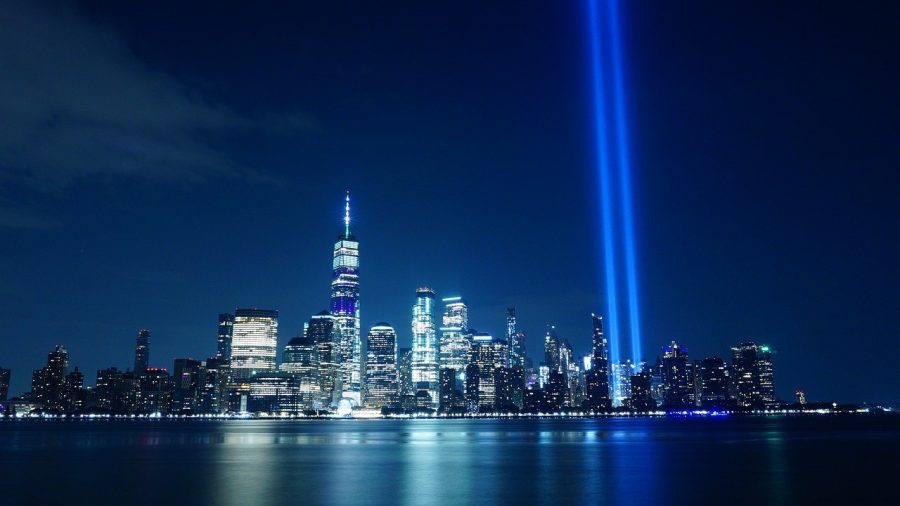 Tuesday, September 11, 2001. What started as a sunny New York day, quickly became one of the worst days in American history. American Airlines Flight 11 from Logan International Airport took off from Boston and was heading for Los Angeles when it was hijacked by 5 members of the terrorist group Al-Qaeda. About 45 minutes after takeoff, at 8:46 a.m. ET, lives of Americans from New York City, to FWCD, to the rest of the world were changed forever. 
   Every American knows exactly where they were at the time the first plane hit. Every American has their own story of how that morning and day unfolded for them. It was an indescribably dreadful day, where our FWCD community was extremely lucky to not be directly affected, but many families across the world were not that lucky. 
   It started as a normal Tuesday in New York City. The overnight storms had moved out and the skies had cleared for a bright, sunny morning. At 8:46 a.m., American Airlines Flight 11 crashed into the North Tower of the World Trade Center. Cameras, helicopters, and eyes turned to the sky immediately. 
   At first, most believed it was an accident. Until 17 minutes later. With the whole world watching, the North Tower and the plume of dark smoke pushing away from the building and clouding the sky, another commercial plane crashed straight into the South Tower. These accidental beliefs quickly were overcome with realizations that America was under attack. 
   As the chaos unfolded in New York City, two more planes had been hijacked in the air by members of Al-Qaeda. The first of these two crashed into the Pentagon around 9:37 a.m. The fourth and final plane crashed into a remote field in Shanksville, Pennsylvania, a small, remote town that lies about 80 miles east of Pittsburgh. The heroic efforts of the passengers on board saved this flight from clear danger as the passengers recognized what was happening and overtook the plane from the hijackers. 
   These four flights changed the lives of millions that day, and the lives of every American and arguably all of humanity forever. I asked members of the current FWCD Upper school faculty to share some of their stories and memories from that day. From FWCD to New York City, our faculty responded and stressed the importance of passing their stories on and continuing the remembrance of this day. 
   On Wednesday, September 8, US Government teacher Bill Arnold '86 spoke to the students during announcements about the importance of 9/11 and what the day means to him. Arnold was in between his first and second-period classes when he was informed of the what was taking place in New York City. He recalls asking his second-period class to grab a notebook and take notes as they listened to WFAA (ABC's local radio station) as the events unfolded. He described this decision as "the most important teaching decision I have ever made." 
   "I was sad, mad as hell… confused, disoriented," Arnold '86 said. "I didn't realize that in 25 minutes, my life would change forever." 
   From that class period alone, Arnold has over 14 pages of notes. He mentioned that he receives calls every year from the students in that class thanking him for that assignment. 
   The attacks of 9/11 changed Arnold's life in more ways than one. 
   "It set into motion a series of events that sent me on an 8,000-mile journey," Arnold said. 
   Fellow colleague and US Publications teacher, Lisa Wallace, had just begun her first year at FWCD. Three weeks into her Falcon tenure, she dropped her kids off at school and was headed to FWCD like most mornings when the first tower was hit. 
   "I got to school and sat there frozen. I was thinking, 'I bet nobody at school even knows,'" Wallace said. 
   Wallace recalled the day mostly being spent with classes gathered around radios or the one TV in the library. Kids weren't allowed to leave by themselves and many parents felt their kids were safer at school. She discussed her feelings for Ms. Wakeland and the administrators as they tried to assure everyone that it was all going to be okay when they had no answers. 
   "It was one of the hardest days I have ever had as a teacher," Wallace said. 
   US Interim Head Peggy Wakeland was the Assistant Division Head of the Upper School at the time. She was in her office at the time of the attacks and remembers Tiffini Crum, the US Administrative Assistant, calling to her to come see what was going on on her computer screen. 
   "I wasn't really sure what she was showing me, but she said, 'Look that airplane just flew into the tower in New York… and about that time, the other plane flew into the other Trade Center tower, and of course we were flipped out."
   Wakeland recalled immediately calling US Division Head John O'Reilly, who was off campus on that day, and asking what he wanted her to do with the kids. O'Reilly called for an assembly and returned to campus to address the students. O'Reilly told the audience that classes would be canceled. 
  "We gave everyone an opportunity that needed to or wanted to call parents to pick them up, or if they just wanted to be here, and be together with their friends, they could, or if they needed counseling, we had our counselor here that could work with them. The kids just pretty well took care of themselves," Wakeland said. 
   A lot of families were impacted through the mandatory flight grounding. Many kids had relatives on planes heading to the east coast when they were grounded at the nearest airport. 
   Later in the day, Wakeland began to walk around the campus and found the interim Head of School, Peter Briggs, in the library. Briggs was living alone, while his wife lived up north. 
   "Time was just frozen. You didn't know what to do because there wasn't a lot of that you were even allowed to do," Wakeland said.
   Wakeland remembers growing up in school, learning about Pearl Harbor. 
   "When I was in high school, I learned and studied it, it happened a decade before I was born. So, even though I understood it and the meaning of it… I heard about it and studied about it, it's similar to what you guys today are dealing with," Wakeland said. "It is an important time in our country when our soil was actually attacked, and it's important to know that we are vulnerable, but that we can respond." 
   US History teacher and History Department chair, Colin Douglas '06, was in eighth grade at FWCD at the time of the attacks. During his interview, Douglas talked about how he remembers 9/11. On Tuesdays, he would go home from school with a friend named Luke Walton. Around 2001, the first-person arcade shooter games became a huge hit with the younger generation and Walton had a game called Counterstrike. Since Douglas was not able to play at home, this meant that on Tuesdays, he got to play. 
   "I always looked forward to getting to go home with him because we would be able to play [Counterstrike] that specific computer game for an hour or two."
   When Douglas got out of his first-period math class, he remembers everyone flowing to the theater for an announcement. As he headed down the stairs, he remembers his best friend stopping him and saying, "Dude, the towers are down." 
   He recalls getting to the theater and hearing the MS Division Head giving the announcement of what was going on in New York, and similarly to the Upper School, the kids were told they could go home if their parents wanted to pick them up.
   "The rest of the day kind of just went on its merry way. I was too young and naive to really know the impact of the moment," Douglas  said. 
   Douglas recalled being most excited about getting home to play Counterstrike. Essentially, Counterstrike is a two-sided game, S.W.A.T. Team, and Terrorists.
   "I remember having this kind of moral dilemma because I never got to play this game and that's why I looked forward to it," Douglas said. "So at some point, me and my friend kind of realized, you know this is kind of a big deal. And what really set it off for me was they were showing clips and pictures of people hanging out of windows or waving things out of windows, and they referenced people jumping out of towers to their deaths."
   He recalled the eighth-grade naivete just kind of taking over everybody's lives as people tried to figure everything out. 
   But for some of the current US faculty members, their stories come from all around the country. 
   US Spanish teacher, Molly Risewick, was teaching at Western Hills High School in Fort Worth and remembers a few students in her second-period class running up to her to tell her that the towers had been hit. 
   "I knew what the Twin Towers were, but I could not comprehend the reality of that," Risewick said. "I felt that I had to do what I know."
   To not create more panic, Risewick felt that she needed to keep the students doing what they would normally do, Spanish. A few moments later, the principal used the public address system to inform the students of what had taken place in New York.
   "I just remember for days, people being glued to their televisions. I just remember after watching it the first time, being like 'I can't do this like that's horrifying,'" Risewick said. 
   She also recalled the massive amounts of people from all over the country driving to New York in droves with supplies, to be ready to help, to do whatever they could.
   "It's weird, you know when a tragedy like that strikes," Risewick said. "All of the crap that we are seeing right now in society with people being so divisive if you're one political party or another. But, when you have a major crisis, all of that gets pushed aside because it's about helping whoever you can first."
   US history teacher Jennifer Giroir had just begun her time as a teacher when the attacks of 9/11 took place. She was teaching seniors at her alma mater in Baton Rouge, Louisiana, and had called in sick the morning of September 11. She remembers her favorite thing to watch at home was the Today Show, and on that morning, she flipped the channels to check the weather for the approaching storm in Louisiana. 
   After flipping back to the Today Show, Giroir saw the horror on the screen of the footage with the smoke pushing away from the building. She yelled for her husband to come look at what had happened. 
   "We were both sitting there together when the second plane hit. I remember my husband having some very choice words and saying, 'This is not an accident. Oh my god,'" Giroir said. 
   She recalled memories from her childhood of her grandfather becoming very frustrated when people discussed Pearl Harbor and didn't understand the importance of the day. 
   In the attempt to cover the story, Giroir feels that the lack of understanding of the situation made the story not only hard to cover, but also made it so much scarier for the people. 
   "I just felt so ignorant. I didn't understand what was happening. I was afraid of the rumors… I was holding my breath for the longest time just waiting for something to happen," Giroir said. "I became obsessed with finding out everything that I could. Watching the stories about the people in those buildings absolutely burning alive, and jumping out of windows, and listening to the people on the audio, and your heart breaking every single time." 
   Giroir feels that the generation now has a disconnect with 9/11 the way her generation did with Pearl Harbor. The lack of learning about the day frustrates her to this day. 
   "This is important. We are fighting this war still. We are still faced with this when we go into airports. Our entire lives have changed because of this day, because of this moment," Giroir said. "We have to know it and understand it to continue the memory of the innocent people that lost their lives."
   But some of the US faculty were much closer to the events of 9/11 than others. US math teacher and math department head, David Hoppe, was teaching at the Dalton School in Manhattan when the attacks happened. US physics teacher, John Cordell, was teaching at the Talent Unlimited High School, just over a mile away from the Dalton School. 
   Hoppe recalled walking into the school building that morning with his wife, Teresa, the Lower School Academic Support Coordinator at FWCD, and being nervous about holding her hand as they entered. Teresa was teaching second graders at the time and did not want her kids to see her holding someone's hand when she came down the hallway to her class to avoid the second-grade drama that would unfold. 
   David Hoppe was teaching a geometry class on the first day of school at Dalton when another professor began pounding on his door to tell him that the first tower had been hit. Some of the teachers then began filing down to the math lab to watch the events unfold on the computers when Teresa received a call from a friend who was a lawyer in the North Tower. 
   "They were watching the flames of the other tower and they were being pressured by their boss to get back to work. They were being told you can go home if you want, but you're not going to be paid today. So, they were having this conversation back and forth like you should go home, and he's like well if I go home I'm not going to get paid," Hoppe said. 
   That lawyer did not make it out. 
   Following the first tower being hit, parents began walking all over New York City and from Ground Zero to pick up their kids at the school. Hoppe distinctly remembered one man entering the building that stood out. 
   "One was the husband of the head of the languages department. He was just covered in soot," Hoppe said. "I'll never forget that view. He came out of the elevator on the fifth floor and he truly looked like someone had sprayed him with a fire extinguisher. But, he made it back. He walked from Ground Zero."
   At the end of the day, as David and Teresa walked home, he remembers the beauty of the day, until he turned and saw the smoke.
   "A perfect blue sky day, and there's these streams of smoke going up that you can see from my vantage point," Hoppe said. 
   The Hoppes lived in an apartment building right next to a fire station. He realized early on in his time living there that anytime he saw the doors down, the firefighters were responding to a call. 
   "Those doors were down for about five days. They lost 13 men and only 5 of returned to that fire station," Hoppe said. 
   Just up the road from the Dalton School, John Cordell was teaching at the Talent Unlimited High School. He biked to school early that day to meet some kids to do a lab. 
   "That day is a lightbulb moment for me. I don't remember September 10. I vaguely remember September 12. But it was a beautiful, beautiful morning," Cordell said. 
   Cordell heard about the news of the first crash while getting photo copies from the office when one of his colleagues said a plane hit the World Trade Center. His first thought was a private plane got too close. 
   But, after his second period class, he went back to the office, and they told him a second plane had hit. At that moment, Cordell began to realize that this was something much more. The teachers were instructed to keep teaching. 
   "On a normal day the traffic noise was overwhelming. But, one of the things you remember from that day was that very quickly there was no traffic in Manhattan. So, it was quiet," Cordell said. 
   Cordell mentioned that the distance between the school and the towers meant that they couldn't hear the impact of the two crashes or the noise from the collapse of both towers. 
   The school began preparing to keep the kids overnight. The students at this school used public transportation to get to and from school every day and came from all five burroughs. 
   Cordell wanted to help and decided he would try to go donate some blood. He laughed that the issue was everyone had the same exact idea. The blood drive staff eventually told people to go home because they were understaffed and couldn't handle the massive lines of people. 
   On Cordell's way home, he biked easily all the way until he reached the 59th bridge, where he was forced to walk across the bridge with the mass of people walking out of Manhattan. 
    New York schools went back to school on Thursday, September 13, to allow families to get back to their routines and let parents try to get back to work or help.
   "I taught all day on September 11. We got the 12th off, and we were back on the 13th," Cordell said. 
   As Arnold told the US students on Wednesday, "the decade prior to 9/11, we were a confident nation. We felt safe and insulated… very few people could find Afghanistan, Iraq, or Yemen on a map."
   But Arnold is excited for the future of America. He believes "there is hope underneath the rubble." He says the twenty years that have passed since 9/11 have him hopeful for the next twenty. 
   "Our young people today are just as resilient," Arnold said. "Much of the heavy lifting of today is done by the war generation."

— photo by Pixaby, taken Sep. 11, 2019