A Day in the Life of @suttonhowardthrows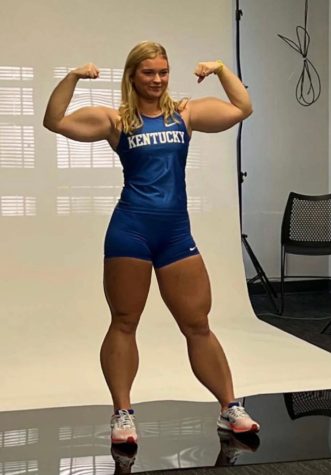 The woman, the myth, the legend: Sutton Howard '23. To see her is to fear her, but to know her is to love her. Howard wakes up every morning promptly at 5:30 a.m. and dry scoops her daily dose of Creatine, a powder used by athletes to help their muscles produce extra energy for high intensity workouts. She then gets a light pump in before her daily five-mile run around the FWCD campus. If you are lucky, it's possible that you will see the infamous Head Football Coach and Howard's known sidekick, Keith Burns, running alongside her. 
Since Howard is a senior, she often enjoys asserting her well-known dominance over the meekly underclassmen in the Upper School Commons.
Most of the time, you can spot Howard with her big gallon of water jug clanging in one hand and her throwing hammer in the other. Speaking of her hammer, if you didn't already know, Howard throws the discus and shotput on the track team and has smashed at least 50 school records already. She posts all of her throwing videos, and sometimes videos of her squatting 300 max, on her Instagram account @suttonhowardthrows.
After a long morning of classes, Howard makes her way into the lunch cafeteria, shoving freshman aside as she goes. Here, Howard makes her daily sandwich that consists of: wheat bread (or the specialty bread of the day), provolone cheese, lettuce, and turkey. Howard then uses the panini and fills an entire side plate with chipotle mayo sauce to accompany her sandwich. After finishing the sandwich, Howard downs a protein shake and grabs two bananas on the way out. 
During her free period, Howard moises along to the Patton Field House in order to get her second lift in of the day. She usually bench presses a few freshmen and then calls it a day. Coach Shane Jenke, who lives in the weight room, watches over the workout and plays Howard's special workout playlist for her on the loudspeakers. It's called "Vehicular Manslaughter" on Spotify and was cultivated by one of Howard's best friends, Caroline Homan '23.
At the end of the day, Howard goes to volleyball practice for a few hours. After practice, Howard hops on her horse and rides home from school. She keeps her horse, Coal, on campus next to the chicken coop by the baseball field. Since the administration is afraid to face wrath of her, they allow her to let Coal roam around campus sometimes. So, if you see any horse manure on the sidewalks, thank Sutton Howard. 
Speaking of her horse, Howard is truly a cowgirl at heart. She often competes in horse shows, and could rope anything within a mile distance from her. Because of this, Howard often finds her heart torn between her country girl and athletic phenom personas.
After Howard comes home from school, she finishes her homework, works out again, and then plays with her dog, Pebble. Pebble is a beastly dog who, like Howard, is extremely athletic. Pebble is known for jumping on top of people who swim in their family's pool and running around their backyard all day with zoomies. 
Finally it is time for bed for Sutton Howard. She chugs a gallon of water and does her skincare routine. Sometimes she has sleepovers with her younger sister, Sloan Howard '25. However, most of the time she crawls in bed and finishes the night watching her favorite episodes of the show "River Monsters" and calls it a day.