Mrs. Gio is the One for Me-o
Anna Giovanetti's room is dim and calming when you first walk through the door. She has quotes from famous people around her room that have made an impact around the world, such as Nelson Mandela: "A winner is a dreamer who never gives up." The chairs are in a circle ready for discussion. 
"The lights are so harsh. I like everyone to be chill and calm while doing classwork," Giovanetti said. 
Giovanetti has three cats, Nellie, Teddie, and Ebie.
She loves to run, likes to bike, and her number one hobby is reading books. 
"I like staying active and I am proud of reading a book each week" Giovanetti said.
"They are my pride and joy," Giovanetti said.
Giovanetti, US government teacher, moved to Fort Worth in December 2021 for her husband's new job at Lockheed Martin.
"He works on the F- 35's and F 16's," Giovanetti said.
They got married May 7, 2022.
When Giovanetti and her husband first moved to Fort Worth, she started working as a study hall coordinator and substitute teacher in the middle school at Fort Worth Country Day.
"I really enjoyed getting to know the students," Giovanetti said. "I was mostly with fifth graders, so I loved being able to have them for study hall and then substitute here and there." 
She now teaches American Government and Civics to tenth graders in the Upper School and does lockstep with Sara Teegarden, US History. 
Lockstep teaching is a format in which all of the teachers in that department are all teaching the same thing, at the same time, and are expected to achieve the same results.
"She thinks outside the box like I do," Teegarden said. "We have very similar goals in terms of our jobs. It's really nice to have somebody else giving me a fresh perspective. It's also a lot of fun getting to build a class with someone else, and that's so infinitely more fun than doing it by yourself." 
Giovanetti is also an assistant cross-country coach for upper school students.
"My favorite part about [coaching] cross country is cheering them on, on Saturdays at our meets. I yell at them to run faster if we are about to hit a new PR," Giovanetti said. 
Before working as a teacher, she received an undergraduate degree in political science from Elon University and a Master's degree in secondary education from Rollins College. 
"Elon was a small school and it was kind of hard because I was away from home, Orlando, Florida, but it was definitely an amazing experience," Giovanetti said. 
After getting her respective degrees, Giovenetti worked at the high school she attended as a teenager, Bishop Moore High School in Orlando, Florida. Giovanetti worked there as a social studies teacher for a year and a half. 
Her mentor, Doctor Yu, helped her get her degree from graduate school from Elon University.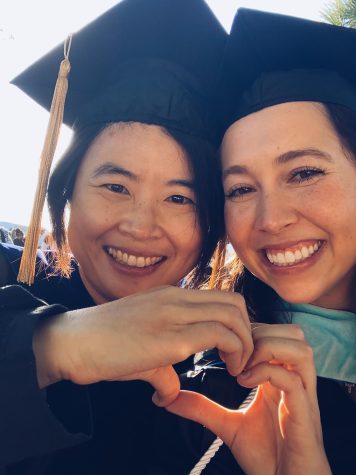 "She was the greatest mentor," Giovanetti said. "She watched my student teaching in my very first semester at a high school. Some days, I would have really bad days, and she would completely lift me up." 
Her students are enjoying "Mrs. Giovanetti's" class and her style of teaching.
"Mrs. Giovanetti makes her class really fun and I love the interesting discussions we have in her class," Lauren Howell '25 said.