Roger Federer Completes His PeRFect Career at the 2022 Laver Cup
103 career titles. 20 Grand Slam titles. 1251 tour match wins. Never retired in a tour level match. Ended as the World Number One five times during his career. Only one man fits this description. Only one man will ever fit this description. He started as a ball boy, turned pro at the age of 16, won his first grand slam in 2003 at Wimbledon, won his 20th grand slam at the 2018 Australian Open, and officially retired from tennis at the age of 41 after the 2022 Laver Cup. His name is Roger Federer.
A few days after Carlos Alcaraz won the U.S. Open, Roger Federer announced that he planned to retire from tennis after playing at the 2022 Laver Cup. The Laver Cup is a three-day tennis event involving the top men's tennis players from Europe and the rest of the world. At this year's Laver Cup, starting on September 23 and running through September 25, Federer, Rafael Nadal, Novak Djokovic, and Andy Murry, or the 'Big Four,' filled four of the seven spots on Team Europe's roster. This was the first year where all of these tennis greats were a part of Team Europe. The other members who made up Team Europe included Casper Ruud, Stefanos Tsitsipas, Matteo Berrettini (Alternate), and Cameron Norrie (Alternate). Berrettini and Norrie filled in for Federer and Nadal, or "Fedal", after they dropped out of the Laver Cup after playing their doubles match on the first day of the tournament. Frances Tiafoe, Diego Schwartzman, Taylor Fritz, Jack Sock, Felix Auger-Aliassime, Alex De Minaur, and Tommy Paul (Alternate) made up Team World at this year's Laver Cup.
Federer played his last match with one of his best friends on tour, Nadal. They faced Frances Tiafoe and Jack Sock of Team World. After "Fedal" took the first set six to four, Sock and Tiafoe forced a tiebreak in the second set, which Team World won seven to two. The two doubles teams played a 10 point tiebreaker in place of a full third set. "Fedal" battled hard, but fell short, losing the tiebreaker nine to eleven. After both teams shook hands at the end of the match, Federer was given a proper farewell, leaving many in the crowd and on the court emotional, including his friend Nadal.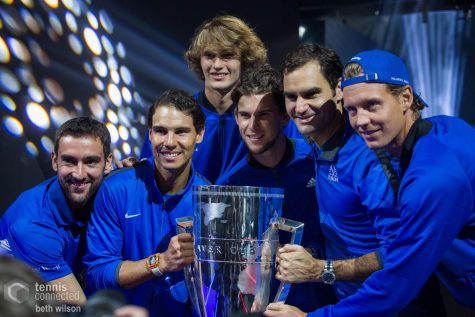 Roger Federer inspired many throughout his career, including many of the young players on tour. Seeing how other players were visibly upset after he played his last match alone shows how much Federer impacted those around him, not just the players on tour with him, but also all of his fans. Many people hoped that this day would never come, but now it has, and so clearly Nick Kyrgios is the only person who can fill the void of Federer's class and poise on the tennis court.