The Moody Center Becomes Harry's House
As I'm going down the escalator and looking around, all I can see are rainbow colored lights, feather boas, and a huge balloon display surrounding a tour poster that reads "Love On Tour, 2022" in big, bright letters. I'm at the Harry Styles concert. 
The Grammy Award-winning artist had a six-night residency at Austin's Moody Center spanning from September 25 to October 3, 2022. It was his only tour stop in all of Texas, following his impressive, record-breaking 15 sold out shows at Madison Square Garden in New York City. Styles dropped his third solo and most recent album, "Harry's House," on May 20, 2022 and announced the new leg of his tour shortly after. The leading single from his album "As it Was" held the top spot on the Billboard Hot 100 songs chart for over 14 weeks, tying other artists for the fourth longest reign in Billboard's history. After having gone to his concert last year in September of 2021, I was eager to attend one of his shows this year in Austin. 
I went with my friend and fellow concert enthusiast, Caroline Homan '23, to Styles' final show in Austin on October 3. As we were walking in, it was like everyone around us knew that this was not only a Harry Styles concert but also a fashion show. The majority of people were either wearing gogo boots, sparkly tops and pants, or some kind of replication of one of Styles' iconic outfits. It was amazing. 
"
"I loved seeing Harry Styles in Austin. He was such a great performer, and we were in the pit, which made the experience even better… I've seen lots of concerts, and Harry is by far one of my favorites.""
— Caroline Homan '23
After taking a few pictures and buying multiple things from his merch shop (including a fabulous tote bag, a tour poster, a t-shirt and a sweatshirt), Homan and I got to the pit. Styles' opener, an artist named Gabriels, had just finished his act and the waiting for Styles began. 
Promptly at 9:00 p.m., the lights went off and an intro video started playing on the jumbo screens above the stage. Next thing we knew, Harry Styles appeared on stage and started singing "Daydreaming," a song from his newest album, titled "Harry's House." It seemed like every single person in the arena knew all the words to every song he played. Homan and I were in the pit, and let's just say it was packed and sweaty. But somehow we found ourselves at the front of the barricade not even halfway through the show. Lucky for us, right when we got to the front, Styles headed over to our side of the stage to perform his well-known songs "Satellite" and "Cinema." We got lucky because it seemed like he played to our particular section of the arena the most, which meant he was right in front of us for most of the show. And by right in front of me, I mean about five feet away.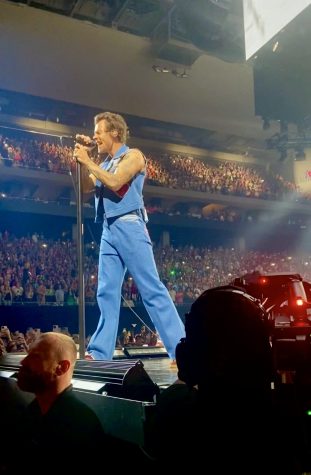 As the show continued, Styles made conversation with the audience and even sang "Happy Birthday" to a girl and her grandmother who attended together. One of the reasons why his shows are so entertaining is not only because Styles is a great performer, but also because he looks like he is having so much fun himself. During the concert, he was constantly dancing and laughing, and at one point even put on a sparkly pink hat that an audience member threw up on the stage for him. His stage performance seemed very natural, almost as if he was made to be up on that stage under the big bright lights. 
To end his concert, Styles sang "Sign of the Times," "As it Was," "Kiwi," and an unreleased song from his repertoire called "Medicine" for the encore. 
The energy that comes from being at a Harry Styles concert is unlike any other I have experienced. Maybe it's because of all the fun outfits or maybe it's just the certain type of people that Harry Styles' shows attract, but somehow every single person in the arena looked like they were having the time of their lives, including me.
If Harry Styles ever comes back to Texas, whether it is Dallas or Austin, I'm going to be there and I cannot recommend enough that you should be too.