:)
"Smile," directed by Parker Finn, is a psychological-horror/rom-com that was released in theaters on September 30. The movie stars Sosie Bacon, Kyle Gallner, Jessie T. Usher, Kal Penn, Robin Weigert, Caitlin Stasey, Matthew Lamb, and Gillian Zinser. "Smile" is still available in theaters and while it is not currently available on any streaming platform, it's expected that the movie will be released on Paramount Plus in November.
The movie follows Rose, a psychologist played by Sosie Bacon, who experiences hallucinations after she witnesses the death of a patient who seemed to have experienced the same hallucinations. Throughout the movie, Rose attempts to figure out the cause of the hallucinations and tries to get rid of them while also trying to manage her broken engagement with Trevor, played by Jessie T. Usher, as she falls back in love with her ex, Joel, played by Kyle Gallner. 
While neither of us are particularly horror-movie fans, and while we never originally planned to watch "Smile," we thought it might be fun when our trusted journalism teacher, Lisa Wallace, suggested that somebody should write a review on the new release. 
We bought our tickets online for the next day, Friday, the day of the movie's premiere. When choosing our seats, we thought it was a little odd that the theater was practically empty considering it was a brand-new movie, but we figured that it might fill up a little later – it didn't.
Since the movie was R-rated, for "strong violent content, grisly images, and language," we required the help of an adult to get us into the movie. Carolina's mom volunteered to take us, even though she hates horror movies. These fears became evident to us in the car, when she was telling us about how truly terrified she was to watch the movie.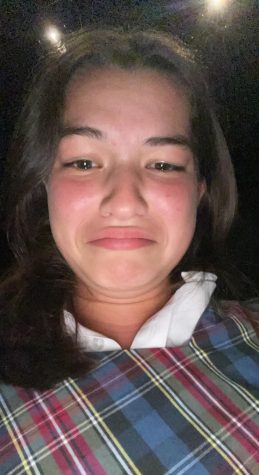 However, this did not deter us; snacks in hand, we walked into the movie theater, ready for anything; Nicole Kidman's monologue about her love of AMC theaters only further empowered us. In the beginning, the jump scares were predictable, just like any other horror movie. But as the movie progressed, it became more and more psychologically traumatic; nothing could have prepared us.
The last ten minutes of the movie were undoubtedly the worst of them all. Everytime we thought we were safe to re-open our eyes and watch the movie after a jump scare, there would be some crazy plot twist involving Joel, and suddenly, some insane monster with a million teeth would take over the screen. Whatever it was, it was so terrifying that Carolina jumped out of her seat, lost her phone (thankfully, it was recovered during the credits scene), and spilled her Icee.
We were a mess; collectively, we must have sweat at least a gallon, if not more. Maya was so taken aback that she cried twice. We couldn't even seek comfort with our fellow movie watchers, because every time we would gasp or scream, the couple behind us would laugh and make fun of us. 
Overall, we give the movie a 9.5/10 and we highly recommend that people go and see it.