FWCD Field Hockey Program Raises Awareness for Alzheimer's
On October 29, the field hockey program participated in the Walk to End Alzheimer's. The walk was at the Shops at Clearfork, and was a little over 2 miles. The walk began at 9:30 in the morning and ended around 10:30 A.M. The walk went through Clearfork, along the Trinity River, and then turned around at the Mutts Dog Park to return back to the finish line.
The Walk to End Alzheimer's is one of the nation's biggest fundraising events for Alzheimer's research. The walk is organized by the Alzheimer's Association. The organization has raised hundreds of thousands of dollars in donations. The money raised goes to research for Alzheimer's to ultimately find a cure, but also to provide treatment and care for Alzeihmers patients across the nation.   
Both coaches, Tara Gordon '12 and Paige Chisholm '87, participated in the walk along with the team. Gordon even brought her dog along. Although the walk was optional for the team, girls from every grade participated and had a great time together. Around 30 girls participated in the walk, in addition to some of their parents and siblings. 
"I love coming together for a cause," Chisholm said. "FWCD has such a strong commitment to community service, so I think it is important to incorporate that commitment into all aspects of the school."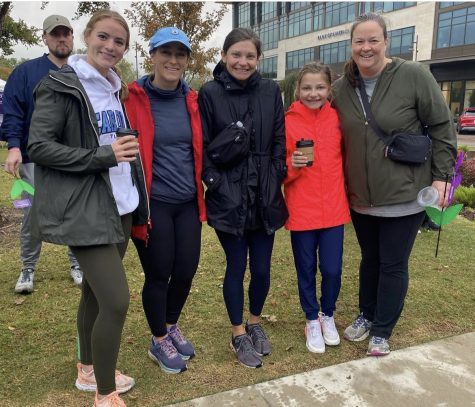 The field hockey program signed up for the walk earlier in the month. Although there was no cost to participate, some girls donated money to the association. In previous years, the team has participated in other fundraising events like the Out of Darkness Walk, a walk to raise awareness for suicide. The team really enjoys doing these walks together and raising awareness in the community. 
"A lot of girls enjoyed being with the team outside of school and practices," Chisholm said, " and it was a great way for the team to bond together and get to know each other a little better."