Sweetgreen Makes Fort Worth Sweeter
If you're looking for something fast and healthy, Fort Worth now has it. Sweetgreen is a fast, casual restaurant chain that serves salads. It recently opened in West Bend, Fort Worth. Sweetgreen is located next to Tylers and right next to Sweetgreen a Shake Shack is opening up.
Sweetgreen is open from 10:30am to 10:00pm Monday through Sunday. Sweetgreen's is nationwide. They also have a location in Dallas in West Villiage and Southlake is also gaining a Sweetgreen restaurant. 
While Sweetgreen offers set menu items, you can also build your own salad. They offer warm bowls and cold bowls. The restaurant has a variety of vegetables, rice, and lettuces you can choose from. They also offer side dishes and other dishes that differ from salad. 
The environment at Sweetgreen is wonderful. The inside is very clean and they have a nice outdoor seating area as well. When you walk in you are greeted by numerous friendly workers. 
Elizabeth
I first ordered the Crispy Rice Bowl. The Crispy Rice bowl is one of their warm bowls and it was very delicious. However, it did have an unexpected spice to it. Its ingredients include blackened chicken, raw carrots, shredded cabbage, cucumbers, cilantro, roasted almonds, crispy rice, warm wild rice, arugula, lime squeeze, and spicy cashew dressing. This bowl definitely reminded me of a healthy Chipotle bowl. It was very filling and I could only finish about half of it, so it was definitely sharable if you're not super hungry.
Stephanie Dike got the Kale Caesar. This is one of their salads. Ingredients include roasted chicken, tomatoes, parmesan crisps, shaved parmesan, shredded kale, chopped romaine, lime squeeze, and caesar dressing. I, however, got it without tomatoes. I also chose medium dressing and it was the perfect amount. The portion of this salad was very good. I ate almost the whole thing and it was filling. 
Lainey
I got the hot honey chicken plate. That plate consisted of blackened chicken, hot roasted seet potatoes, warm quinoa, kale-cabbage slaw, roasted almonds, and hot honey mustard sauce. It was 750 calories, 53 grams of protein, 58 grams of carbs, and 38 grams of fat. I rated the chicken plate a 9/10. It was very delicious and the flavor was exquisite.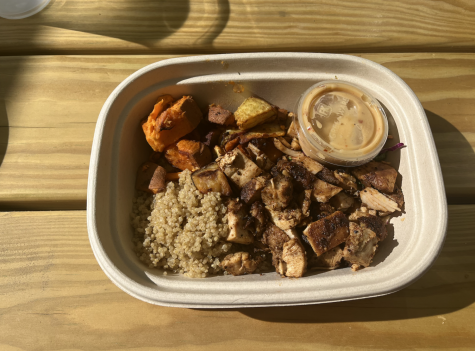 Jessica Liberto ordered the harvest bowl. The harvest bowl had roasted chicken, roasted sweet potatoes, apples, goat cheese, roasted almonds, warm wild rice, shredded kale, and balsamic vinaigrette. It was a good amount of chicken and salad and it was plated nicely. She rated the harvest bowl a 8/10.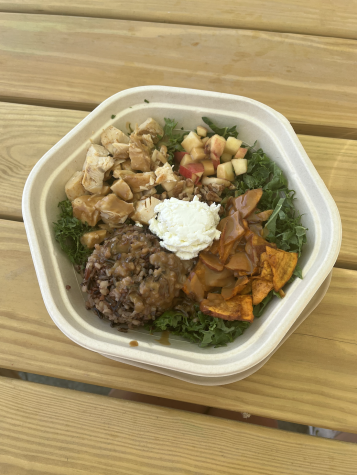 Lastly we got the side of the buffalo cauliflower. It was cold, which I was not expecting, and out of everything I got this was my least favorite. However, if you like vegetables, this would be good. Its portion was big enough to be a small meal.
All of their containers from salad bowls, to-go plates, eating utensils, and cups were all eco friendly and sustainable. This was a nice touch and made you feel better about getting to-go meals.
Sweetgreen is a good addition to West Bend and will be a nice healthy place to eat for lunch or dinner. I rate Sweetgreen's food 8.5/10 and they had many options for everyone.