Shake Shack Shakes up the Fort
This Saturday, a new Shake Shack location in WestBend near University Park Village. The other location in Fort Worth is located in the Stockyards, so it is more convenient to have a location that is a bit closer. This location is only the 21st location open in Texas. 
The location had a very inviting exterior, and on the opening day they had green and black balloons, their signature colors, around the door at the front. The restaurant has plenty of seating, both inside and outside. It was bright and clean, and the workers were very friendly. On opening day, the location donated one dollar to the Tarrant County Food Bank for every burger sold. 
Shake Shack's menu features burgers, chicken sandwiches and bites, their signature crinkle cut fries, shakes, and frozen custard. Their menu currently includes three holiday shakes: the Christmas Cookie Shake, the Chocolate Milk and Cookies Shake, and the Chocolate Peppermint Shake. They also have three other limited time drinks and they are Yuzu Orange Cider, Harvest Berry Lemonade, and Concord Grape Punch. Shake Shack is always featuring fun new milkshakes depending on the season. In the fall, they featured three fall-themed shakes.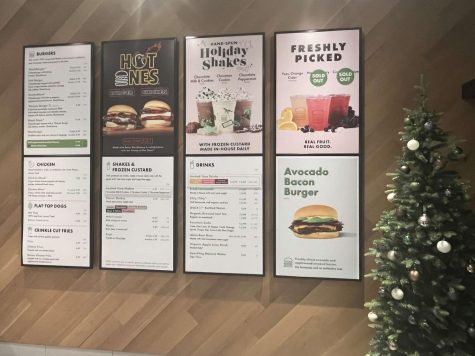 At Shake Shack, you can either order at a counter or on a screen and then they call your order. I like ordering on screens, because it takes less time to get your food, and ordering at the screens is convenient because it keeps the lines from getting too long.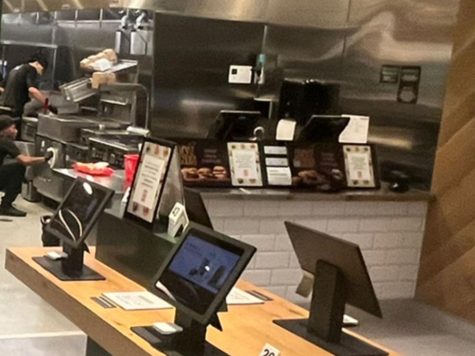 I ordered the regular cheese burger, and I thought it was a pretty solid burger. It had a really good flavor and I liked how the burger was thinner than many other burgers from other restaurants that I've had. I also had the regular crinkle cut fries, and I would say they are mediocre. They were salty, but they were not crispy enough. I think that the fries could have been a little more done. Lastly, I tried the Harvest Berry Lemonade. I found the lemonade a little sweet, and the berry flavor was very prevalent. However, I thought the berry paired very well with the lemonade. I rate my overall experience and meal an 8.5/10. The service was great, and the food was really good and flavorful. 
The Shake Shack is located at 1601 South University Drive next to the new Sweetgreen. Shake Shack is open Monday through Sunday and is open from 11 a.m. to 10 p.m. On Friday and Saturday, it is open until 11 p.m.