Gordon Gives Back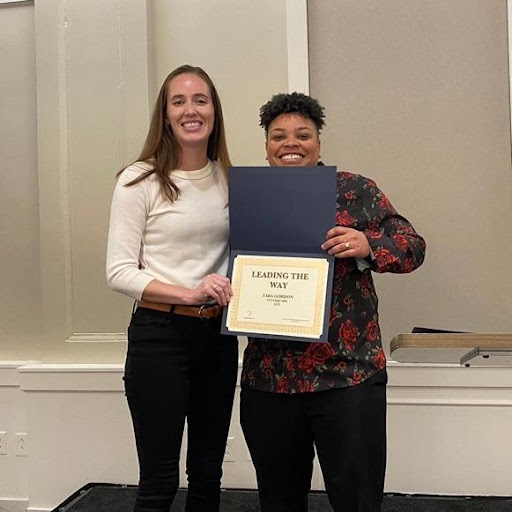 In Tarrant County in 2021, there were over 500 youth experiencing homelessness; in 2022, there were over 700. Nationwide, roughly 30% of those experiencing homelessness are youth under the age of 25, and 50% of all people experiencing homelessness were in the foster care system at some point. Further, 20% of youth in foster care become homeless the day they turn 18. 
Youth experiencing homelessness and aging out of foster care, though, are oftentimes overlooked and under-resourced. It can often be unsafe for them to rest in adult shelters, and resources provided by the foster care system can be insufficient in aiding youth to build a life.
The Crisis Transitional Housing Program, a current center being founded by the Transition Resource Action Center  – an organization for youth who aged out of foster care, experiencing homelessness between the ages of 18-25 – and overseen by Fort Worth Country Day varsity field hockey coach and alumna Tara Gordon '12, is one of the centers that will be working to combat this crisis. While it's still in its planning stages, the Center will provide rent-free, low-barrier housing (low-barrier meaning that there are no requirements to be housed) for 16 youth at a time, for periods of around six months.
During that time, the center will provide food, hygiene items, and other necessities. They will also provide resources to help the homeless youth replace critical documents and connect them with mental and physical health services. Along with that, the Center will assist them in finding jobs and saving money, with the ultimate goal of achieving self-sufficiency and moving the youth into a longer-term assistance program.
Currently, the Center is renovating a building of the Altamesa Church of Christ, who they've partnered with to provide the housing. With this partnership, they will be able to house their 16 youth, rather than the six that they would have been able to house in traditional apartments. They have a fundraising committee, are developing business plans, and are hoping to raise one million dollars in 2023, to help with renovations and continued services to help combat the growing demand.
Gordon has been working with the TRAC for three years and currently serves as the Housing Program Manager for Tarrant County. When she began working for the TRAC, they housed two youth in their Tarrant County programs, and now they house over 40 youth, and have over 50 youth in their Outreach program.
"We know that there is a very strong correlation between time in child welfare systems and homelessness," Gordon said. "TRAC stands in that intersection helping our young people navigate the transition into adulthood."
Additionally, Gordon serves as a member of the Improvement, Coordination & Training Committee (ICT) for Tarrant County, as the Chair of the Tarrant County Youth Action Board through the Tarrant County Homeless Coalition, and oversees the TRAC Youth Advisory Board which consists of a group of five youth. Last year, Gordon received the 2022 Leading The Way Award for Tarrant County.
"[The youth on the advisory board] make sure the work we do is always youth-focused and that they always have a seat at the decision-making table," Gordon said.
"
I think the young adults I work with are some of the strongest, most resilient people I know, and I am in awe of their courage every day.
— Tara Gordon '12
In 2021, Gordon was featured in an interview by CBSDFW about a four million dollar federal grant that was given to Tarrant County to help combat the youth homelessness crisis.
"When I looked up, he was bringing me another youth that was not connected to services. I started helping that youth. I looked up again. they had no idea services were out there. He was connecting other youth to services even though he was very much in a place where he needed assistance," Gordon said in the interview, recalling her experience with a youth she helped.
"I've always had a passion for helping people and have felt a responsibility to combat injustice in our world as best I can. I'm specifically drawn to working with young adults because I think back on my life between the ages of 18-25 and how hard it was for me," Gordon said. "Between losing my mom at 19 and grappling with my own sexuality as a lesbian, I struggled. And yet I can acknowledge that I had every opportunity and privilege to be successful and essentially, not fail."
She has been coaching at Country Day since 2017, and began coaching to spend more time with her aunt, Lower School Physical Education and Field Hockey Program Director Paige Chisholm '87, and her uncle, Head Athletic Trainer and Associate Athletic Director Ed Chisholm and to help the Field Hockey Program.
"The coaches I had at country day made such a positive impact on my life. I'd be honored to give back a fraction of what they gave me. Country Day, and the people that work there, have been like a second family to me," Gordon said. "I also want to help the game of field hockey continue to grow in our state because it opened many doors for me.
Gordon attended Fort Worth Country Day, and then went on to play field hockey at Northwestern University, where she received her degree in Human Development and Psychological Services. 
"I was raised by a white, educated, wealthy family and yet, I still struggled," Gordon said. "So I can't imagine being 18, aging out of the foster care system, experiencing homelessness and not knowing where your next meal will come from or where you will sleep at night, not having a support system. I think the young adults I work with are some of the strongest, most resilient people I know, and I am in awe of their courage every day."