Stackhouse Returns to Campus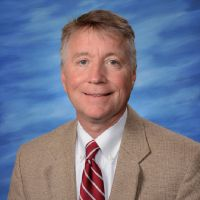 "I've never looked back or regretted [my decision to teach] one way or another," Steve Stackhouse, Upper School government teacher, said. "I just enjoy working with students."
Stackhouse, former Head of Upper School, has returned to campus. Stackhouse served as Upper School Head until he retired in 2020, but he took on many roles at Country Day before that, since he joined the community in 1997. 
"I was the Senior Director of Operations, [and] I was the Assistant Head of the School. I was in the Upper School for most of my years, and I always taught something," Stackhouse said. "I taught Current Events, I started the reboot of teaching Econ before Mr. Thomas, I taught World Religions, and I've taught AP Government."
Now, he's taken the place of Anna Giovanetti, former Upper School government teacher who moved to Florida, as a long-term substitute. He teaches lockstep with Sara Teegarden, Upper School Government teacher. The administration is currently looking for a more permanent replacement for next school year.
Originally from Norfolk, Virginia, Stackhouse was first drawn to teaching when he worked as a camp counselor and would help out with various tasks at his high school. Then, in college, he solidified his decision to pursue teaching. He lists current event discussions as one of his favorite parts of teaching sophomore Government and Civics and he enjoys teaching the class because he is interested in American government and history in general. 
"I'm going to read the paper, I'm going to keep track of current events, governmental affairs, and foreign affairs," Stackhouse said. "So, you know, it's fun to discuss those things, and it's partly academic exercise."
A travel-loving-family-man, Stackhouse has so far spent his retirement taking care of his parents and in-laws, while traveling; his favorite places to visit being Montana, because of the mountains, the fishing, and the beach. He's particularly looking forward to traveling to Washington, D.C. with the sophomore class later this spring.
"From the days that he was first introduced to us, I could tell that he was going to be very cheerful and energetic," Vianey Frias '25 said. "As of today, I have the same impression of him. I don't think that there could be a better substitute for Mrs. Gio."
He retired after the 2019-2020 school year after his final spring semester was taken over by COVID, when the school shut-down and went online. 
"When we dismissed for spring break that year, that was [my] last assembly. It all happened in a minute," Stackhouse said. "I was kind of denied my final spring, final part of the year."
"I'm getting my final quarter," he added.