Former Quill Editor Named Editor in Chief of University Newspaper
From here, anywhere. For one alumna, Solana Adedokun '20, this meant going to the University of Chicago and becoming editor in chief of "The Chicago Maroon."
She is now a junior at UChicago and is majoring in public policy. Adedokun was the Online Editor in Chief of the Falcon Quill at Fort Worth Country Day in her senior year, and knew journalism was something she enjoyed. She joined "The Chicago Maroon" in her freshman year and has now earned the title of Editor in Chief.
"Solana had a real passion for the more difficult stories, for stories that focused on people who wanted change," Lisa Wallace, Student Media advisor, said. "She wrote about the Women's March, the School's first Feminist Club; she wrote about the pandemic and its effects on our students. I loved that she wanted her peers to think more deeply when they read her stories, and I love that she has carried that focus into her college career."
She believes that Fort Worth Country Day prepared her well for the rigor at University of Chicago by teaching her to balance her time. She is especially able to apply this to her work on the newspaper, by creating time for her extracurriculars and her classes.
Adedokun is the second black person to hold the position of editor in chief at "The Chicago Maroon." She is also the first African person to be in the position, due to her Nigerian citizenship.
"At first, it was very exciting to have a new title, take on new responsibilities, and be a representative of the communities I'm a part of. But, at the same time, it is a little depressing knowing that this news organization has been around since 1892 and the first few Black editors just came recently," Adedokun said. "It shows how much farther we need to go and how much harder we need to work so I'm not just some token or anomaly, but I'm the start of a new beginning."
In fact, the first person of color to hold the top editor position at "The Chicago Maroon" was in the 1990s. Wallace also noted that Adedokun is the only Black student to hold an editor position with the Falcon Quill going back at least 20 years.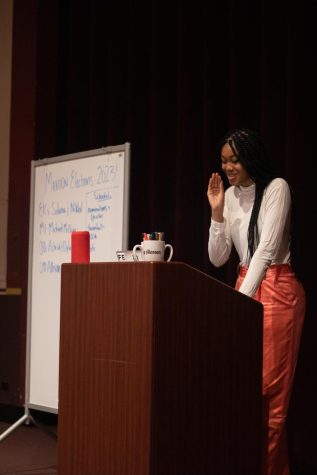 As editor in chief, Adedokun wants to develop "The Chicago Maroon" as much as possible. In particular, she wants to make the newspaper the voice of the school and add more diversity to the paper.
In the past, "The Chicago Maroon" has reported on the same stories as the university newsletter. Adedokun plans to write stories that are more student-based rather than school-based and connect with students more than the newsletter can.
She wants to create more diversity within the paper, not just on staff, but also in editorial positions. This way, the newspaper can reflect the ideas of many people, not just the majority. 
"I understand this isn't something that one person can fix in the course of a year," Adedokun said, "But I would like to lay the groundwork for future editors by continuing to collaborate with affinity clubs, having media conferences with diverse figures, and continuing our publication of special issues, like our first Black History Month Issue we had this year."
The "Chicago Maroon" is currently working on a collaboration with Northwestern University's newspaper, "The Daily Northwestern." Adedokun hopes to have more projects like this, where she can work with other news organizations. 
The Editor in Chief meets with senior university officials regularly so that they can communicate concerns and work together. It is important that the editors know what they want to speak about to these officials. 
"As a person coming from the most underrepresented group of students on campus – Black students were around less than 10% of my class when I came in – I'd like to converse with them about some of the points I made earlier in regards to diversity, but on a macro level for the University," Adedokun said.
In addition, Adedokun has met with some very influential people as a part of "The Chicago Maroon." She has heard from Beto O'Rourke, former Texas congressman; Barack Obama, former President; and Mike Pence, former Vice President.
This year, Adedokun worked on a special edition of "The Chicago Maroon," the Black History Month edition, that was published in February. She created, designed, contributed, and edited the special edition, and she hopes that they can do more like it in the coming year.
Adedokun hosted an online video call with the Quill's class where she spoke about her experiences at Country Day, the University of Chicago, and with journalism in general.
"Seeing an FWCD alumna succeeding as a fellow journalist was really inspiring to me," Vianey Frias '24 said.
Adedokun's advice to those who want to pursue a position on an editorial staff is "to be willing to take on more work and be willing to listen to criticism."
"Journalism has been a good outlet for me, and something I enjoy doing, because I've been able to shine a light on stories that don't get told often, by people who you don't normally hear from," Adedokun said.