"I Don't Think We've Met Before; What's Your Name?"
The last memory of my sophomore year was centered around my Spanish III final. I don't remember the grade I received on it; frankly I only cared if I passed so that I could never hear "Hola clase" again, but I do remember the conversation at dinner later that night. The luster of Kendall Lehman's '22 high school graduation had worn off, so for the first time in a year the discussion over dinner was about me.
"Marshall, you're going to be a Junior. What do you think about that?" my Dad asked.
I immediately wished that we were still sobbing over Kendall's imminent departure to college because an instant wave of anxiety crashed on top of me. My freshman year was a COVID year, so its rigor was dumbed down so that the curriculum could be taught at a distance of six feet and with minimal contact between teacher and student. My sophomore year, still in the wake of the virus, felt as if I was a child simply "playing" high school. The classes were harder and my grades reflected such, but to me it never felt like I couldn't survive it. I had never had a full year of actual, real high school.
Junior year was always a symbol of "get your act together" for me. It was the formidable gateway to my future that I tried to ignore until the people behind me were forcing me through the entrance. It seemed everywhere I turned that someone was telling me how difficult Junior year would be. The halls of the Upper School seemed to echo the horror stories of Juniors past.
"I stayed up until 4 a.m. doing my APUSH outline," the lockers would squeak.
"I begged Mrs. Sam for forgiveness of my late homework and she just cackled in my face," the library books would whisper.
"My final is tomorrow and Dr. Cordell only talked about ravens the entire year," the carpet would moan.
I came into the school year a trainwreck. The first time I ever relaxed this year was during APUSH. The previous night I was grinding out an outline due the next day. My hand cramped  and my head hurt and my eyes sagged, but I couldn't just stop because if I stopped then I would fail the quiz that I had next class then I would fail the impending test then I would fail the course then I could fail junior year then no college would want me and I would be forced to be a rural farmer for the rest of my days. That did not fit into my five-year plan, but I closed my book, packed my bag for the next day, and went to sleep because, "I can do it tomorrow." And I did. I finished the outline the next morning and passed the quiz.
I survived junior year. It took me too long to realize that an inane load of coursework won't kill me, and because of that I suffered early. If I learned one thing this school year it's that life doesn't stop for anyone. Not you, not your friends, not your parents, and not your teachers. You just have to jump in and live.
I started writing a journal in hopes of not forgetting where I've been. I don't document my feelings, rather what happens to me that I find interesting. It slowly transformed into a testimonial of my year. It is an honest view into my life as a junior.
__________________________________
Thursday, July 21, 2022
Today I got my Meningitis and Meningitis B vaccinations. The nurse neatly placed two syringes, side by side, next to me on the exam table. I glanced at them and said, "Oh good. We won't have to share needles." I remembered more laughter than my Mom said there was when I recited the bit to my Dad over grilled chicken and rice.
Friday, July 29, 2022
My parents better be proud; I have fulfilled their request of my getting a job to a certain degree. Yesterday, I began my summer job working for a man named Barry Shlachter. He operates a small publishing business out of his backyard shed (I wouldn't call it a garage because it looks like it would hold horses rather than automobiles). He currently has around thirty-some-odd titles in print, and supplies these pocket-sized books to Buc-ee's primarily.
I was playing NBA 2k20 when Barry called to inform me that I had gotten the job which he had previously turned me down for, and that I should start work in the next five minutes. Before I left, he warned me that his workspace looks more like a sweatshop than a legitimate publishing house. He was spot on.
I frantically squeezed past the Subaru Outback in an attempt to avoid the whole "late on the first day of work" cliché. A man who looked like he could be a George Lucas impersonator on Hollywood Boulevard approached me and shook my hand. This was Barry; a man who looked like the physical embodiment of the delusional idea that everyone has to make a podcast or write a novel. He opened the shack's door, which was held shut by an exposed four-inch screw, and we entered his workshop. It was utter chaos. Dirt, leaves, plastic wrap, glass, and FedEx packing slips littered the floor, trash cans were overflowing, boxes of books sat on shelves which sagged under the weight of the paper, and there was barely enough room to spin in a circle without sending loose paper flying. It was clearly a representation of his mind. It was organized enough that only those who designed it could find everything, but to everyone else, it looked like the aftermath of Katrina.
Books were to be shrink wrapped in groups of six, then placed in the cardboard boxes, which used to carry Greek yogurt from Costco, that held other books of the same title. I spent a total of four hours shrink-wrapping books. I must have touched hundreds of those little books. Barry had a radio that played NPR, but once I heard the same story about how a local beauty salon can identify signs of an economic recession four times, I started to sing Garth Brooks to myself. It too quickly became repetitive because I only know one Garth Brooks song.
I was paid $104 for my hours of service. I also learned some valuable information. If this whole college thing goes sideways, I could have a very successful career as a shrink wrapper.
Tuesday, August 2, 2022
I ate Raising Canes at 10:40 in the morning. Just the week before, I asked the woman charging my card for a Caniac Combo why the store opens at 10 a.m. if no rational person would eat fried chicken for breakfast. My one rule of not being a hypocrite was broken when I drove to school, just to discover that the last morning lift session for basketball was on June 28. I played basketball at Lily B Clayton Elementary for maybe 30 minutes, but then I was embarrassed by the amount of air-balls and missed layups that I was jacking up in a public space, so I decided to go home. I laid on the couch, BioFreeze coated my right leg, but my left was untouched so that I could observe the effects of the drug with contrast.
I didn't eat again until 6:30 p.m., after work at Barry's. Today, someone new was working in the sweatshop. A mother of two named Stephanie was packing boxes for shipment while I unloaded, organized, and shrink wrapped the new title that arrived today, Dugouts and Diamonds. This was Stephanie's second day working at Berkeley Place Books while today was my third, so naturally, I took command as the tenured employee. That's far from true. Before the shipment arrived, I really didn't have many tasks to do, so I moved cardboard boxes from one room to another then outside, then pondered breaking them down, then stacked them, then moved them inside for awhile before moving them back outside.
Barry asked us if we would like some Gatorade to drink. I had just moved well over triple my bodyweight in books and had stained my shirt with blood, so I obliged. He brought out the orange jug and one tall glass from inside. I cleaned the cobwebs out from my red solo cup and swallowed the urine-yellow substance.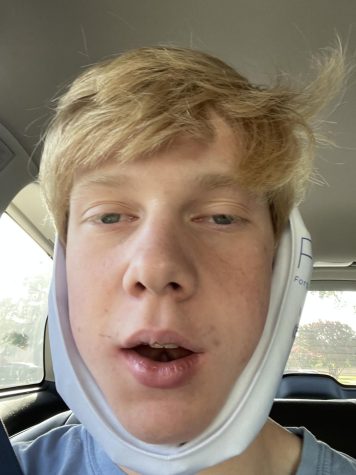 Thursday, August 4, 2022
Grammie brought by potato soup with broccoli in it. I think she just got a toddler to vomit in a tupperware container and just handed it to me as is. I'm getting my wisdom teeth removed. The anxiety that I had around the procedure last week is gone. I'm excited to fall asleep in a dentist's chair and wake up to my face bleeding.
Friday, August 5, 2022
I woke up at 6:30 a.m. to get my teeth surgically removed from my face. I remember, while my parents were still in the room, the nurse applied three electrodes to my legs and arm to read my heart beat. I asked if I was going to be waxed. Apparently, after the procedure was done, she removed them from my body, and I let out a scream.
I don't like my diet. I can go without eating chips and chicken for months, but it physically pains me that even my breakfast this morning tasted like potatoes.
Monday, August 8, 2022
I ate four grilled cheese sandwiches and two cups of tomato soup. I also had some salmon. That's all I ate today.
I finished reading "The Old Man and the Sea" while I was on the toilet this morning.
Thursday, August 11, 2022
James Thomas' '24 car got towed. After we had a near three-hour breakfast at Snooze, I drove James and Laura Marques '24 to the impound lot to pick up his car. We stood in the heat, drowning in our own sweat, for 15 minutes before anyone came to the window to help us. After several complications regarding the fact that the car was registered under the name "Leslie" and the man claiming to own the car was clearly not Leslie, I was able to drive back to James' house alone.
We then spent the rest of the day making Sims of our friend group and watching them interact. Then it was dinner. We ate on the roof of Dutch's so that I could make sure that my car didn't get towed. On my drive back home, I got a call from Laura. James hit his sister's boyfriend's Mustang as he was backing out of his garage.
Monday, August 15, 2022
I was in a photoshoot for school today. I'll be in a picture on the new website, but you'll only be able to see the top of my head. But hey, I'm a model.
Friday, August 26, 2022
In the past four days, I've heard the phrase "roll the dice" more than I ever thought possible. Thank you Honor Council. First full week of class was generally a success. I went to bed on time and woke up early. I turned in and completed all my work. The only questionable part of the week was the pop quiz in Math today which I can confidently say I should earn a 60.
Sunday, September 25, 2022
A couple days ago, Carly Walker '24 read my Quill story about the mountain. I had a nightmare that she told me it was bad, but what actually happened was Carly said it was exactly what she expected me to write; it was very me. I didn't really know how to take that so I asked her what she meant.
"Well, you know, you wrote about Joe Breedlove and pooping."
Two things I do a lot of, in her eyes.
Saturday, October 8, 2022
I awoke with a crick in my neck today. Dad was convinced I have meningitis. Every time I mentioned the discomfort in my neck he'd touch his hand to my forehead.
Saturday, October 9, 2022
For the past two days, I have been unable to turn my head left. Right, no problem, but the left is a bit tricky. My chronic neck pain has forced me to lean and turn my whole body anytime someone mentions an odd looking person behind me. 
Belle Xu '24, Hannah Cheng '24, and I went to the Murillo exhibit today. I wasn't too big of a fan of his portraits, but his charity, comedy, and narrative pieces are stunning. There was a painting entitled "Roman Charity." It depicted a woman who saved the life of her father, who had been sentenced to death, by feeding him from her breast.
__________________________________
I pulled Hannah over to admire a painting with me.
I asked her, "Do you see a man with a pipe?" It was a Picasso painting entitled "Man with a Pipe," so naturally it looked nothing of the sort.
"I see an eye," she said.
I couldn't even make out that. She turned and walked away. With the quick recognition of an eye, even faster than a blink, our conversation ended and she progressed past the Piscasso. I'm not sure what either of them were interested in, but whatever it was, it wasn't mutual. I spent a considerable amount of time with Rembrant's "Bust of a Young Jew" and Monet's "Weeping Willow," but each of them dismissed the art with a simple "I could do that, too."
Monday, October 17, 2022
Troop 720's Court of Honor was tonight. Five guys got their Eagle rank (Jack Cimo '24, James Thomas '24, Scott Cooper '24, Matthew Lobo '23, and Jaden Patel '23). It was also announced that our troops charter will not be reupped, so 720 will cease to exist past December, 2022. It was kinda sad. Blake Brown '24, Jack, James, and I talked about it afterward. It feels like the end of an era, but it's not all that depressing. We never had strong patriotism for our troop, rather an organized hatred for Troop 17. That's what created a sense of loyalty to the 720 brand. 
On the 15th, at my uncle's birthday party, I met a man dressed in a t-shirt depicting Chewbacca wearing sunglasses, an unbuttoned Hawaiian shirt, jeans with a silver pocket chain, a gray ivy cap, and a long, long white beard. He was 45. He rolled up his left sleeve to show me a Worth Ranch tattoo the size of a small baby.
Wednesday, October 26, 2022
I quit basketball today. I didn't know I wanted to quit until Monday afternoon, after practice. I spoke with Coach Joe Breedlove '78 this morning, before school started. We met in his office. I came in, sat down, and the first thing he mentioned were my shoes, the Lichaj 1s. I told him their story (that my former chemistry teacher gifted me his old shoes) and he found it amusing. I opened up by saying that I think it's time for me to take a step back from the basketball program. After some conversation, he explained where I was coming from and sympathized. He didn't fight for me to stay because, I mean, come on, he knew where I was going to be this year: right back on the Freshman team.
I saw the new FWCD website yesterday. The top of my head is featured. I am now officially a model.
Saturday, October 29, 2022
Been learning how to be a good father according to Bill Cosby. My book recommendation of the year: "Fatherhood" by Bill Cosby.
Saturday, November 5, 2022
Today I took the SAT. I woke up at 6:30 a.m. to be at school before 7:45 a.m. I think it went well. We'll see. TCU progressed to 9-0 after taking down Texas Tech. After that, not much happened. I didn't do any homework; I played NBA 2K and watched "Wedding Crashers."
Saturday, November 19, 2022
This is probably the first day in a while where I've had nothing to worry about. This past week leading up to Thanksgiving Break has been packed full of random tasks, and I procrastinated just enough to feel immense pressure, yet come out of it generally unscathed. My chin is scathed though. I slammed a bar into my chin while attempting to pull off a clean and jerk lift. It's been red and sore for a couple days now. Kendall is back home from Virginia. She got back on Friday night. It kinda just seems slow around here. I don't have much to do over the break.
Sunday, December 11, 2022
Midterms are this upcoming week, and this whole weekend I've neglected to study.
Tuesday, December 20, 2022
Emmy, Grandbear, Carolyn, and the family had the fried chicken buffet at River Crest. We had a reservation in the fancy dining room, but upon arriving at our table, the maitre d' notified my Mom, Dad, sister, and I that our jeans were against dress code. We were presented with two options. One: change pants. Two: sit down, order off the menu, and don't stand up until you leave so that no one will notice your degenerate denim. The gold miners returned home and changed into more suitable pants. Later in the evening, the new assistant manager came to our table and apologized for the discrimination due to the material of our clothing, and for such understanding, our meals of fried chicken were on the house.
My dad was getting ice cream when he was approached by a woman. She said, "You wouldn't happen to be Gregg, would you?" Turns out she went to elementary school with him. She probably went all the way through high school with him, too, but she shared with him their class photo from elementary school. My father was dressed in an Western Bow Tie; most things about Gregg Lehman haven't changed since birth. She said she recognized him because she saw my father and I walking in together, and I look exactly like what she remembers of him when they went to school together.
Thursday, December 22, 2022,
Marco Olmos '24, James Thomas '24, and I saw an A24 film about a morbidly obese man.
Friday, December 23, 2022
My uncle is the poet laureate for his car club. He said this with a dead serious face. They meet up for coffee or lunch; sometimes they'll go for a drive. He said that his job is to "express the human condition." He then read to us a terribly well-written poem about an automobile being stored away for the winter. 
Sunday, December 25, 2022
I received three U.Va. articles of clothing for Christmas: one 1⁄4 zip, one fleece-lined shorts, and one long-sleeve shirt. I don't even go to the school, or know if I can get in. Kendall also gave me a shower curtain with a lot of photos of shirtless men. I can't remember anything terribly funny happening to me over the past two days.
Tuesday, December 27, 2022
Last night, Marco, Vail Dickey '24, and I slept over at James'. We had dinner at Shake Shack. My meal was $17 (Shack Burger, fries, & seasonal shake), but I had a coupon for $5 off my total. Still more expensive than Canes. We played Risk until maybe 5 in the morning.
School starts again soon. Mundanity is hopefully soon to end.
Thursday, January 5, 2023
Carly Walker's '24 mom responded to my Instagram story about TCU's basketball win over Baylor saying, "Oh no!"
Celtics beat Mavs in Dallas, 124-95. Snapped the Mavs 7 game win streak. Tatum had the second triple double of his career. I watched the whole game on TNT except for the first five minutes of the third quarter because I took a nap. For dinner, I had Neighborhood's chicken fingers with Dr. Pepper in a reusable red solo cup.
Monday, January 9, 2023
TCU lost the national championship to Georgia, 65-7.
Monday, January 16, 2023
"You need to make a five year plan," my dad said. It was 9 in the morning and I had just opened my eyes for the first time this morning.
Tuesday, January 17, 2023
I ate beef stew for lunch.
Friday, January 27, 2023
Belle Xu '24 threw a pen at me, so I threw it back at her. Then I threw a trash can at her, but there was a cup of coffee at the bottom that spilled out onto the floor, so Rhea Alexander '24 went to the bathroom to get paper towels to clean it up. I got some too, but when I got back she had already finished the job. I felt bad. Belle seemed angry or annoyed with me, probably both. She then threw her APUSH textbook at me. I caught it and threw it right back. She screamed. She threw it back once more, at which point I set it down beside me and it was not tossed again. Belle claimed a bruise on her left side, around the hip bone and thigh. I don't believe her.
Saturday, January 28, 2023
Mom, Dad, and I had dinner at Railhead. The place was packed, but cleared out before the rodeo started. I've decided that the last thing that I want to be in life is a waitress at a barbeque joint.
Thursday, February 2, 2023
The other day my dad and I were watching news coverage of the Murdaugh murder case. "Marshall, I'd never kill you," my father said. "Or your mother."
Saturday, February 11, 2023
During a break in the ACT, I watched a homeschooled teenager produce a zip-lock bag of skinless apple slices. He ate at most two, then threw the remaining eight into a trashcan. He cleaned his hands with the foamy kind of hand sanitizer both before and after discarding the fruit, but he didn't wash his hands before eating.
Thursday, February 16, 2023
I ate two bowls of clam chowder for lunch and was almost sick.
Tuesday, February 21, 2023
Lily Hyde '24 wore black pants and a black long sleeve shirt for her APUSH discussion. I congratulated her on joining the Blue Man Group. Dr. Cordell said, "Oh Lily, I didn't see you there. I thought you were a part of the table."
Thursday, March 2, 2023
I have an English CBW test today that I am thoroughly not prepared for. Right now, I'm barely holding onto an A and I just know this test will ruin my English grade again.
Friday, March 10, 2023
I went to the Children's Museum with James and Marco today. What struck me was that they have a permanent exhibit about the harnessing of fossil fuels that I remember from my childhood. You remember very quickly that you live in Texas. The Museum of Science and History is indoctrinating children to be pro oil and gas regardless of any negative side effects. It's amazing really, the propaganda.
Monday, March 20, 2023
I got an MRI on a machine that was manufactured in March 2009.
Tuesday, March 21, 2023
Tonight a student in my father's class stood up in the middle of the lecture and walked out. He returned a few minutes later with a pizza which he proceeded to eat then discard. He then stood up and left the class again, just to return a few minutes later with another pizza.
Wednesday, March 22, 2023
We went back to the doctor. He read the MRI and found a deep tear in my rectus femoris. They're not sure when I'll be able to return to full health. I really just want to compete again. I realize that's what I miss about basketball, the competition. Anyways, I have a tear in my thigh.
Saturday, April 1, 2023
The Fort Worth Club has ashtrays right next to the toilet so you can smoke and use the bathroom at the same time.
Thursday, April 20, 2023
Another button fell off my shorts. This time before I even left for school.
Sunday, April 30, 2023
A joke I heard today:
Every thousand-mile journey starts with the first step. And it ends a thousand miles later with you probably passed out in a desert somewhere.
Tuesday, May 2, 2023
At Central Market, a woman has been on the phone for half an hour while her three young girls eat their breakfast. She was off the phone for a short minute and used that time to take a poll with her girls to see if they should visit Pops while on a road trip. Her voice turned sharp, saying, "Break that in half. That is not how a lady would eat a bagel." Seconds later she got a phone call, picking it up saying, "Was that not you?" and walking away from her three girls all sitting in a row like little ducks.
Thursday, May 11, 2023
Today was the Upper School Awards Ceremony. I won two awards for Journalism and one History Book Award. Afterwards, I was standing with Lily Hyde '24, Jack Cimo '24, and Benjamin Hoppe '24. Ms. Wakeland approached the four of us and shook the hand of Lily and Benjamin, saying "Congrats. Good job." Then she glazed over me, turned to Jack, gave him a fistbump and said, "Congratulations, Jack." Then she looked at me and said, "How are you doing? I don't think we've met. What's your name?" She signed her name on all three of my awards.