In the past few months, the Taylor Swift concerts and the new "Barbie" movie have somehow boosted the U.S. economy.
The Taylor Swift "Eras Tour" concert kicked off on March 17, 2023 in Glendale, Arizona. There have been 55 concerts so far as of August 24, and there will be 49 more by the end of August next year. Last year when the tour was announced, it was predicted to make around $590 million and now with the success, it is estimated to gross around 1.4 billion dollars. By August 17, 2024, if Swift reaches the estimated gross of 1.4 billion dollars, she will surpass Elton John's "Farewell Yellow Brick Road,, which made 887 million dollars. Tickets for the Eras concert can range from $50 for the nosebleed seats, and at least $899 for the best seats. Some floor seats are going for more than $1,500. 
The "Barbie" movie was highly anticipated and came out on July 21, 2023. As of August 23, 2023 it was reported that the movie has made 572.3 million dollars in America alone and 1.3 billion dollars globally. In "Barbie's" opening weekend alone, the film grossed 337 million dollars worldwide. Recently, the movie also became Warner Bros. second-highest grossing film, right behind "Harry Potter and the Deathly Hallows part 2" (2011). Tickets for the "Barbie" movie opening weekend in the U.S. averaged $12.65, depending on the theater.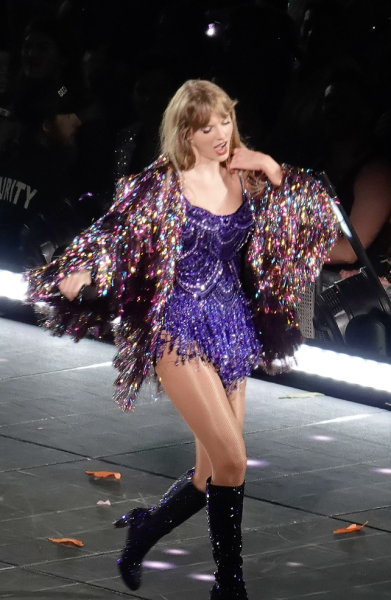 I totally can see how these two things have helped the U.S. economy. I went to the Taylor Swift concert in April at AT&T Stadium and I definitely had to work to get tickets. It was totally worth it and I would have gone for another night if I was given the chance. The stadium was completely full and the show was amazing. I also went to see the "Barbie" movie and loved it and can see how it is benefitting our economy, because I totally would go watch it again and can see how most people have seen it multiple times. With both of these, you can tell how the budget was so high for both. The Taylor Swift concerts lights, sound, and wardrobe were all so well done, so you can see how it is predicted that she has spent $100 million dollars on production. Same with the "Barbie" movie; the wardrobe is amazing with Chanel pieces, some vintage and very intentional outfits, sets, music, and actors. The estimated cost of the "Barbie" movie's production is $145 million dollars.
Story continues below advertisement
https://www.cnbc.com/2023/07/04/taylor-swift-eras-tour-set-to-earn-record-breaking-1-billion-dollars-in-sales.htm
https://nypost.com/2023/07/05/taylor-swifts-eras-tour-on-track-to-amass-1b-in-sales/
https://abc7ny.com/barbie-movie-highest-grossing-box-office-2023/13690363/#:~:text=According%20to%20studio%20estimates%2C%20%22Barbie,domestic%20haul%20of%20%24574.2%20million.