During the winter break of her senior year of college at the University of Oklahoma, Pamela Lancaster, Lower School Art teacher, had an epiphany: she wanted to become an art teacher. Lancaster had been studying education, and had been focused on learning how to teach general education; but it was the moment when she was hanging out with her high school friends that she realized she wanted to teach art, specifically.
"I was like, oh my gosh. Why am I learning to teach math and reading when, like, that's not my passion?" Lancaster recalled asking herself. "So, I went back to school after I graduated and took studio classes."
And it was a great decision. As soon as I walked into her classroom to first meet Lancaster, a kindergarten student raced to her too, and beat me to see her. She was carrying a small (and very colorful) drawing that she had made for Lancaster. It read, "Love Lancaster," within some hearts; immediately, Lancaster hugged the student and offered to hang the drawing on her wall. I look over, and the entire right wall of her small office space is covered in drawings and paintings that students made, just for her. Some were simply taped up, others were taped atop print-outs of renaissance-era frames but all were on display. 
Lancaster began teaching at Country Day two years ago, but has taught art to elementary-aged students for 17 years total, at All Saints Episcopal School and Tanglewood Elementary. She loves to teach them everything: using pencils, holding brushes, opening bottles of glue, and going over the 'artist of the month.'
Story continues below advertisement
On the day of my visit, Lancaster was planning on teaching the kindergarteners how to use 'twist paint markers' — their first step to moving past using crayons and pencils while reviewing the colors of the rainbow.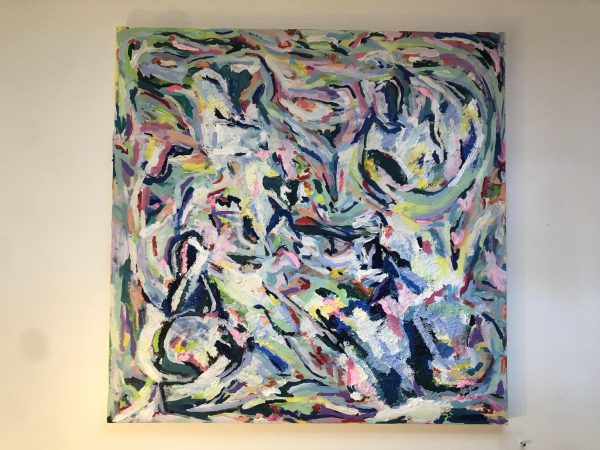 "Everything's exciting," Lancaster said. "I feel like every child loves art the most. They're always cheerful when they get to come in and I feel like I can remember how I thought as a kid, too."
Lancaster gets inspiration for what she teaches from her work, too. She began painting abstracts under Winter Rusiloski when she was in a design class in school. 
"I'd never done representational stuff, always just assignments," Lancaster said. "I started taking classes with her, doing abstract art, and I was just like 'I want to be you.' I had never really painted on my own, so she helped me with that."
In the beginning, she would take outdoor photos from magazines and use them as inspiration. She stylized her pieces after the organic shapes of rocks, pebbles, and concrete – she was further inspired when she and her husband, Daniel Lancaster, US English teacher, took a trip to Marfa, Texas. Another one of her earlier inspirations was John Chamberlain's crushed car sculptures, when she visited an exhibition of his, she took photos of the sculptures at every angle.
Now, with her own children, she's become more free-flowing in her pieces. She doesn't have a specific creative process and she works with all mediums, painting in her multi-purpose exercise room/art studio. More recently, she's taken up using watercolor and acrylic more so than oil paints because it's easier and more practical; during quarantine, she even took up painting with her own children, Hal '33 and Parker '36, documenting the experience on her Instagram page.
Lancaster has used her Instagram to get her work out there, sharing her work on Facebook, too. "That kind of reaches… the older demographic," she said.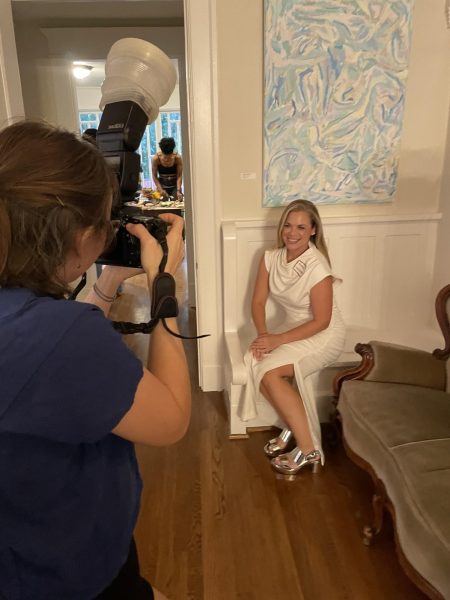 Through that, she was able to get in contact with her friend, who is a curator at the William Campbell Gallery, which nominated her as an up-and-coming artist recently. The gallery exhibits multi-media contemporary works and is on Byers Ave. They're celebrating their 49th anniversary this year.
The William Campbell Gallery's nomination also allows Lancaster to exhibit her work at the Turner House's Rising Star exhibition. At the show, Lancaster had the opportunity to have her works on display with an opportunity to sell them; the event serves as a conjoint fundraiser for the Turner House's non-profit.
"The show was great! I met many local artists and had the best time," Lancaster said. "The historic home was really charming and a great venue for a gallery."
Lancaster's work is also featured in Texas Christian University's permanent collection and is featured in a Tarrant County Community College campus. 
For more information on Lancaster's work or to contact her, visit pamelalancaster.com.