Bluetooth Products
Top rated devices from a student's perspective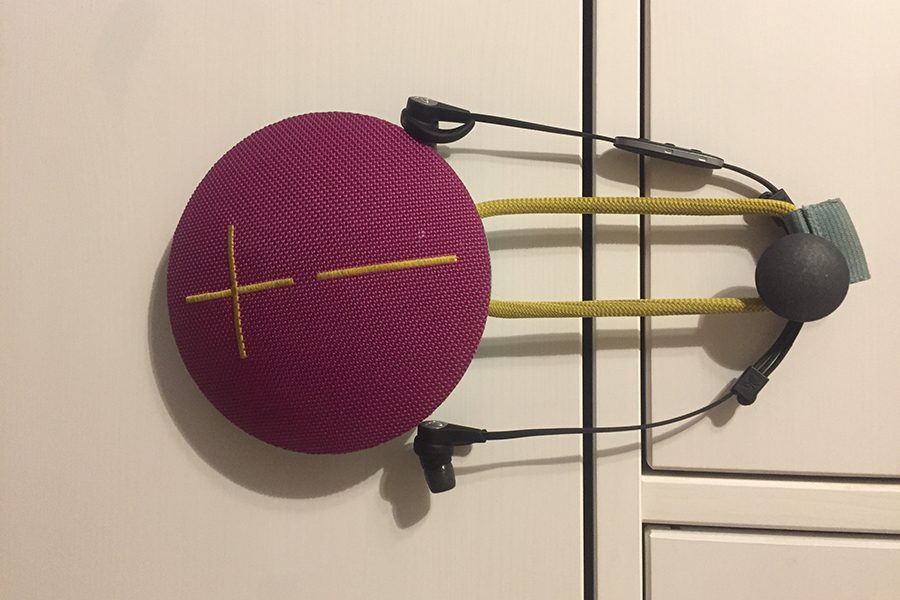 Bluetooth Speaker: UE Roll 2
The most attractive Bluetooth Speaker on the market is the UE Roll 2 by Logitech. This speaker has several specs that set it apart from the competition. With a rugged design and bungee cord used for attachment, the UE Roll 2 can go anywhere without the risk of damage. The UE Roll 2 is waterproof and can go up to one meter underwater for 30 minutes without any problems. Want to listen to music in the shower? In the pool? In the ocean? The UE Roll 2 satisfies any outdoor adventure. I personally tested the durability of the speaker on accident while I was riding my bike. I had the speaker attached to my bike frame and it came loose due to a bump I hit in the road. The speaker fell off and I ran over it on my bike (with both tires) going about 15-20 mph. The speaker only received one scratch and continues to function perfectly.
Bungee Cord Attachment

Bungee cord lets user attach speaker to all sorts of structures

Waterproof Design

IPX7 Rating
Dirt-proof and shockproof shell

Low Price for High Quality

Starting at $100
Discounts at Target and BestBuy

UE Roll 2 App

Pairing ability: combine up to two UE speakers (must be from the same company but do not have to be the same model) on one device
Power the speaker on and off
Take turns controlling the speaker
Control the speaker's sound levels

9 Hour Battery Life

Press both volume buttons at the same time to prompt the battery percentage
 The UE Roll 2 is the cheapest speaker offered by Ultimate Ears (Logitech) and is the only speaker with the bungee cord function so I highly recommend it.
Bluetooth Earbuds: Jaybird X3s
The Jaybird X3s came out very recently and is a third generation Bluetooth earbud product from the Jaybird company. These earbuds offer the best results for working out and other physical activities. The earbuds come with 2 sets of small, medium, and large earpieces to fit all ears. One of these sets contains all silicone tips for comfort and provide some noise cancellation and the other set has memory foam ear tips which provide excellent noise cancellation and function by squeezing the earbud before inserting it into the ear, and then the earpiece expands once it is in the ear canal. These buds are connected by a cord which has an adjustable length. The Jaybird X3s is charged with a USB cord and can be used for an hour after 15 minutes of charge.
Low Price
Sweat-Proof and Water-Resistant
9 Hour Battery Life

15 minutes per hour charging (2.25 hours for a full charge of 9 hours)
Lower volume results in an even longer battery life

X3s App

Control the left and right channels with the app
Use Jaybird X3 presets or customize your own sound preferences (low-range, mid-range, and high-range) to satisfy your own personal sound channel predilection

Answer calls and use Siri with in-mic control
Earbud Controller

Jaybird X3 has a controller on the cord which connects the earbuds
The controller has volume +, and volume -, and pause/play buttons on it
With the controller you can answer calls, skip songs, go back to previous tracks, check the battery life, and turn the earbuds on/off
The Jaybird X3s are one of the best bluetooth devices available for working out with great sound quality and sweat-proof design, but it is not ideal for comfort listening and results in complete noise isolation so you can't hear anything around you.
Bluetooth Headphones: Bose QuietComfort 35s
The Bose QuietComfort 35s came out in late 2016 and have been Bose's most popular product. These headphones have the option to operate with a cord or wirelessly with battery. The QC 35s are lightweight and you can take these headphones on the go anywhere you want with its compact carrying case.
High Price
Fit

Compact design
Soft, comfortable ear cushions and headband
Collapsible

Noise Cancelling and Equalizer (EQ)

Bose technology uses noise canceling to isolate sound waves outside of the system (i.e. the outside of the ear cushions).
The EQ enhances sound quality by enhancing certain frequencies of songs thereby creating better track mixes

20-hour Battery Life

15 minutes of charging (2.25 hours for a full charge of 20 hours)
Lower volume results in an even longer battery life
Use a cord and you don't need a charge unless you use the noise cancelling aspect

QC 35s App

Connect and switch between devices
Personalize Bose settings

Call Function
Button Features

Volume buttons
Pause songs or skip tracks forwards and backwards
The QuietComfort 35s are great for comfort and noise isolation but lack in the bass and in the highs, which are instrumental sounds, even in the equalizer mode.
About the Writer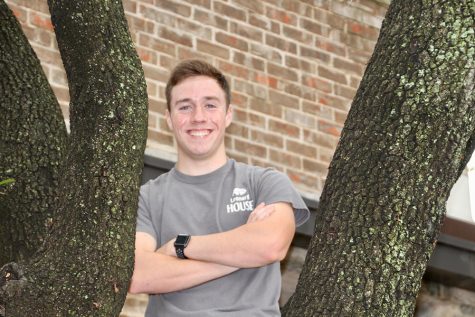 Nate Wallace, Online Editor-in-Chief
Nate is a senior this year at Fort Worth Country Day and plays three sports for the school: cross country, soccer, and lacrosse. He started going to FWCD...