FWCD and Japanese Students Meet for the Last Time
Hang on for a minute...we're trying to find some more stories you might like.
For the past four years, FWCD has been partnering with Fort Worth Sister Cities and doing a middle school exchange where a group of students from Nagaoka, Japan come and go to school and live with a FWCD family. Unfortunately, this is the last year this exchange will be happening at FWCD.
This year, 30 students and 6 teachers came from Nagaoka and spent a week experiencing life in Fort Worth at FWCD, Young Women's Leadership Academy, and the World Languages Institute.
"The largest challenge was the language barrier between us but we eventually were able to communicate well enough," Banner Robinson, an eighth grader who took part in the exchange, said.
Steven Blan, one of the 7th grade history teachers, said that it was hard to coordinate this exchange with Sister Cities, host families, and the delegation leaders in Japan.
Blan hopes that the impact FWCD and Nagaoka students have because of this exchange is "obvious and subtle" meaning the obvious that the students have an appreciation of another culture and different perspectives and the subtle that the students will cultivate an interest to travel abroad.
The Japanese students not only attended school at FWCD, but traveled to different places in the Fort Worth area like the Stockyards and Globe Life Park. In addition to this, the host families took their Japanese guests to some of their favorite spots in Fort Worth.
When Robinson and his host student were not traveling around the city, they enjoyed playing traditional Japanese games that his host student brought with him.
Sera Takahashi, one of the Japanese students that took part in the exchange, said that he enjoyed going to school, experiencing both school and home life in Fort Worth, talking with the FWCD students, and going to an NBA game with his host family.
Blan said he liked seeing the FWCD and Nagaoka students formed bonds that could lead to friendships that could continue because of technology.
Robinson said that having a friend from a different culture has impacted him and made him more interested in traveling around the world.
To end their exchange, the Nagaoka students and their host families had a "Sayonara" potluck party, where the families brought different homemade dishes for everyone and the Japanese students did a few traditional Japanese dances, along with some more modern, popular Japanese dances.
About the Writer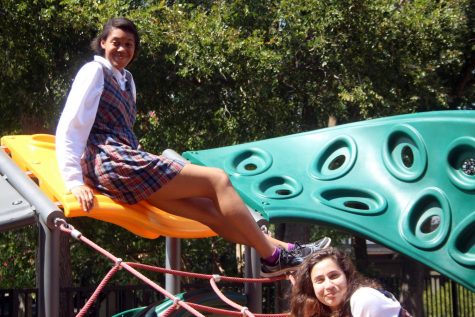 Solana Adedokun, Online Editor-in-Chief
KACHOW! Solana Adedokun is a senior at Fort Worth Country Day. You may see her on campus driving her stylish 2006 mint green Volkswagen Beetle. When she...