Dr. Asad Dean '90 Shares Thoughts on Fashion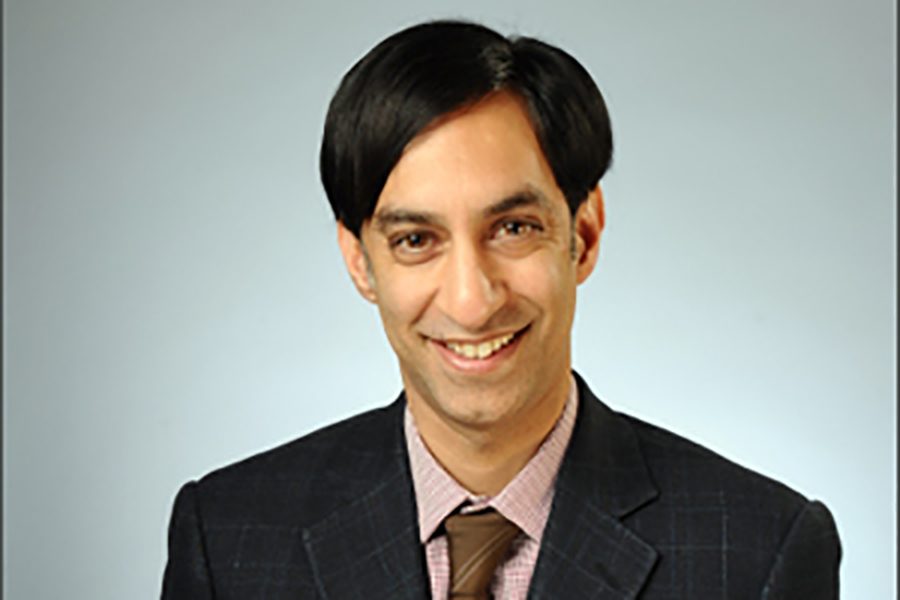 Dr. Asad Dean '90 has made a name for himself.
Dean is known not only for his successful private practice as a medical oncologist, but also for his impeccable and vibrant sense of style. He has been featured as one of Fort Worth Magazine's 10 Most Stylish Men in Fort Worth and has participated in interviews and panels where he shares his love for art and fashion.
Dean graduated from Fort Worth Country Day in 1990 after attending the school for three years.
"Enough time to make an impression," he said.
After leaving FWCD, Dean went on to major in biology at The University of Texas at Arlington, before moving across the metroplex to attend the University of Texas Southwestern Medical School in Dallas. From there, he made the leap to Syracuse, New York for his internal medicine residency. He then made his way back to UT Southwestern to complete a fellowship in hematology and oncology. After completing his fellowship, he stayed on as faculty for three years before moving to Fort Worth and joining private practice at Texas Oncology.
Throughout his life, Dean has had an eye for fashion and style. It began in his years at FWCD, where he took an art history class.
"Art history opened the door to a greater appreciation of art," Dean said.
He explained how the knowledge you gain in art history — you must be able to recognize an artist's work — can translate into the fashion world. People who become familiar with the way a designer designs can recognize their work easily.
Dean has used this knowledge to further relationships in his life. Once, he said, he was on a trip to London and bought some shoes that had a multicolored square pattern. A few years later, he was at an opening for the artist Stanley Whitney. Whitney's art is made up of varied, multicolored squares. Dean wore the shoes he had bought in London some time earlier, along with a Southwest Airlines pin he had been given by a patient. The pin had "SW" on it — the initials of Stanley Whitney.
"He loved the clothing interpretation of his paintings. There have been other examples where the art has inspired me on how would I dress for a particular opening that is paying a tribute to the artist," Dean said.
Dean does not only put thought into his clothing when he is going to an event or function. He explains that he puts thought into the little things he can wear around the office — a fun stethoscope, a unique pin, or a stylish tie — to help make his patients feel better, while also reflecting a little of his personality.
"It is the care and the thought and the consideration you have of others of how you are putting yourself together. Fashion can be a reflection of our respect for others," Dean said.
Dean also emphasized that fashion is important as an expression of ourselves.
"It's about taking a closer look at yourself and feeling good with who you are, which is different for every single individual," he said.
Dean holds in high regard the ability to show personality through unique clothing. However, he sees the necessity for the FWCD uniform. Dean believes that in some instances it is important to have uniformity. When there are students together where some may be considerably more affluent than others, it is important to have something that places everyone on an equal playing field. However, Dean does point out that just because someone has access to luxury brands does not make them stylish.
"Clothes in and of themselves don't make the person, but clothes on a person give the clothes personality. Fashion isn't about designers. Labels are for clothing, not for people," Dean said.
Not only do clothes show personality, Dean explained, but they also can show a person's well-being. This is important to Dean because he is a physician: more specifically, a medical oncologist. This means that the clothes a person chooses to wear to an appointment can show how the patient is feeling and responding to treatment.
"I love to see when my patients are here at the clinic and they are dressed, and they look great, and they're feeling well, because that is a sign of their wellness. There are times when they're so sick they can't even put on clothes. You see the manifestations of treatment, of illness, and how it affects your perception of self, and how you are going to be portrayed and how you are portraying yourself," Dean said.
With such a serious and often sorrowful specialty of medicine as his occupation, Dean enjoys the fact that clothes and fashion can often portray positivity. Dean enjoys designers like Versace and Dolce & Gabbana, who he thinks create unique clothing that speaks of a positive outlook on life.
"Fashion has helped me in my career by allowing me to really know myself and feel a wonderful sense of excitement, knowing I can take care of people in difficult times, but how I select clothes does bring happiness to them, too," Dean said.
So what did Dean choose to wear to an interview with a Fort Worth Country Day student? A blue and red tie, of course.