Mary Poppins' Magical Return Delights Audiences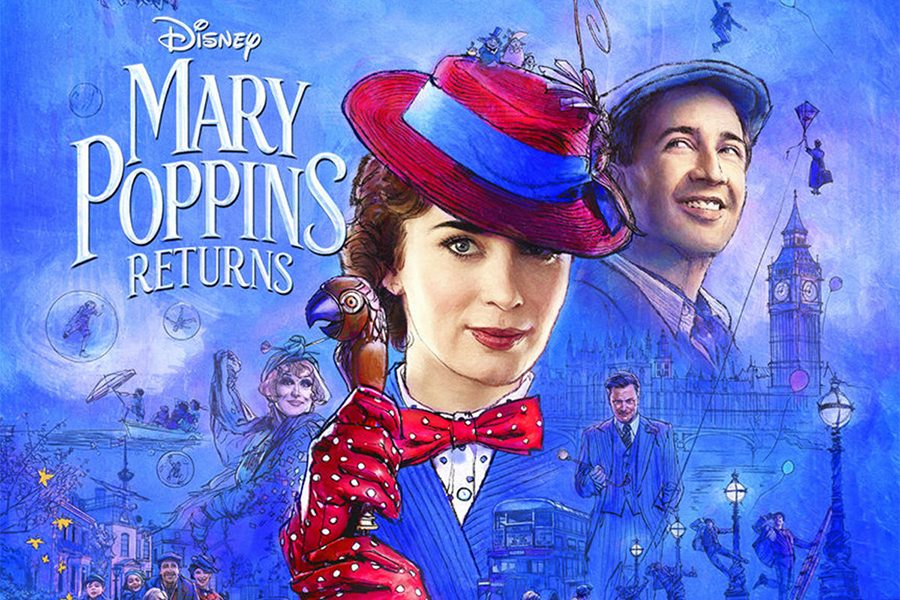 At the forefront of an upcoming slew of sequels and remakes (Lion King, Dumbo, The Lego Movie 2, and more) the new Mary Poppins film, Mary Poppins Returns, has hit theaters after much anticipation.
The original Mary Poppins, starring Julie Andrews and Dick Van Dyke, was beloved by many for its catchy, cheerful songs, its charmingly British characters, and its whimsical animations. Fans who grew up watching the original 1964 film had high expectations for the return of their magical nanny, and the sequel did not disappoint.
Returns follows the story of Michael Banks, now an adult with three children of his own, who faces the repossession of the family house. Banks' wife passed away the year prior, and life in the Banks household is subsequently filled with sadness and hardship. However, thanks to a trusty old kite, Mary Poppins returns to nanny the children. She has not aged a day, and she is still up to her old tricks: singing, dancing, interacting with animated animals, and fiddling in the lives of those she meets.
The movie pays homage to the original in a variety of ways. Emily Blunt, cast as Mary Poppins, captures perfectly the mysterious air of Andrews' Poppins. Lin-Manuel Miranda, cast as Jack, a handsome and charming London lamplighter, builds on Van Dyke's legacy of the humble chimney sweep. The Admiral next door with his ship-house, the charming animated characters, and the dirty London setting recall favorite elements of the first film.
The music of Returns, composed by Marc Shaiman (Hairspray, Sister Act) and Scott Whitman (Catch Me If You Can, Hairspray) nods to its predecessor but does not repeat music from the original. "Can You Imagine That?" sung by Blunt, has the frivolous spirit of "A Spoonful of Sugar" and "Supercalifragilisticexpialidocious." "Trip A Little Light Fantastic," Miranda's lamplighter anthem, easily calls to mind Dick Van Dyke's jubilant "Step in Time." Without resorting to a remake, the sequel's music pays tribute to its roots while crafting a fresh narrative full of songs for a new generation of fans. The happy, bright notes in Returns, however, are offset by the movie's poignant themes. The backdrop of Michael's wife's death is given hearty significance in two instances: Michael sings about his wife while looking through his attic, and Poppins sings a lullaby to the children titled "The Place Where Lost Things Go." The lullaby was nominated for an Academy Award for best Original Song. Overall, the movie has a sad basis that allows the characters to move forward and become happier, leaving the smile on your face at the end of the movie a little more meaningful. These characters didn't just find joy; they overcame their grief to find lasting hope.
Mary Poppins Returns allows you to leave the theater with a smile and the feeling that anything can happen — even something a little bit magical.