Angeles Casanova Dreamed of Being a Spanish Teacher
Imagine living in Mexico with seven siblings and being the only one who moved to the United States. Imagine having to leave parents, siblings, and friends behind in order to pursue a dream. That's what Angeles Casanova did. 
Casanova grew up with seven siblings in Monterrey, Mexico. She is the only one out of her siblings that moved to the United States. However, she is not the only teacher in the family. Five out of the seven siblings work in education. She would not have become a teacher without her mother. Casanova's mother's behavior and demeanor was inspiring to Casanova when she was a child because of her natural teaching ability. 
"I knew from a very early age that I wanted to be a teacher," Casanova said. 
After she completed her education at the Autonomous University of Nuevo León, she had a variety of teaching jobs. She started as a bilingual teacher in her hometown at a private school. She worked as an English Second Language (ESL) teacher, a Recovery Reading teacher, and an instructional specialist. As an ESL teacher, she taught English to babies and toddlers. Casanova loved being a Reading Recovery teacher because she loved teaching first graders how to read. She would meet with her students in one-on-one sessions for 16-20 weeks. Wanting more adventure, Casanova applied for a work visa so she could teach in the United States. 
Her first job in the United States was teaching Spanish at the University of North Georgia for two years. She went back to school to get a degree in bilingual education from Texas Woman's University.  
After finishing school, she started working for the Fort Worth Independent School District (FWISD). She was a bilingual teacher for 12 years. Wanting more change, she started working at Fort Worth Country Day as a LS Spanish teacher. Nine years later, Casanova began teaching eighth graders. 
"I really love working with eighth graders," Casanova said.
Casanova loves working at FWCD because of the sense of community, her colleagues, and her students. Her students are her driving force to become a better teacher. 
"I admire the desire of such young people to learn. Their curiosity and character is something that I have not seen anywhere else," Casanova said. 
She also loves being an advisor to eighth graders. One of her advisees, Jane Shelton '24, loves being in Casanova's advisee because she is nice and funny. 
"My favorite thing about Señora Casanova is her energy and positivity. She is always excited and very enthusiastic to teach," Shelton said.  
While she loves education because of her students, Casanova also loves it because she met her husband, Robert, through education. When she worked for FWISD, she went to Madrid, Spain for a Spanish unit course. They met at the conference because he was there with his school from France. There, they fell in love, and he decided to move to the states.
They have two children, Diego '19 and Paloma '21. Diego currently attends Rice University after graduating as salutatorian in 2019. Paloma is a junior at Fort Worth Country Day and will be the student body president for the 2020-21 school year. She loves that her mom teaches at the same school. 
About the Writer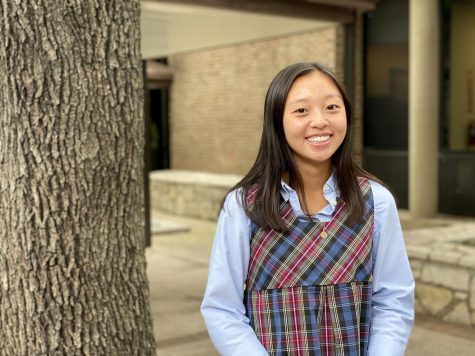 Anna Hooton, Features/Copy Editor
Anna Hooton is a junior at FWCD. She is the Features/Copy Editor for the Falcon Quill. She loves Asian food due to her Asian heritage. Anna loves animals...