Recognition Assembly: Online 2020
See who was honored in the virtual awards assembly, published here for the community to share
Each year, a commemorative assembly is held to recognize those outstanding members of certain groups such as Link Crew Seniors, Team Service Seniors, Dance, Theatre, Choir, Languages, Mathematics, and Athletics. Unfortunately, due to the series of unfortunate circumstances deriving from the Coronavirus outbreak, the Recognition Assembly is not able to be physically held, as it usually is. Regardless, the faculty and staff do not want to leave these hardworking students unrecognized.
"Hard work and dedication are two skills that continually help to make the world a better place," US history teacher Colin Douglas '06 said. "The Recognition Assembly is important as it allows the school community a moment to reflect and appreciate that hard work and dedication that goes into truly being excellent."
With that, listed below is each group and its recipients for the 2020-21 school year:
Link Crew, Recognition of '19-'20 Seniors: Ainsley Bescher, Sidney Hubli, Bailey Melton, Julia Petsche, Liberty Croutch, Caden Jones, Grant O'Neal, Brandon Schack, Thomas Dickerson, Mia Kovachev, Mitch Overton, Joy Yun, Raul Frias Perez, and Ashin McCormack
TEAM Service, Recognition of '19-'20 Seniors: Ben Alexander, Stephen Murrin, Sara Clark, Katey Parham, Stephanie Morgan, and Joy Yun
Dance, Corps de Ballet Award: Solana Adedokun, Paloma Casanova, Gabby Pettit, Izzy Gutierrez, Grace Sapienza, Claire Guthrie, Baylee East, Kelly Pham, Kendall Lehman, Eliana Garcia, Alyssa Hughes, Lily Escamilla, Kat Steele, Malinda Murphy, Emma Hermesmeyer, Madison Smith, Mary Johnson, Caroline Bradford, Nick Pakis, Ava Scott , Will Tuomey, Ella Li, Kaylee Chisholm, Michelle Pham, Adele Wilson, Janie Bradford, Allison Maberry, and Jazmine Gomez
Theatre:
Best Performances:
The Curious Savage: Claire Guthrie, Paloma Casanova, Stephanie Morgan, and Ian Lee
The Drowsy Chaperone: Julia Petsche, Claire Guthrie, Stephanie Morgan, and Faith Darrow
The Golden Hammer Award: Aly Uhr
The Golden Gaff Award: Brandon Shack
2020 Betty Buckley Nomination: Claire Guthrie, for Best Female Actor as Ethel in The Curious Savage
Choir:
TPSMEA All-Region Treble Choir: Gracie Cross, Eliana Garcia, Alyssa Hughes, and Kate Morton
TPSMEA All-Region Mixed Choir: Landon Barker and Jessica Tomasic
Languages:
French: Oliver Cristobal, Xixi Hillman, Evelyn Richey, Sebastian Salazar, and Laney Bagwell
Spanish: Kevin Bien, Caroline Barlow, Ben Alexander, Gracie Cross, Mitchell Crawford, Karina Cedillo, Gage Fowlkes, Isabella Gutierrez, Stephanie Cook, Anna Hooton, Mary Johnson, Isabel Juliao, Macie Mallick, Kendall Lehman, Nick Pakis, Katherine Martin, Felicia Pang, Joshua Yoon, and Leela Vallurupalli
Latin: Joaquin Castro-Balbi, Miles Childress, Reshma Niraula, Michelle Pham, and Alex Volpe
Mathematics:
AMC 12:
Winner: Christopher Hoppe
Runner Up: Henry Lynn
AMC 10:
Winner: Josh Wu
Runner Up: Matthew Lobo
Mu Alpha Theta Achievement Award:
Undergrad: Joaquin Castro-Balbi
Senior: Lily Melcher
Athletics, Will Stansbery Club Awards:
Freshmen: Rob Batton, Julia Clinkscale, Jackson Grace, Jeremy Henderson, Sutton Howard, Corey Karpel, Abigail Klein, Caroline Klein, Jacob Link, Isabella Rios, Holt Smith, and Vivian Todora
Sophomores: Femi Adedokun, Katy Jane Ayers, Joaquin Castro-Balbi, Brailey Connor, Rogan Crumley, Sydney Cyprian, Taralyn Eschberger, Sydney Hudecek, Kurt Kimmel, Rylee Leo, Macie Mallick, Rick McBroom, Sawyer Parker, Lily Senter, Aidan Shackelford, George Soye, Mac Toomey, and Luke Wroten
Juniors: Ayris Gratts-Cole, Andrew Nober, Illeana Rodriguez, Billy Serralta, Kennedy Smith, Trevor Todd
Seniors: Kenzi Carter, Santiago Del Pozzo, Christopher Edwards, Ainsley Hilliard, Allison Moore, Alex Orozco, and Grayson Uhr
"Whether you're on the field or in the classroom, always hang in there, stay strong, and finish a fight. And you've done just that by receiving this award. Congratulations!," Andrew Thomas said.
This annual ceremonial recognition is vital to the FWCD community. By continuing to recognize those who have been outstanding in school groups, athletics, academics, and fine arts, a sense of normalcy can be provided, which is seemingly much needed in times like these. Congratulations to all recipients.
About the Contributor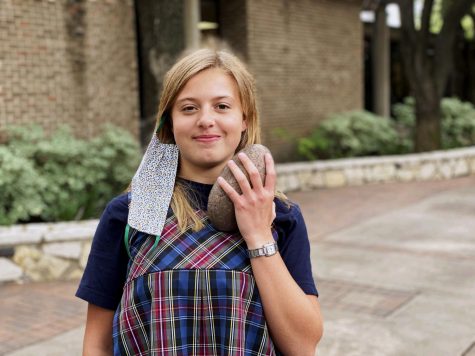 Olivia Neve, Design Editor
Olivia Neve is currently a junior at FWCD. She is the Design Editor for the Quill staff. Olivia likes to spend time hunting and in the mountains, as well...