Covid Creates Changes in the Classroom
Classrooms are going to look very different this school year. Some of FWCD's community will be learning remotely from home via Zoom, while others are on campus. Although the global pandemic has brought its obstacles, FWCD has modified its operations to create a safe and strong Falcon community. 
At the end of last year, the administration made the decision to defer major capital projects that were planned for the summer to allow for anticipated expenses related to the COVID-19 pandemic. As guidelines and best practices unfolded throughout the summer, the school with the support of the medical advisory team determined the best sanitizing and safety practices for the circumstances. 
"We really treated this as a whole campus exercise and focused on the divisions equally," CFO Tom Mitchell said.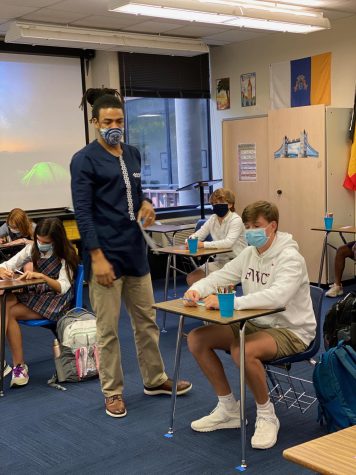 To ensure a safe return, FWCD has added safety features and protocols for the school. For the air filters, bipolar ionization units have been upgraded to MERV11-13 filters, significantly enhancing the HVAC systems thanks to the hard work of Mike Mancini, the school's HVAC Technician. Plexiglass barriers were added across campus in reception areas, classrooms, and the dining hall. Four 20′ x 40′ outdoor classroom tents will pop up around campus in the coming days.  There are seven thermal scanners in operation monitoring students' temperatures as they enter each morning. The school purchased an electrostatic mister which allows for faster sanitization in larger areas and each classroom has a sanitization kit for use during the day. 
"The PFA, through a generous grant, made the bipolar ionization units and the audiovisual setups in each classroom possible," Mitchell said. "We are most grateful for their help with this and getting us back to campus safely."
Additionally, lockers have been closed, hallway and restroom signage are displayed, study hall spaces have been created, and lunchroom protocols have been instituted. In the classrooms, the desks have been spaced at six feet intervals, and extra furniture has been removed. The Upper School has one-way hallways to keep students distanced.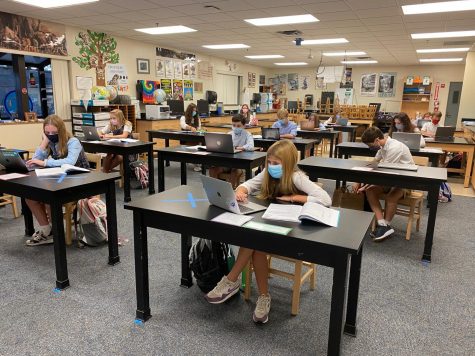 "Two pieces of furniture have been removed in my classroom, and I enjoy the extra space," US history teacher Andrew Thomas said.
There are sanitizing supplies in each room, and students face in the same direction. Additionally, students and teachers wear masks at all times, and seating charts have been created. Since it is optional to return to school, web cameras with microphones have been installed in all classrooms to facilitate remote learning. 
"The frustrating part of being online is it is sometimes hard to hear my classmates, but I'd still rather be online," Ben Tomasic '21 said.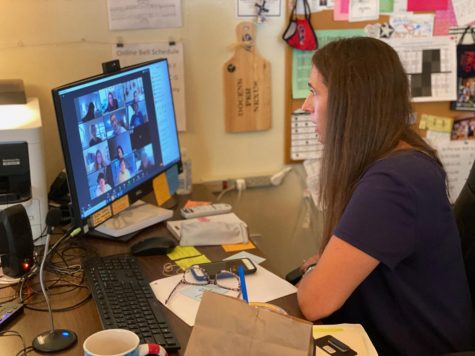 The high school has separated students into cohorts: 9/10 and 11/12. These cohorts are separated for classes, lunches, study halls, sports, and entries to the campus. Students are checked daily through the AUXS safety app and Cumulus temperature stations. Hall and bathroom passes are required. 
"At first it was hard to be in person because it was difficult to get used to the new protocols, but now that I am used to it, it is not so bad," Olivia Neve '22 said.
Classes have been decreased in size, so teachers are teaching six classes in the US during the rotation rather than five. The school has hired 27 substitute teachers to work in the FDP, study halls, teachers' classrooms when absent, and to help generally with hallway management throughout the School. Advisory has been expanded and meets daily, and Student Council will manage announcements between lunch periods regularly. The schedule has also been modified to a three and a half-day rotation rather than a seven-day rotation. 
Nurse Lori McCormack is focusing primarily on COVID related symptoms in a new satellite nursing station (the Green Room). This change necessitated bringing Katie Jordan '09 on board to help her with the ordinary nurse demands from our student body. (See the story on Nurses by Lottie Lydick for more information.)
The school spent a total of $473,992 on ensuring a safe environment for the FWCD community: facility and tech upgrades $175,000, personnel additions $277,378 (non-recurring 2020-21 school year only), and cleaning supplies and equipment $21,614.
About the Contributors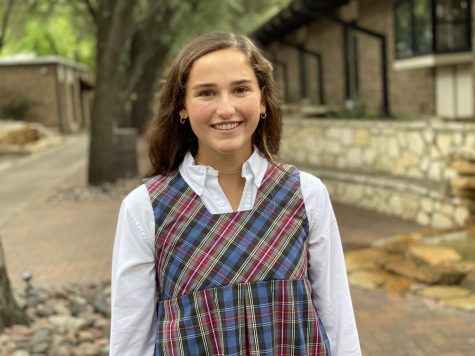 Macie Mallick, Co-Editor in Chief
Macie Mallick is currently a junior at FWCD. She is the Co-Editor In Chief for the Quill staff. Macie plays field hockey and enjoys writing news stories....
Lisa Wallace, Adviser
Lisa Wallace is in her 5th year as adviser to the Falcon Quill Online, 14th year as adviser to Falcon Quill, and 18th year as adviser to Flight and as...