Sage Food: Is it Delicious or Disappointing?
Sage food, one of the most controversial aspects of Fort Worth Country Day. Some people love it. Some people hate it. For the past few weeks, I've been researching and trying the different food options that Sage has provided for us. Now, I'm here to give you a quick review and tell you which foods I think are your best options.
To start, I would like to say that given the choice, I would choose the sandwich bar 89% of the time. 10% of the time I would go to the hot food line, and then 1% of the time, I would go to the salad bar.
I went to the salad bar a few times at the beginning of school but quickly learned that it was not as great as the other stations. Each day they served the same choice of salads with either caesar dressing, ranch, or vinaigrette. The toppings included cheddar cheese and sometimes bacon or croutons.
I think that Sage should introduce a larger variety of toppings and offer other types of lettuce, like spinach. The chicken noodle soup and potato soup are probably the best soups they serve at the salad bar. They also have crackers and fruit options available like oranges, watermelon, etc. So, I would only recommend going to the salad bar if you aren't super hungry and just want a small portion of food for lunch.
I would go to the hot food line if they were serving: chicken tenders, spaghetti, breadsticks, or the chicken alfredo bake. I think those are the best food options they have been serving us.  Although, the breadsticks have to be the tall garlic breadsticks. I was disappointed when the other day the menu said there would be those breadsticks, but instead they served us plain rolls. I mean bread is bread, so I still ate the roll, but I think we can all agree that the actual garlic breadsticks are superior. As for the chicken tenders, I honestly think they are better when served with mashed potatoes instead of french fries. The Sage mashed potatoes taste great, and I think they are much better than the fries. It's probably just because I'm used to eating the waffle french fries from Chick-fil-A. 
Lastly, the sandwich bar. Out of all three options, I think going to the sandwich bar is your best bet. Most of the time they have assorted chips available including Lay's, Sun Chips, and Doritos. If there's not an assortment of those chips, there are most likely pita chips. The pita chips taste delicious with the hummus dipping; although, I would suggest getting two bags of pita chips because they come in small portions. 
At the sandwich bar, they also serve yogurt, which comes with either granola, blueberries, or strawberry purée on top. You should definitely try the yogurt if you haven't already; it is one of my favorites. 
As for the actual sandwiches at the sandwich bar, I think that they do a great job of picking options that students would enjoy. I particularly like the caesar wrap, chicken and ranch wrap, and the turkey and cheese sandwich. The only thing I would recommend is more dressing on the wraps. Fresh fruit is also served at this bar and on certain days, a variety of desserts. I've tried the chocolate chip cookies and the brookies. Both were great, and I enjoyed them; however, I think the cookies were my favorite. 
Overall, I think that Sage has done a great job in providing us lunch every day. My only other suggestion would be that they send out an email every week that is open for food suggestions given by students.
About the Writer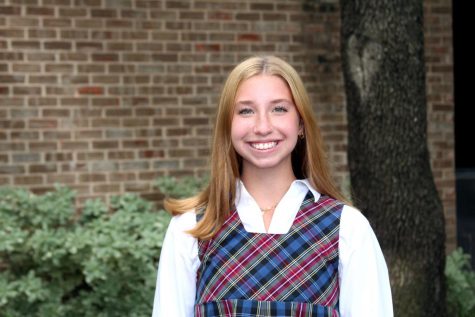 Caroline Sanders, Social Media and Advertisement Editor
Caroline Sanders, or Carol, is a very flamboyant gal. Her favorite genre/ category of books would be anything concerning witches and fairies, though the...