Love at First Sight is Fake News
Season 16 of The Bachelorette premiered on October 13. Although it was supposed to premiere in May, the season got pushed back due to COVID-19. 
Clare Crawley (39 years old) was one of the two Bachelorettes this year. Crawley has been a part of Bachelor Nation four different times. Season 16 was her fifth time looking for love on a reality TV show, and she finally found it. Looks like the fifth time's the charm for her. If Crawley genuinely wanted to fall in love, she should stop looking for it on national television.
Crawley, the 31 suitors, and The Bachelorette crew all quarantined before filming. Filming took place at La Quinta Resort in Palm Springs, California. After meeting former American football wide receiver, Dale Moss (32 years old), Crawley believed she had met her husband. Her liking of Moss was evident to the other guys and viewers. Crawley's instant fixation on Moss was unfair to the other guys. To give love a chance, she should not have solely focused on one guy. 
Crawley's four episodes were full of drama. On one of the group dates, she had the suitors play strip dodgeball and the losing team had to walk home either naked or in underwear speedos. Although Yosef Aborady (30 years old) was not on the date, he confronted Crawley about his feelings towards the date and her. He called her "classless" and pointed out that he expected more from the "oldest" bachelorette. His feelings and observations are valid. Fans expected more maturity.
"There's a reason Clare's single," Lauren Mitchell '23 said.
During all of her conversations, Crawley would find some way to make herself the topic. She did not make a huge effort, if any, to learn more about the men. Although Crawley's sole focus is to find love, she does not try to learn anything about the suitors. Her self conceit is the reason she is single at 39. On another group date, Crawley and Moss disappeared for more than 30 minutes, leaving the other men confused and upset.
Her true feelings came to light and angered the guys after another group date, which was a roast. Since all of the guys had picked up on her fondness of Moss, he was the butt of everyone's jokes. Crawley took the jokes personally and decided to interrogate the men about Moss.  
The entire fourth episode was dedicated to Crawley and Moss's relationship. They admitted their love for each other during dinner. On the next day, Chris Harrison, the show's host, went to Moss to reveal that Crawley was expecting a proposal after only four weeks. Moss is trapped in an engagement. He was not given the chance to back out. Crawley tried way too hard to convince Harrison and viewers of their "genuine" relationship. If a relationship is real, neither person needs to put in constant effort to try to convince people. 
"I think that it was a naive decision to get married so soon considering how Clare thought she was more mature than past bachelorettes," Olivia Hilliard '22 said.
All of the other guys, who put their lives on hold for her, were left feeling a mix of emotions. Some feigned happiness for the couple while others were confused and upset. Crawley's self fixation does not even allow her to realize that she hurt other guys. 
However, their journeys were not over. Harrison revealed that Tayshia Adams (30 years old) would take Crawley's place. Guys were able to choose if they wanted to stay or go. Since many did not have meaningful connections with Crawley, most chose to stay on. The show brought on four more contestants for Adams. 
During one episode of Adams's journey, more information about the suitors came to light than Clare's four episodes. During the first night, Adams took the time to genuinely get to know each guy. Her bubbly personality already outshines Crawley's self-conceited ways. So far, Adams has had a group date and one one-on-one. 
"I think Tayshia is a much better fit because she is real and not a waste of time to watch, unlike Clare," Reagan Weeks '22 said.
Thankfully, Adams is already a better bachelorette than Crawley. With Adams, the show will be interesting and involve more people. No one will even remember Crawley and Moss's "relationship" once the season is over. Adams and her love story will outshine Crawley's pathetic love at first sight. 
About the Contributor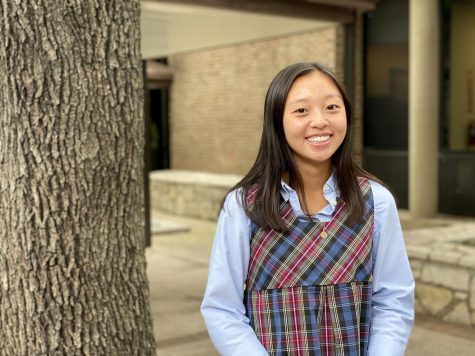 Anna Hooton, Features/Copy Editor
Anna Hooton is a junior at FWCD. She is the Features/Copy Editor for the Falcon Quill. She loves Asian food due to her Asian heritage. Anna loves animals...