A Grand Slam or a Missed Opportunity, Will the FWCD Tennis Varsity Teams go to SPC?
The tennis season is fast approaching, and it seems fitting to predict how well the boys' and girls' varsity teams will do this year. After an abrupt end to the 2020 season due to COVID-19, the teams are ready to go again, along with some new editions coming up from the middle school. So without further ado, the predictions on the lineups for the teams and if they will make it to SPC this year.
The Coaches
First, a little bit about the coaching staff. There were some doubts that the FWCD varsity tennis teams would succeed last year. This was due to the decision last year by Angel Martinez to depart the FWCD head coaching spot to focus on tennis at Texas Wesleyan. This concern was quickly put to rest last year as coaches Sil Azevedo, Brad Cinalli, and Debby Arnold rallied the team together. 
"I felt really motivated [with them coaching]," Captain Chris Hoppe said when asked about the new coaching team. This was a great sign heading into the season.
The FWCD Boys Varsity Team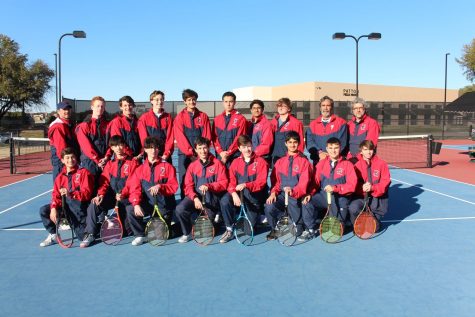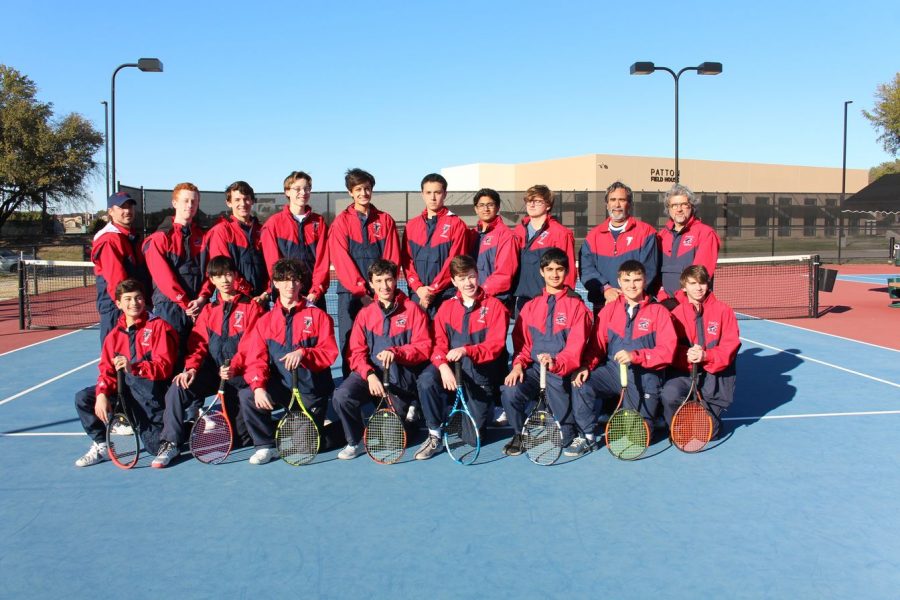 Many of the boys on the varsity team last year, including Chris Baker '23, Holt Smith '23, Mitchell Crawford '22, Paul Alexander '21, Chris Hoppe (Choppe) '21, and Jack Ethridge '21 will hopefully return this season.  There will also be others who will be stepping up to play on the varsity team this year as well.
One of the standout players on the team last season was Chris Baker. Chris played high up in the ladder in middle school, and he also made the varsity team last year as a freshman, which isn't that common. He has also been coming out to the preseason tennis practices as well.
Will They Go To SPC this year?
First off, a little explanation of what SPC looks like for tennis. Although tennis is typically played individually or with a partner, it is very much a team sport. In SPC, or any regular season matches, the team needs to win at least three of the five matches they play in order to win or move on in SPC. Those five matches consist of three singles matches and two doubles matches. Seeing as tennis is a team sport at our school, even if an individual or doubles team wins their match and the team loses overall in an SPC match, that individual or team does not get to move on in the tournament. Now, back to if the FWCD boys varsity team will make it to SPC. 
With that question put to rest, it looked like the team was ready to compete and make a run to SPC, but the season was cut short due to the pandemic and FWCD had only played one match, which they lost. 
With that being said, will the boy's varsity tennis team go to SPC this year, if there is SPC in the spring? There is a good chance that the team will make it this year, especially since the team has an incredibly great coaching staff and a really strong group of players. The team only needs to win two of their matches to make SPC and based on previous tennis seasons their opportunities lie with matchups against Oakridge and TVS. Unfortunately, even if FWCD does win the required two matches to make SPC, it's still doubtful that they would win the whole tournament, especially with a Cistercian team that has been very competitive and strong over the years and has been very troublesome for the boy's varsity team. 
The FWCD Girls Varsity Team
The girl's team will possibly have many returning players this season, depending on if they choose to play tennis or not. Some of the players that will possibly be returning this season, including those who were moved between the varsity and JV teams last year, will be Vivian Todora '23, Betty Weaver '22, Lillie Turner '22, Paxtin Stimson '22, Macie Mallick '22, Caroline Sanders '23, Caroline Klein '23, Abby Klein '23', Adriana Jones '23, Jilli Carson '23, and Caroline Readinger '23. The girls varsity was coached by Sil Azevedo and Debby Arnold, and will be coached by them again this season.
On the girl's team, one of the standout players was Betty Weaver. Betty has also been coming out to the preseason tennis practices and has also been taking group and private lessons with coach Brad Cinalli. Betty also commented on the chances for the girl's varsity team to make it to SPC.
"I feel that this year we will go to SPC strong and we will hopefully win," said Betty"
Will They Go To SPC this year?
The girls varsity team's season was similar to the boys' team last year. They played a few matches, but then the season was put on hold when COVID-19 hit. Now, will they make SPC this year? The girls probably have a better chance of making SPC this year than the boys do, as the girls' team made SPC two years ago and probably would have had a good chance of making it to SPC last year as well if not for the pandemic. Winning SPC might also be difficult for the girls' varsity team, as like with Cistercian for the boys, the girls' team has been having trouble beating Hockaday. 
Final Thoughts
Both varsity teams will be very competitive this season and probably make it to SPC this year, but they will most likely fall short of a victory. Most of the other teams in the division have been very dominant over the years and have beaten FWCD year after year in the regular season. Based on that, it doesn't seem probable that either of the varsity teams will win this season. The team has been gradually improving over the years though, so a SPC victory for one of the FWCD teams may come shortly.
Story Updated: 2/24/21