"Whole Lotta Red" is a Whole Lotta Trash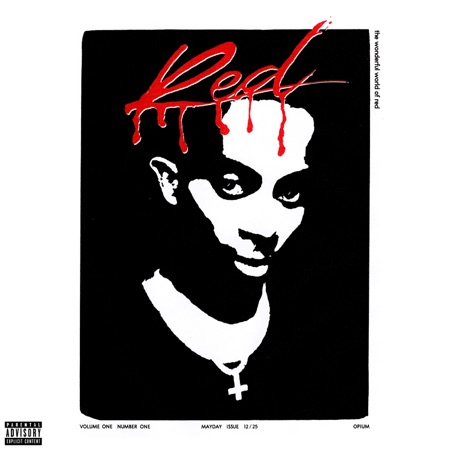 On December 25, 2020, rapper Playboi Carti released his highly anticipated album Whole Lotta Red despite many setbacks with COVID-19 and a whole album's worth of leaked music. 
There is a wide variety of reactions when the name Playboi Carti is spoken. Some snicker, some cry. Some get down on their knees in worship. No one, however, was laughing after 2017 when his debut mixtape, "Playboi Carti," released and he toured the world with Lil Uzi Vert and A$AP Ferg.
Carti entered a period of musical silence following the release of his certified gold, 2018 album "Die Lit." On April 26, 2020, Carti released the single "@ Meh" to raise awareness for his latest rumored studio album, Whole Lotta Red. After another couple months, people began to forget about the project as more and more suspected release dates came and passed with no album to show. Fans seized with excitement once more when Carti confirmed the release of a new album, tweeting, "i hAv3 a gift 4 u :0." He continued to tease his followers saying "d0nt sL33p." Rumor has it that his "m0st loyAL fanS" did not close their eyes until the ad libs "what" and "phew" were pumped into their ears. On the morning of December 25, 2020, Carti did the impossible and finally released another album.
Companies such as Pitchfork and Complex will post reviews of albums merely hours after their release, but I have done every reader of the Falcon Quill a great service by taking almost five months to review an hour-long album. I have painstakingly listened to Carti's "baby voice" for hours on end, so that you don't have to. Without further ado, here is The Marshall Lehman's review of Whole Lotta Red by Playboi Carti.
Track 1: Rockstar Made (3:13)
Not one second after the album starts, you are bombarded with a heavy, distorted synthesizer and, for some reason, the jingle of a janitor's key ring. Playboy Carti enters the track for the first time at 13 seconds and uses the remaining 3 minutes to mumble the phrase "never too much" a grand total of 44 times.
Track 2: Go2DaMoon (feat. Kanye West) (1:59)
I've got to be honest, I kinda liked this song. Simply Kanye's name under the feature tag made this track better. Ye has the quality to him where he can release anything, for example the song "Lift Yourself" where he only says "poopy-di scoop scoop-diddy-whoop", and people praise him as a "lyrical genius." Ye has some clever verses on this song too, saying "Ye Jesus gang, you correct." Carti finally enters the track after a short interlude of ad libs following Kanye's verse, and he instantly makes me question the existence of music. He makes a reference to his son, "In the car with my son (Yeah, yeah)." After hearing that verse for the first time, one might think, "that's a weird flex" and move on, but after closer inspection and analysis, one still thinks "that's a weird flex." In 2020, Australian pop rapper Iggy Azalea and Playboi Carti had a son who they named Onyx Kelly. Now, that's a weird flex.
Track 3: Stop Breathing (3:38)
This whole song can be summarized in about 13 words. Carti is so attractive that whenever he takes off his shirt, everybody dies. Oh, and he does an Arnold Schwarzenegger impression.
Track 4: Beno! (2:33)
I can't complain much about this track. This song was the first break in the album from the repetitive rhymes and ear piercing beats, but I still have one complaint. I know that I sound petty or like a teenager writing a review about a rap album for his private high school's newspaper, but I look at it like I'm a historian. Carti says, "2-3, Lebron with the heat." This, of course, is a reference to the NBA's Lebron James who famously bears the number 23 on his jersey and from 2010 to 2014, he played for the Miami Heat. During that four year stretch in Miami, James never wore 23 because in 2003, the Heat retired the number in honor of Michael Jordan. That's another thing: Jordan never played for the Heat, and yet they still decide to be the only team in the NBA to retire his number, besides his home team, the Chicago Bulls. It has been brought to my attention that 2 multiplied by 3 equals 6, which was the number that James wore during his time in Miami, but I'm not convinced that Playboi Carti understands multiplication.
Track 5: JumpOutTheHouse (1:33)
Playboi Carti jumps out of a house, then forgets.
Track 6: M3tamorphosis (feat. Kid Cudi) (5:12)
This track is another example of how simply the mention of a feature piques my interest. Kid Cudi is a fellow rapper mentored by Kanye West, and most notably known for his musical trilogy, Man On The Moon. Cudi first enters the song approximately 20 seconds in with his signature humming. His "mmm"s are dynamic in pitch, which entices you to keep listening to the song despite Carti's awful attempt at a double entendre, saying "I feel like Morpheus." The supposed deeper meaning of the song is that Playboi Carti is like a butterfly going through the process of metamorphosis so that he could drop all of his burnens and insecurities so that he can become whatever Punk Rock nightmare he is today. Kid Cudi starts his first complete verse at 3:08 and it lasts for 50 seconds, making this 5-minute track not worth the brain power required to listen to Playboi Carti. The ad libs end when Cudi enters the track and he quickly changes the tempo of the song, keeping the listener engaged and frat boys going crazy. All in all, this track isn't completely unlistenable if you can put up with Carti having a god complex.
Track 7: Slay3r (2:44)
The presence of this track was a pleasant surprise. I was fully prepared to listen to Carti rap about how much of a "rockstar" he is, which he does plenty of in this track, but the cliché verses were supplemented with a fast paced, catchy beat and vocals that move with the flow of the accompanying instruments. This is one of the few tracks in Whole Lotta Red that I would actually consider listening to again, and has earned itself the mantle of third-most-listened-to track on the album with approximately 21.7 million plays on Spotify alone.
Track 8: No Sl33p (1:28)
Playboi Carti's fans have been fooled again. The title of this track leads you to believe that Carti spends his nights restless like those who followed the direction of his tweets and didn't "sL33p" until Whole Lotta Red was released. However, in the first line, you find out that Carti can fall asleep perfectly fine knowing that he can release anything he wants, call it a new album, and people will worship it.
Track 9: New Tank (1:29)
The song is so bad, I can't even make a joke about it. The title, and several verses, are suspected to be in reference to a gift that Carti received in December 2020. Kanye West bestowed him with an all-terrain vehicle where if you squint, it might resemble a tank with a lot of holes through it. Playboi Carti posted an image of it on Instagram and showed his heartfelt appreciation saying, "i goT A tANK @ THe cAsTLE n0w thx. YE".
Track 10: Teen X (feat. Future) (3:25)
Normally I would say that a feature would increase the quality of any track on this album, but like every Spanish verb tense, there are exceptions. While Future has helped artists Drake, Rihanna, and Post Malone produce Certified Platinum songs, his efforts were wasted with Playboi Carti. The best thing to come out of this track was an incomplete sentence about Swiss Cheese.
Track 11: Meh (1:58)
Don't be confused. Despite these tracks having almost identical names, this track is not the same as the single "@Meh."
Track 12: Vamp Anthem (2:04)
The track begins with a D# chord using a Cathedral Organ. From then on the beat is reminiscent of the classic vampire movie, "Hotel Transylvania."
Track 13: New N3on (1:56)
I'm pretty sure that this song was produced by a 16 year old "SoundCloud rapper."
Track 14: Control (3:17)
At this point in the album, the fans who spent the past 2 years desperately searching for any glimpse of a new album are in tears. Carti continuously reminds them of their foolishness in multiple tracks, but in the intro of "Control," Carti sends the final blow to their ego. The track starts with a recording from DJ Akademiks where he praises Carti's followers, calling them "the most loyal, most dedicated fan bases." We learn the reason for all of the delayed release dates and why this recording has never been shared before; in pursuit of this sensitive information, DJ Akademiks sold his soul to obtain the details of the album saying, "The Illuminati owns part of me." In addition to naming the producers of the project, Akademiks renames Carti as "Santa," which adds a disturbing image to Carti's ""i hAv3 a gift 4 u :0" tweet. Akademiks ends his message saying, "expect a classic." He had clearly not listened to any of the music.
Track 15: Punk Monk (3:49)
Now, the age old question, who is in Paris? Apparently Playboi Carti.
Track 16: On That TIme (1:42)
It is very obvious why this song is the least played out of the 24 on the album.
Track 17: King Vamp (3:06)
Playboi Carti has surpassed all academic expectations. He can spell "King Vamp."
Track 18: Place (1:57)
The track opens with one of my favorite beats on the album, but after three seconds you are rudely interrupted by an uncomfortably long silence. Some music artists may cut the beat for about one second to add complexity to the song, but Carti decided that bigger is always better so you wait like an impatient kindergartener sitting criss-cross-applesauce for four seconds. This may not sound like a long time, but to put four seconds into reference, this is about as long as it takes for Ms. Hayes to write you up for dress code. 
Track 19: Sky (3:13)
I know that so far I have essentially torn this album to shreds, but Carti may be able to redeem himself with this track. I am hesitant to give him praise, after listening to the atrocity that is "On That Time." Without the aid of a feature or production by Kanye West, Playboi Carti has managed to create a track with a Playboi Carti patented beat and verses that don't repeat more than 15 times, one would be surprised at how rare a song with these qualities are in this album. "Sky," that peaked at #5 on the Billboard Top 100 Chart, is a true unicorn in his discography. After I listened to 19 tracks of Carti just saying "What? What? What?" over and over again, I might be brainwashed when I say this but this song, by definition, slaps. Carti makes a reference to one of my favorite cars, the 1969 Dodge Daytona (You probably know this car as "The King" from the movie, Cars). Another side tangent: the Dodge Daytona was developed by John Pointer of Chrystler's missile division, a program from Operation Paperclip, after continuously losing to the Ford Motor Company in the great American sport that is NASCAR. Dodge's Charlie Glotzbachn drove the Daytona to 204 miles per hour, becoming the first NASCAR race vehicle to break the 200 mph barrier. Despite their historical success, Dodge had to keep the record-breaking car a secret because Ford owned and used spy planes to gather information on competing car manufacturers. Ah the Cold War, what a time to be alive.
Track 20: Over (2:46)
I shouldn't have gotten so excited over the last track. Carti immediately goes back to making beats that sound more like a truck in reverse gear than actual music.
Track 21: ILoveUIHateU (2:15)
Carti has been considering dying his hair red.
Track 22: Die4Guy (2:11)
Playboi Carti can not use Instagram because he has two brothers. It beats me how his mind associated the use of social media with having siblings, but hey, it's not the worst track to come out of this album, kinda.
Track 23: Not PLaying (2:10)
I am not playing. This beat sounds like the Wii Sports theme sped up.
Track 24: F33l Lik3 Dyin (3:24)
Words cannot express how relieved I am that this is the last track on the album. I would say that 24 songs on one album is a bad idea for any artist, but 24 songs on one album for Playboi Carti is my personal nightmare.
Clearly, if you're reading this, you're not in search of the next Beethoven. Yes, Carti severely lacks complexity in his verses and English teachers would have a bone to pick with his repetition, but what Carti lacks in lyricism, he makes up for in energetic melodies and the distinctive ability to turn any APUSH test into a University of Arizona SAE tailgate. While his ear-deafening beats may not be for me, I'm sure after only listening to Carti for years and a little bit of hearing loss, this could be a prime example of Stockholm Syndrome. Don't get me wrong, I have a tremendous amount of respect for Carti and his unique style of music, and his previous album, "Die Lit," was one of my favorite records to come out of 2018. But like 6ix9ine, I need to acknowledge something terrible when I see it, but if you ever just so happen to say to yourself, "I might just want to listen to 'Whole Lotta Red' by Playboi Carti," I've got some advice for you. Don't.