I Scream, You Scream, We All Scream for Eierdam's Boot Scootin' Ice Cream
Judy Eierdam is a super-sub in the lower school for the 2020-21 school year. In addition to her job as a sub, she works in a dress shop, and she wants to start an ice cream business. She is calling her business Boot Scootin' Ice Cream or "BS Ice Cream". Her recipes use eggs; therefore, it is technically a custard. 
Eierdam's Boot Scootin' ice cream shop is still in the process of recipe tasting before she launches it into a full business. The lower school students and faculty members are often her taste testers, as she will leave the ice cream sitting in the freezer with a note to taste it and leave advice on the flavors.  
The three flavors that Eierdam supplied for the Quill staff were Country Day Jamboree, Chocolate Peanut Butter, and Chocolate Chip Espresso. 
Country Day Jamboree was given its name because of Mrs. Malone's second-grade class. They tasted her ice cream and loved it, so Eierdam decided to name it after the school. Country Day Jamboree is made up of a super sweet vanilla ice cream base, pretzels, mini M&M's, Oreos, and dark chocolate. The ice cream was really good, but some of the toppings were too soggy because they had been sitting in the ice cream. One suggestion by the Quill staff was to use chocolate-covered pretzels to keep them from getting soggy. The sweetness of the base was really strong which can cause people with a weaker sweet tooth to not like it. 
Chocolate Peanut Butter is made up of chocolate ice cream and Jif peanut butter. The chocolate is super rich and delicious, and it pairs perfectly with the creamy peanut butter. It tastes similar to Baskin Robbins chocolate peanut butter, and it is just as good. However, several Quill members recommended trying crunchy peanut butter in order to differentiate the chocolate from the peanut butter. 
The Chocolate Chip Espresso is super flavorful and yummy. The coffee flavoring is perfectly spot-on. The contrast of sweetness that the mini-chocolate chips bring is appetizing, and it makes you want to eat more.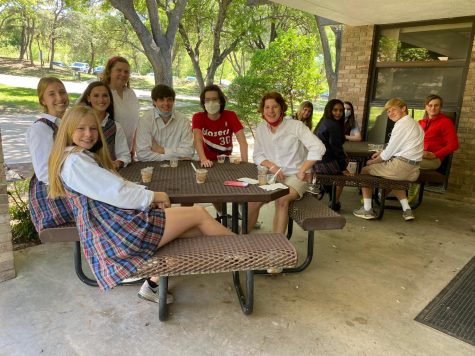 My favorite flavor is the Chocolate Chip Espresso, but the Chocolate Peanut Butter comes in a close second. The Country Day Jamboree is delicious, and every bite tastes different. However, the sweetness levels are overall a little too strong at times. 
"It was great. Ice cream tastes amazing, especially when it is made by someone at FWCD," Marshall Lehman '24, a Quill staff member said.
"The flavors were really good, and the combination of the chocolate and peanut butter was really creative," Jack Mezey '23, another member of the Quill staff said.
I would recommend that everyone be on the lookout for Judy Eierdam's Boot Scootin' Ice Cream company because it is absolutely delicious. She is going to continue working on her flavors and will also add more so that she can get her business fully up and running, whether it is in a food truck or in a farmers market. 
If you have any flavor suggestions or are curious to learn more about Boot Scootin' Ice Cream please reach out to [email protected]