Freshman Class Elects Student Council Representatives
The freshman class has elected new Student Council members for the 2021-22 school year. Each grade gets a class president and 3 representatives, in addition to the student body president.
On Friday, September 3, the class of 2025 voted for their class president. During the announcement period, the whole grade went to the Patton Field House and listened to speeches from candidates Aedan McCormack, Caroline King, Lilah Firestone, and John Maddox Wolfe. 
"I would like to improve school dances, encourage fellow students, help with community service projects, and help run fundraisers," Firestone said. 
She believes that communication is the most important part of being class president and has already received input from students on how to improve Fort Worth Country Day.
McCormack highlighted that over the span of one and a half years, a lot has changed. He talked about Covid-19, the new federal government, and all of the people that have died due to the coronavirus. He believes that the class of 2025 needs somebody who can lead them through all of this change. If elected, he vowed to listen to every student and make sure that their voices are heard.
King emphasized that she is exactly like the class of 2025. She wants to work with them to make the school dances and monthly activities fun and enjoyable.
Wolfe wanted to make sure that no voice is unheard and that everybody has the best school year possible. He wanted to do this by making sure that policies are fair and that Student Council events are entertaining.
After listening to the speeches, an email was sent out to the freshman class. The email contained a Google Form for voting along with each candidate's bios. The voting began at 12:30 p.m. and closed at 4:00 p.m that day. After the voting, there was an email sent out informing the class that there would be a runoff election between Firestone and McCormack.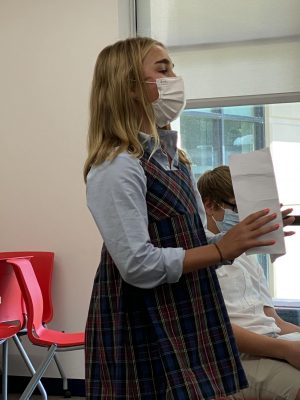 The runoff took place on Tuesday, September 7 and Firestone won. Runoff elections happen often when there are more than two candidates because you need a 50% or more majority to win the election, according to the Student Council charter.
US History teacher Jennifer Giroir, the co-moderator of the Student Council, outlined the expectations that each class president should meet during their time in office. According to Giroir, the president should be accountable and responsible, and the transition from STUCO in middle school to the council of the Upper School comes with many more expectations.
The class president speaks for their class and represents the class in important decisions about events and other school activities. 
Firestone will be working hard along with her fellow class representatives. An email was sent Thursday, September 9, with bios of the candidates and a google form for voting, similar to the process for Class President. Nara Acuna Guba, Margaret Anderson, Mariel Brumley, Chappell Carter, Elizabeth Dike, Sofia Garcia, Caroline King, Aedan McCormack, and Alex Seiden ran for representative. Acuna Guba, Carter and Dike won. Each of the new class representatives want to improve Fort Worth Country Day in any way possible, and they want to make sure the class of 2025 has their voices and opinions heard.