Country Day is Craving CAVA
There's a new restaurant in town, and it's right by Fort Worth Country Day. A Mediterranean fast-casual restaurant, CAVA opened mid-August as the first location in Fort Worth. CAVA merged with Zoës Kitchen in 2018 and took over its spot in Waterside at 5917 Convair Dr, Suite 309. 
CAVA is similar to Chipotle in that you build your own meals. They have bowls and pita wraps that you can customize. To start, you choose your base: salad, grain bowl, greens and grains, RightRice®, or a pita wrap. Next, you pick up to three dips: roasted eggplant, hummus, red pepper hummus, tzatziki, crazy feta, or harissa. Then, you pick your protein: falafel, grilled meatballs, spicy lamb meatballs, grilled chicken, harissa honey chicken, braised lamb, roasted white sweet potato, or roasted vegetables. Lastly, you add your toppings and pick a dressing. After you build your meal, you can add any sides or drinks. They offer hummus, pita bread and chips, chocolate chip cookies, and fudge brownies. 
"It was like a better version of Chipotle," Julia Clinkscale '23 said. "I was very impressed with it."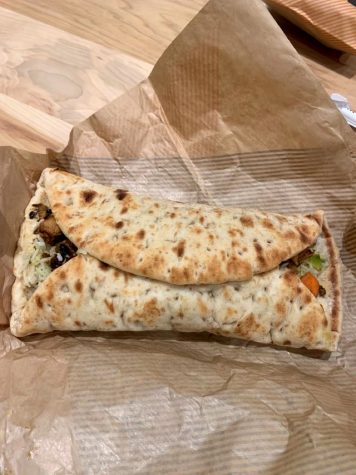 Having CAVA close is convenient for seniors, as they get off-campus lunch privileges on Thursdays and Fridays for the first quarter. Some students have already tried the Mediterranean restaurant.
"I'm excited to try CAVA for off-campus lunch soon," Anna Hooton '22 said.
After hearing people rave about the food, I tried CAVA myself. I ordered a bowl with arugula, romaine, and black lentils. I then added tzatziki and red pepper hummus as my dips. Next, I added my protein, and I chose the spicy lamb meatballs. Lastly, I added cucumbers, tomato + onion salad, and avocado. I decided to skip out on the dressing. I then got pita chips on the side with hummus. I got ice water, so my total came out to $14.68. 
My meal was great and very fresh. I also got to try my friend's pita chips, and they were good but interesting. They were almost half pita bread and half pita chips as they were super soft in some bites and hard and crunchy in others. Price wise, I would say CAVA is not cheap, so I will not be going there every time for off-campus lunch. However, I think the food is delicious and worth the price tag for an occasional lunch. My only complaint would be they do not give you very much protein, and adding more costs extra. 
"I felt cheated out of my protein as they gave me barely any chicken," Katherine Martin '22 said.
Overall, CAVA is a great addition to Waterside and super convenient for students at Country Day. You can either dine in or take it to-go. They also sell most of their dips and some of their dressings at Whole Foods, which is also located in Waterside.