Country Day Falcons Take on Tulsa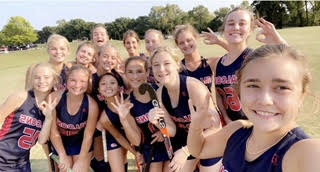 The Fort Worth Country Day field hockey team took on the Holland Hall Tournament in Tulsa, Oklahoma and came out on top. Both the JV and varsity teams left the Country Day campus and took the five-hour trek to Tusla.. The team left on Friday, Sept, both JV and Varsity playing one game upon their arrival, and returned Saturday, Sept.12 after playing two games. The weekend was full of wins, team bonding, and field hockey fun. 
Of the six total games played, Country Day left with four wins, one tie from the Varsity, and one unfortunate loss from the JV team. Both the tie and the loss came directly after the five-hour bus ride, so the conditions of the game were not quite in the teams' favor. These games left the teams unsettled and prepared them to return the next day, ready to play. 
"We had to drive five hours to get to Tusla, and then we played Sion barely an hour after getting off of the bus," Vivian Todora '23 said. "I'm sure that if we hadn't just gotten to Oklahoma, we would have won that game, but I think the tie fired us up for [the games on] Saturday and really helped us win."
The first day of the Holland Hall tournament concluded with the Varsity tying their game against Sion (2-2) and JV losing their game against Penbrook (0-1). 
The next day of the tournament, the teams woke up early and brought their best game. Elizabeth Dike '25 was one of the two freshmen (along with Finleigh Ashburn '25) who got the opportunity to play with both the Varsity and the JV in the tournament.
"We were all a little bit nervous to play Holland Hall, especially because we were at their campus, but we ended up playing really well and beat them 6-0," Dike said. "I think winning that first game really helped us carry the momentum with our game against Sion later in the day." 
The second day of the tournament was an acomplishment for both teams. In total, the two teams played four games, three of which resulted in wins. The Varsity won both of their games against Penbrook (1-0) and Holland Hall (5-0).
In the end, the tournament was a large success for the Country Day field hockey program, and this would not have been possible without the teams' coaches, Paige Chisholm '87 and Tara Gordon '12. 
Although the teams have been successful so far, the season is just beginning. As of now, the varsity field hockey team carries a 7-3-1 record, and the JV team has an 8-2 record. Their next counter game will be on Thursday, September 30. Following this, the remaining counter games will be as follows: October 5, October 7, October 15, October 19, and October 28. The SPC championship games will be held in Dallas from November 4-6.