Pumped for the Patch
FWCD prepares for pumpkins and parades
Goblins and mummies and vampires and…pumpkins. October is a busy month here at Country Day. From homecoming to Halloween, it is non-stop. The end of this busy month closes with the Pumpkin Patch and the Lower School Halloween Parade. 
The Pumpkin Patch & Boo!-tique runs from October 13-14, opening at 7:30 a.m. It is located on the walkway between the Administration Building and the Richardson Visual Arts Center. The women in charge are Jodi Outland and Tiffany Slataper. 
"We enjoy doing the Pumpkin Patch," Outland said. "It's one of the many volunteer opportunities where you get to meet a lot of people from our community with kids in every division."
The pumpkins are decorated by parents, faculty, staff, and grandparents that generously give their time. The faux pumpkins are painted by local artists in the FWCD community, as well as the Fort Worth community. The pumpkins are covered with spray paint and acrylic painted details. Some are covered in glitter, while others are adorned with tulle, bows, and flowers.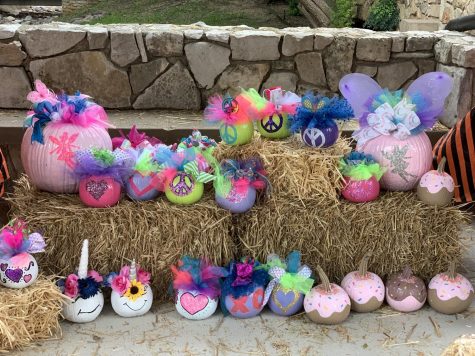 "There is magic in volunteering at the patch," Outland said. "Some people come and discover their creative sides, and some people come and keep us company." 
The pumpkins range in price from $25 to $100. They sell large pumpkins, pie pumpkins, and a select few Cinderella pumpkins. The faux pumpkins are bid on in the auction, and their prices usually start at $150. There are 450 available for sale and 19 to be auctioned. All proceeds from the Pumpkin Patch are donated to PFA. The PFA works hard to give back the money to the school in areas that it is needed or desired. 
"We enjoy it all, and it makes it better knowing that we are having glittery fun to raise money for the school," Outland said.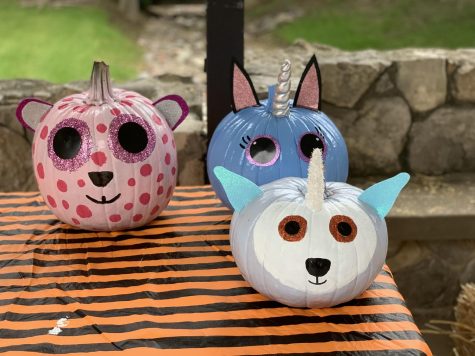 The Boo!-tique also offered the option to pre-order a customized pumpkin. A jot form that was sent to the community from FWCD that gave the customizable options for pumpkins. On the form, a patron could select a college that they wanted painted in the pumpkin and what exactly they wanted on the pumpkin with their school of choice. Some people have opted to use the detail box on the form to verbally paint a picture of what they wanted on their pumpkin.
To wrap up the month, the lower schoolers will be making their way through campus in their Halloween costumes, visiting the Middle and Upper schools. The older students will line the walkways and cheer for the fairies, monsters, and more.