Lights! Camera! Action! Easter Joins FWCD
Clue premieres Thursday, Friday, and Saturday at 7 P.M.
Joining FWCD from the great state of New York, Siouxsie Easter is the new Upper School Theatre Director. Easter came to Country Day from the Theater at Wells College in New York. She has taught directing, acting, Shakespeare, improvisation, dramatic literature, and theatre history. After 22 years in New York, Easter and her family wanted a big change, warmer weather, and to be closer to family and friends.
Easter's husband, Ed, is a librarian and a substitute teacher. She has two children, Kell, a freshman at Clarkson University, who is studying Computer Science, and Charlotte, a fourth grader at Overton Park Elementary.
Easter's life lesson is about the importance of communication.
"Talk to people," Easter said. "People have all kinds of life stories and backgrounds that we don't know or appreciate. I've learned a lot about humanity and how to be humane." 
Easter has directed and acted in over 75 productions. Some of her favorites include Twelfth Night, Eurydice, The Maids, A Midsummer Night's Dream, and Rumors. Easter loves seeing plays come to life after reading the scripts. 
"It is so much fun coming up with ideas with the cast. We always laugh a lot in rehearsals." Easter said.
Easter values collaboration and a sense of adventure with fellow actors and crew when acting.
"It takes an ensemble of dedicated people to put on a show," Easter said.
Her current production is Clue. Although it has brought fantastic roles for her students, it has been a challenge to direct. Fitting everything on stage with lots of crazy characters and multiple rooms has been one of the biggest challenges for the director. 
"Challenging plays are so much fun because they are like a big puzzle that a lot of people work hard on to complete." Easter said. 
Showing November 11-13 at 7pm in the Scott Theater, FWCD's theater department presents their fall play, Clue, a witty, fast-paced mystery. People who are familiar with the movie should be on the lookout for the classic lines, as well as several nods to the board game in their set.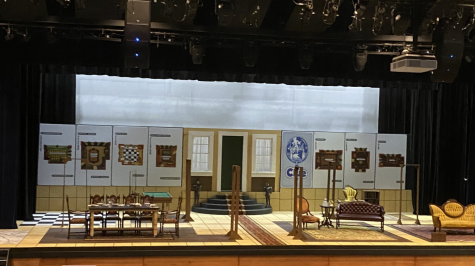 Easter loves the "brisk humor" of the play.
Easter chose this play because she loves the board game. The cast of Clue includes students from all upper school grades. Their final cast includes new and experienced actors.
Nic Medaris '23 is playing the role of Wadsworth and his favorite thing is the atmosphere and cast.
"As a lead, it can be a lot, but it's part of the commitment it takes," Medaris said. "It takes dedication and a lot of work to get a big role!" 
Easter sent out the scripts to the student to prepare them for the audition. The students went through several different scenes from the play. 
"Auditions were pretty simple," Lilah Firestone '25 said. "The process was very comfortable and welcoming."
Since a lot of students auditioned, Easter had difficulty choosing the cast.
"I was so lucky to get cast as Yvette, the maid in the play," Firestone said. "I am very truly excited about it. We have not performed the play yet, but the rehearsals have been amazing. It is truly a wonderful environment with great people." 
 Easter has already made an impact on her students at FWCD.
"[Mrs. Easter] has brought a very comfortable and compassionate environment," Firestone said. "She cares deeply about her students and strives to help us grow."