What is the Best Chocolate Chip Cookie in Fort Worth?
Chocolate chip cookies: a crowd favorite. Ranging from thin and crispy to thick and gooey, they are a staple dessert. But the question is: which is the best in Fort Worth? We went to three popular locations to determine the winner: Hurley House, Crumbl, and Tiff's Treats.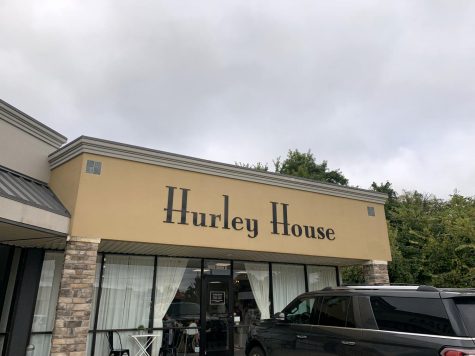 Hurley House: 
Located across the street from FWCD, Hurley House showcases a variety of tasty treats, including cookies, brownies, rice krispy treats, pie bars, muffins, and cinnamon rolls. As well as deserts, Hurley House also offers seasonal lunch and dinner specials that rotate monthly. However, the best thing that Hurley House sells is its chocolate chip cookies. The first thing I noticed about the chocolate chip cookie was its size. The cookies themselves are huge; each comparable to the size of an entire hand. The cookies are $2.50 each so, you are paying for the size. The thin cookie is crispy, but soft in the middle to where it smoothly breaks in half. To Macie and me, that is the perfect type of cookie. One that doesn't fall apart because it is so undercooked, but one that isn't too crispy to where it is overcooked. There is a sprinkle of salt on the top of them that creates a beautiful mix between a sweet and salty flavor. Overall, this chocolate chip cookie has an amazing taste.
Crumbl:
Although Crumbl changes its flavors weekly, it always offers its milk chocolate chip cookie. However, this staple is not what keeps its customers coming back weekly. Their choice of milk chocolate chips instead of the expected semi-sweet chips is a huge mistake in our opinion. The milk chocolate makes the cookie too rich. It is a major letdown when you expect an amazing chocolate chip cookie and take a bite of Crumbl's version. The cookie is quite large and costs $3.48. Chocolate chip cookie base is already sweet, so the addition of milk chocolate ruins the classic cookie. Although, Crumbl has offered a semi-sweet chocolate chip as a special weekly flavor. It was amazing. It almost made the milk chocolate one worse because you know there is so much more potential in the semi-sweet one. We propose that Crumbl switches its milk chocolate chip cookie for their semi-sweet one as their recurring flavor.
Tiff's Treats:
Tiff's is an all-time Fort Worth favorite. It is delivered right out of the oven directly to you. Having the cookie arrive warm is Tiff's greatest appeal. The semi-sweet chocolate chips melt in your mouth as you eat them. The cookie itself is exactly what you want out of a chocolate chip cookie. It's thin and gooey with crispy, golden brown edges. The cookie is presumably the size of a normal cookie, a lot smaller than Hurley House and Crumbl's chocolate chip cookies. However, at Tiff's, their cookies come by the dozen usually, and a dozen of chocolate chip cookies cost $18. It is worth it for their warmth and flavor. Tiff's Treats cookies tend to last a long time and stay fresh after a few days. The chocolate chip cookies are also a wonderful treat to send to someone as they deliver almost anywhere. 
Conclusion:
Overall, we have come to a conclusion about our cookie competition. The award for the worst chocolate chip cookie goes to none other than Crumbl. It is a major disappointment, as there is a ton of hype surrounding the cookie business. The runner-up is Tiff's Treats. This was a hard decision because of how amazing the warm cookies are. However, the ultimate chocolate chip cookie award goes to Hurley House. The salt on top of the large cookie takes the cake.