Cross Country Runs to Success
Underappreciated, unrecognized, incredibly successful: the Fort Worth Country Day Cross Country team. The team has been growing and improving over the past few years, and this year they have been incredibly successful, consistently finishing in the top five in each meet. However, this success hasn't been easy to reach; the team has had to face adversity to get to where they are today. 
This season, the team is coached by Jared Connaughton, the Track Program Director. Connaughton has been working at this school since 2016 and has played a significant role in helping the team meet the goals they have achieved thus far. When Connaughton started coaching here, he admitted that his coaching style was different from what the athletes were used to at the time.
 "When I first became the coach, the returning athletes noticed immediately that my coaching methodology was much more based on quality runs vs long mileage," Connaughton said. "It took a while for the team to adapt to the new style, but all in all the season went well and the varsity team improved throughout the season."
It didn't stop there for the team though. The athletes continued to improve year after year, and now the team is running better than ever.
"This season our numbers are terrific, and the team is improving week in and week out," Connaughton said. "By the end of the season, we will have all 10 varsity runners under 19 minutes with several of them on pace to run sub 17 minutes, which should put us in contention to finish in the top three at SPC."
What they have accomplished is incredibly impressive as running sub 17 minutes for a 5,000 meter race is running about a five minute and 30 second mile. Getting to this point has not been easy for the athletes, especially the early morning practices and the physical and mental challenges that are a natural component to the sport.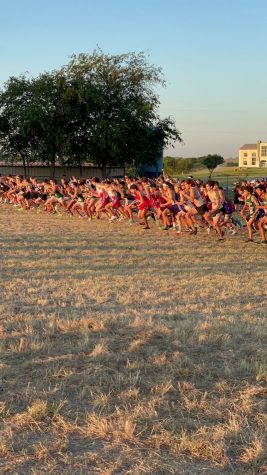 "Early mornings, having to get used to that, and then the mentality of it," Sawyer Parker '22, one of the captains of the team, said. "It takes a special kind of person to put their body through that."
Some of the other athletes have said similar things, but they also said that they enjoy the results of running with the team.
"There are many challenges in Cross Country, but there are also many motivators, so it's a matter of the motivators trumping the challenges," Joaquin Castro-Balbi '22, one of the other captains of the team, said. "Some of the challenges have been the early morning practices and having to shift your schedule around, so you can't stay up till 3 am with your gaming friends playing League of Legends, and the physical strain is also challenging."
Despite these challenges, there are great rewards and experiences that result from being an FWCD Cross Country runner.
"There are days where you feel unstoppable, and you do well and you know you do well," Andy Booth '24 said. "It makes me happy."
Not only does the team have to set a standard for themselves when in practices and meets, but also outside of practice.
"Team expectations are to live a disciplined, organized and motivated lifestyle, away from training," Connaughton said. "Perhaps no other sport is as affected by lifestyle choices (going to bed on time, managing free time, discipline, dietary choices, hydration, post training recovery modalities, etc.) than cross country."
These are tasks that are not easy for anyone to maintain, and the athletes will often have to motivate their teammates to uphold those standards.
"Some athletes gravitate to that discipline, others perhaps need some guidance," Connaughton said. "The best way to encourage that discipline is to have great leaders/captains, and fortunately our team is equipped with fantastic leadership."
Cross Country, however, isn't just about running; it involves bonding with your teammates and getting to know everyone better in order to have the best experience.
"The overall experience has been extremely fulfilling because when I started it I didn't know everyone that well, and then we started to bond through the suffering and the pain," Jack Cimo '24 said. "It's extremely rewarding to see yourself improve."
Most recently, the team competed at North Zone versus many other competitive SPC schools, including St. Marks, Casady, and Greenhill. FWCD finished fourth at this meet, which was without team captain Joaquin Castro-Balbi.
The team has pushed themselves to limits they've never reached before, and it's paid off. The amount of effort that the athletes have put in to reach this point is admirable, and for the amount of success the team has had, they have not been appreciated enough. It's finally time to see what this team can do.
To see the results of team and individuals, use this link.