Arcadia Accumulates Acclaim
Are you looking for a small, quirky coffee shop to try? If so, let me tell you about Arcadia Coffee.
The shop is a part of the South Main Village in Near Southside Fort Worth, located at 326 Bryan Ave.
According to the Merriam-Webster dictionary, the word "arcadia" is used to describe "a region or scene of simple pleasure and quiet," and that is exactly what this coffee place is. 
The first time I heard about this place was in math class when I asked Kendall Lehman '22 about her Arcadia Coffee sticker on her computer. She immediately started raving about how good the coffee and food are, especially the Midnight Waffle and Avocado Mama. So naturally, I wanted to try it. 
One morning, Olivia Hilliard '22, Lehman, and I decided to meet at Arcadia for breakfast. Lehman and I split the Midnight Waffle ($6.00), a charcoal-infused waffle topped with powdered cinnamon sugar and whipped cream, because it is rather large. Although the waffle came with a side of syrup, I did not even need it since the waffle, by itself, was amazing. It was light, fluffy, and sweet. The whipped cream and cinnamon were the perfect flavor combination. 
Lehman and I both got an iced drink from the Blooms Menu (the spring menu): the Forest and Field latte. This delicious coffee includes rosemary syrup, honey, espresso, and milk. While the rosemary syrup added a slight minty taste, the honey evened out the somewhat bitterness of the syrup, thus, creating the perfect balance of sweetness and bitterness. The Forest and Field latte was so popular that Arcadia decided to add it to their menu permanently. 
Hilliard got their signature drink, an iced Cosmic Latte, which includes espresso, milk, cinnamon, and vanilla syrup. Since Hilliard is lactose intolerant, she substituted the milk for oat milk.
"
It tasted like happiness in a cup"
— Olivia Hilliard
Arcadia's expansive menu offers both breakfast and lunch options and caters to people of all eating restrictions: dairy-free, vegetarian, and vegan. 
One day, I decided to get a hot dirty chai even though I normally order iced drinks. For those of you who do not know, a dirty chai is a chai latte with a shot of espresso. The drink tastes like fall in a cup, and it became one of my favorites. 
For fans of savory food, the Avocado Mama ($5.50) and potato and chorizo Sunrise Burrito ($4.75) is a must-try. The Avocado Mama is every avocado toast lover's dream. It consists of smashed avocado, sprouts, chia seeds, hemp seeds, salt, and pepper. Although the Sunrise Burrito is good by itself, it is even better with the provided salsa. The salsa is a little on the spicy side, which adds an extra kick to the burrito. 
If you want something sweeter, I recommend the Bananarama ($5.50), which is toast with almond butter, sliced bananas, chia seeds, hemp seeds, and a maple syrup drizzle. This delicious creation is perfect for breakfast because it will keep you full for hours.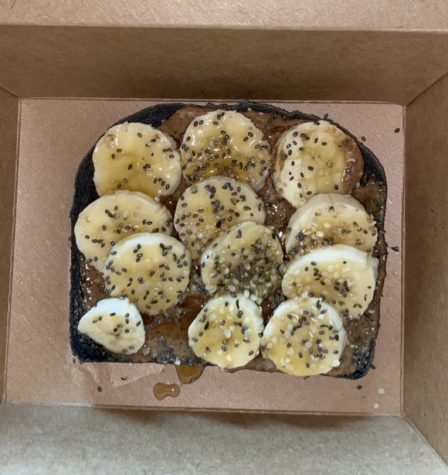 Along with the aforementioned foods and drinks, Arcadia offers smoothies, sandwiches, salad, and a variety of pastries such as muffins and coffee cake.  
Arcadia also sells special drinks during the different seasons. The "Feeling like Fall" menu consists of the Pumpkin Patch Latte (pumpkin spice, vanilla, and maple), the Butterbeer Latte (butterscotch, vanilla, and caramel), the Pumpkin Spiced Chai, and the Campfire Mocha (caramel, marshmallow, and mocha, which is also offered as hot chocolate).
During her free period, Lehman drove approximately 17 minutes to Arcadia to study. It is the perfect ambiance for studying because of the fast internet, comfortable places to sit, and lots of plugs. While she was studying, she got an iced Pumpkin Spiced Chai. 
"Yes, just yes. I have no qualms with this [drink]," Lehman said.
The owner of Arcadia, Carrie Collins, wanted her coffee shop to be a community space that is welcoming towards all local artists, musicians, and writers. Next to one of its chairs, there is a community notebook for everyone to add to.
This coffee shop provides a cozy, comfortable feel. While most of the walls are painted grey and terracotta-red, one of the walls is covered with overlapping wooden planks to create an almost industrial/rustic atmosphere, which makes you feel like you are at home. Everywhere you look, you see something created by a local artist, whether it be a painting or handmade jewelry.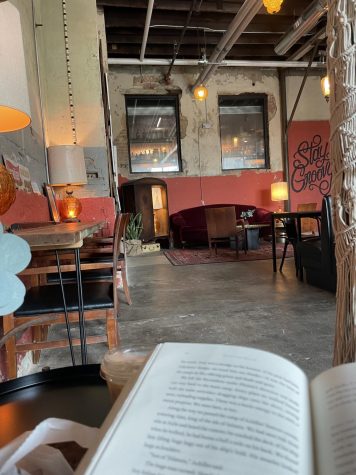 "It doesn't feel like you're in Texas," Caroline Barlow '22 said.
With the menu and atmosphere, there are few downsides to Arcadia. The only one that I can think of is that parking is somewhat difficult. 
Since it is a part of the South Main Village, there is relatively little parking for multiple businesses. If you do not like to parallel park, then you might have to block a block or two away, and driving through the narrow street becomes a nightmare when the area gets busy. 
Although driving down there is somewhat frustrating, Arcadia earns a 5/5 for its expansive and delicious menu and cozy atmosphere.