University Park Village Undergoes Changes
Anna Hooton, Co-Online Editor in Chief
November 14, 2021
Many changes are taking place in University Park Village shopping center. After multiple store closures, University Park Village has found replacements for the vacancies. 
Flower Child is a healthy food chain and plans on opening in early 2022. This restaurant is replacing McKinley's Bakery and Cafe. 
Flower Child is unlike any restaurant already in University Park Village, as it caters to all eating and dietary restrictions and needs: vegetarian, vegan, and gluten-free. The menu is made-from-scratch and includes bowls, wraps, and salads, all of which are customizable. Some of their signature dishes are the Mother Earth Bowl, Flying Avocado Wrap, and Organic Kale Salad. 
"I am excited to try Flower Child because I've heard that it's really good," Brailey Connor '22 said. 
This will be the first Flower Child in Fort Worth, but the tenth one in Texas. 
Runway Seven, a women's clothing store, recently closed, and Fabletics, an athletic wear store, has taken its place. With the recent addition of Free People Movement during the summer, there are now four different athletic wear stores in University Park Village: Athleta, Lululemon, Free People Movement, and Fabletics, making University Park Village an athleisure hub.  
Fabletics is different from any of the other athleisure stores in University Park Village. The store offers a membership, which comes with benefits. Members are charged $49.95 every month if they want to maintain their memberships. Members pay significantly less for items than non-members as they can receive up to 50% off of everything. Another benefit is that members earn Fabletics BeneFits loyalty points, which then can be used to get free gear.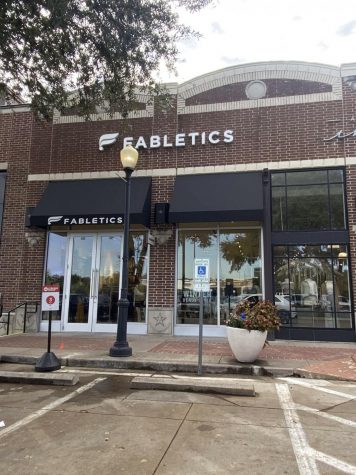 "I doubt I will shop at Fabletics very much, because I don't want to pay the membership fee," said Georgia Ethridge '23.
This store will be the only Fabletics store in Fort Worth. 
Speaking of athleisure, Lululemon has moved locations. On October 27, Lululemon opened in their new Fort Worth location. 
Before the move, Lululemon was located between Free People and Anthropologie in University Park Village. The new store is still in University Park Village, but it is now next to J. Crew in Banana Republic's old space. 
In the morning hours, the store provided complimentary coffee from Ampersand and breakfast tacos from Maestro's for its customers. The table was immediately on your right once you walked in the store.
The store is much larger than the original one and there were more salespersons than usual since they predicted that the store would be busier than usual. The salespersons were accommodating and very eager to help. 
"I bonded with one of [the salespersons] over the struggles of being tall," Olivia Hilliard '22 said.
The store has large windows in the front of the store, allowing natural sunlight to flow throughout the store, which gives the store a clean look. 
The new store offers more styles and colors.
Levi's is another addition to University Park Village. It plans to open on November 16 and will be located next to the new Lululemon. 
This new addition will provide some competition for Madewell since both stores focus on denim and jeans. 
"
I love Levi's jeans, so I'm excited for the new store"
— Lauren Mitchell '23
Although there is a Levi's Outlet store in Fort Worth, this will be the first actual store. The store will offer Levi's Tailor Shop, which includes denim alterations and customization such as embroidery.