The Kindergarteners Perform Super Turkey
The tradition of the Super Turkey performance lives on. This is the 25th year of the Plight of the Turkey and the 15th year of the annual Super Turkey performance. Former lower school music teacher Christine Derber came back last week to watch Super Turkey, after retiring in 2017. Derber has directed 25 Super Turkeys. 
"I used to end the performance with a song called Turkey's United but switched that song to Super Turkey 15 years ago," Derber said. 
The Kindergarteners, class of '34, were cast to the parts of Mama Turkey, Papa Turkey, Farmer Brown, and Super Turkey. 
Mama Turkey was Elizabeth Burkes '34. Burkes enjoyed being Mama Turkey in the play. 
"My favorite part of being Mama Turkey is getting to sing my part," Burkes said. 
Papa Turkey was Langston Moore '34, who was very excited to play that role. 
"I am very excited to sing with my friends and have my grandparents watch me perform," Moore said.
Madeline DeLaughter '34 enjoys practicing her part as Farmer Brown. 
"My favorite part of being Farmer Brown is saying my parts in the performance," DeLaughter said. 
This year's Super Turkey is William Laborde '34. 
"I like running across the stage with my muscles," Laborde said.
The day of Super Turkey is, also, the kindergartener's Grandparents' Day. 
"I love Grandparents Day because my grandparents come to my school," Smith Ray '34 said. The kindergarteners show their grandparents around school and display their art and school work. 
The Lower School holds Grandparents' Day the day after Kindergarten and Junior Kindergarten. Grandparents' Day is an annual event in the Lower School including first grade, second grade, third grade, and fourth grade.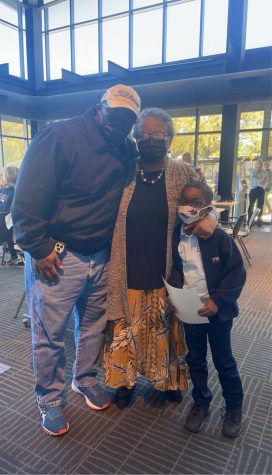 "My favorite part of Grandparents' Day is we get to do arts and crafts with our grandparents," Lillian Mehall '31 said. 
The Lower School participates in many fun activities with their grandparents. 
"I like to show my grandparents what we do at school and play music for them," Finley Packer '32 said.