Jayda's Judo Journey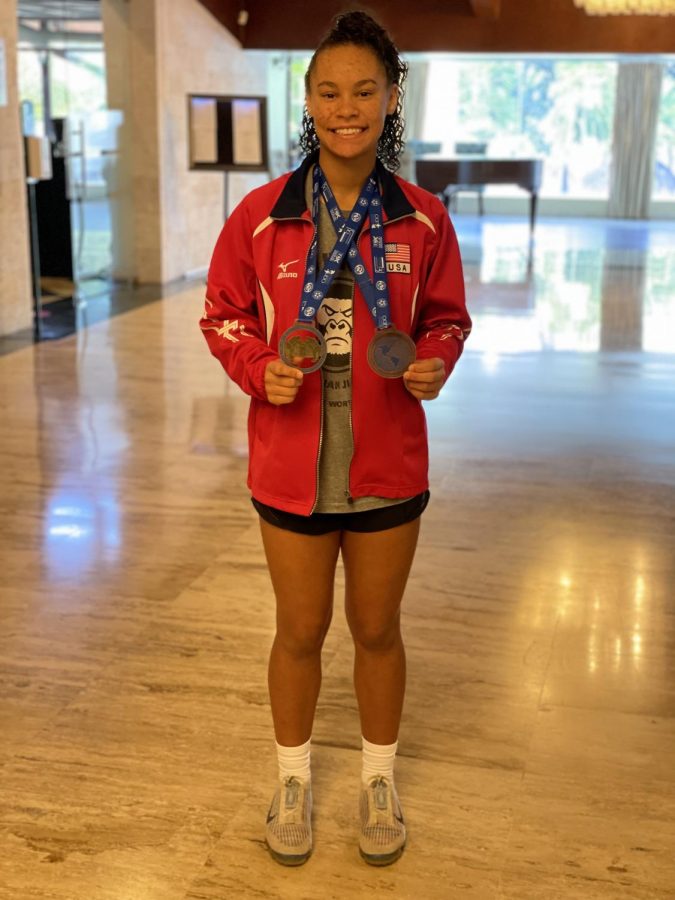 To have Olympic level dreams, one must have Olympic level expectations of themselves. I started my journey in the Olympic sport of Judo when I was ten years old. I quickly learned that the sport was much more difficult than I anticipated. There are three elements to a throw in Judo, kuzushi (balance-breaking), tsukuri ( fit-in), and kake (throw). Each phase smoothly done in a matter of seconds. The art of throwing someone who is trying to throw me fascinates me.`
Judo is a sport that came from Japan by Dr. Jigoro Kano, which involves using someone else's force to throw them. You may also pin someone on their back to win. Once you are competing in Juvenile, which is U13 and U15, you can choke, and once you are a cadet or U18, you can armbar. The way the points work is if you get a wazari, it is half a score, and an ippon is a full score. You can score by throwing someone on their side for a wazari or throwing them on their back for a ippon. If you pin someone for ten seconds that equals a wazari and if you pin them for 20 seconds, it equals an ippon. Two wazari's equals an ippon. A successful choke or armbar is an ippon. An unsuccessful armbar or choke leads to really nothing, besides standing back up again and continuing the fight.  There is another way to win by shidoing (penalty) someone out. A shido is a penalty. Once you get three penalties, you are disqualified. Some ways you can get penalties are from walking out of bound, not attacking, and false attacks, which you drop to your knees but act like you actually attacked. Those are the basics of a tournament.
In the United States, there are four national tournaments each year, which are points events. The more points you accumulate, the higher you are ranked nationally. The top four athletes from each weight division are invited to fight internationally at the Pan American Championship. This only happens once a year, after three nationals.
Starting in the middle of April was Youth nationals in Salt Lake City, Utah. In my first round, I lost, so I had to fight my way back to try and fight for third. I fought four more matches, and on my sixth one, I lost again, which placed me at fourth, just shy of the podium. First place for this tournament was fifteen points, second place nine points, and third place six points. I got zero points from this tournament. Youth nationals showed me what I could improve on for the next national event. Some of the things I could of done better is when I get back up from the ground to be cautious about other throws, I need to make sure to cut, which is turning your back towards them to make sure they land on their full back for an ippon, and making sure to keep my head up while fighting.
June 19 was the Junior Olympics in Winston Salem, North Carolina. My first two rounds, I was on a roll until my third match when I lost to the girl I beat in the first round. We fought again, and I won by shidoing her out. This girl and I have been fighting against each other for a while. She's won some, and I have won some. That day I felt on top of the world. I had gotten first, which brought me up 15 points. I was tied for second with another girl, so I had to make sure I won the next nationals. 
My final tournament to qualify me for Pans was the US Open in Orlando, Florida. This tournament was huge. There were about 11 judokas, which is a person who does judo, in my division. This tournament was a memorable one because I didn't lose a single match that day. I had a bye the first round, which is where there is no opponent to fight within your assigned bracket. I fought two matches and won both of those to get to the finals. I won my first match with a smooth bow and arrow choke. My second match was a long six-minute battle that went deep into overtime. My opponent lost by shidos, for lack of attacking.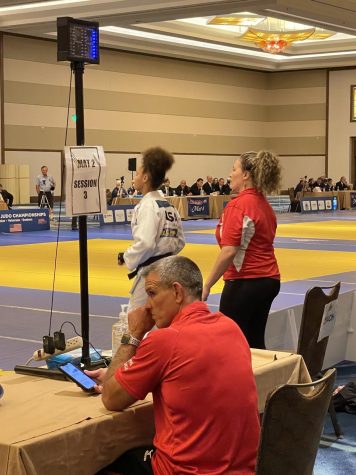 Before I fought in the finals, we could walk out to a song of our choice. I chose Drop the World by Lil Wayne, which was such a timeless moment because I have never gotten to do this before. As I was walking out, I was thinking about how I needed to win. My heart was racing, my palms sweaty, my soul ready to hear Ippon as I could picture myself winning.  Once I bowed and showed respect to my partner, I went in for an attack. She dropped to her knees, and then in a split second, I rolled her on her side, grabbed the lapel, and went in for a choke. In about four seconds, she went unconscious, which is an automatic win (Ippon) for me. This win was tremendous as it catapulted me into a tie for number one in the country for my weight and age. This also solidified my invite to the Pan American Championships.
To qualify for Pans you have to be the top four athletes in your division. I was invited to this competition, along with three other girls in the weight division. Only two of us agreed to come, as this tournament is very difficult and costly. I would be competing in the negative 58kg division under 15-year-olds, representing the United States. 
Pan Am's took place this year in Santo Domingo, Dominican Republic. The tournament location is declared by Confederacion Panamericana de Judo each year. On the day of the competition, which was November 13, I made sure I ate a good breakfast and got a great warm-up in with my teammates. My first match wasn't until about noon, so I carried on with my normal routine, playing my fight playlist via my AirPods and resting my body until match number one. I was up against an Ecuadorian girl first. The girl threw me for a wazari. I had to work my hardest to try and win the match, but I ended up falling short. It's devastating losing your first because it's a battle at that point to fight for first place. I knew that for the other two matches, I had to be mentally strong, even though I felt defeated. 
The next fight was to get out of the losers bracket and be able to fight for third. In the second match, I threw the girl for two wazari's to get an ippon. My last match was to fight for the bronze medal. I really didn't want to lose again because I wanted to leave there with something in my hand and get to that podium stand. In the third match, I was the only one attacking, so this made the other girl get three Shido's, which led me to a win. After everyone else competed, it was time to receive our medals. To get our medals, we had to walk behind the podium and wait for our names to be called. Once everyone was on the podium, they played the national anthem for that country depending on who placed first. The person who won first in my division was another American, so I was lucky enough to hear our national anthem. After getting our medals I was pretty bummed about getting third, so I focused on what I could do better the following day at the Caribbean Open.
The next day, I woke up with a better mindset. I made sure I ate another good breakfast and warmed up to the best of my ability because I was tired from the day before. This tournament was not a points event. My first match was against a Dominican girl. It is always hard fighting someone on their own turf because the crowd was full of Dominicans cheering her on against me. I was feeling pretty good about this match. The girl went in for a throw, and I went back and countered her for a full score. I was feeling really pumped about it because I knew I moved on to the semi-finals. The next match was against a Columbian. In the first thirty seconds into the match, I went in for a big throw and threw her into the ground for a full ippon with one of the best throws I have ever done on opposite side fighting. 
In the next match, I really had to compete with everything I had in me, as this was for the gold medal. I was going against the girl who placed first in the tournament the day before. I didn't want her to win again, so I made sure to focus on the right technique and strategy for this one. I threw her for half a point with Sode Tsuri Komi Goshi, which is a hip throw. It is performed by taking a grip on both opponent's sleeves, holding one high above the head (the right one when done right-handed)—turning in to face the same direction as the opponent, and pulling them over the hips. The second throw was Sode Osoto. I used the same grip, but I faced the opposite way and threw her by sweeping her leg. Both throws gave me two wazari's, which is a win. I stood up and was beaming with happiness. I bowed and showed respect to my opponent and had a welcoming congrats from my Sensei Carrie Chandler and my mom. Team members from the United States also told me how proud they were of me.
Several hours later, once all the matches were over, everyone received their medals. Hearing the announcer say in Spanish, "Gran campeona de los estados unidos, Jayda Fulp," was the best feeling ever. I held my hand over my heart proudly when our National anthem was being played, while I stood proudly on that first place podium slot.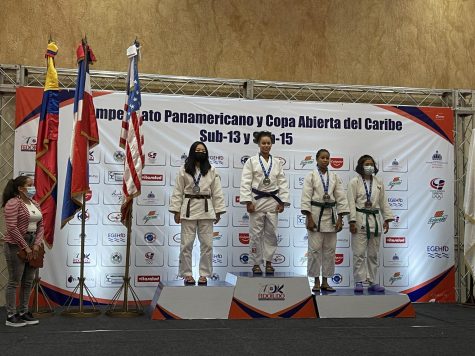 These tournaments showed me things I did well, things I can improve on, and everything in between. Some things I did well were toughing out through my weight cuts, being a good teammate, good attitude, bouncing back from my losses, and kept going back to what was working. Some things I can improve on is getting more rest the day before the tournaments, picking better partners for warm ups, when losing don't burn time on the ground, and to let things go. I had such a great experience traveling and competing in so many different places around the country. This was also my first time traveling outside of the United States as well this year. I am thankful for this journey as a person and as an athlete. I am just getting started. 
Next year is the year I will be turning fifteen, which moves me into a bracket called Cadets. I plan to fight at -63 kilogram as my assigned weight division in 2022. I will continue to train hard with a regimen of technical practices, weight training with a balance of cardio, and eat like an athlete. This division will be tougher, as the girls are older and more experienced than me. My goal in 2022 is to try and earn a spot on the Cadet World team to represent the United States around the world. "I never expect to lose. Even when I'm the underdog, I still prepare a victory speech" said Nick Delpopolo.