House of Gucci is The Movie to See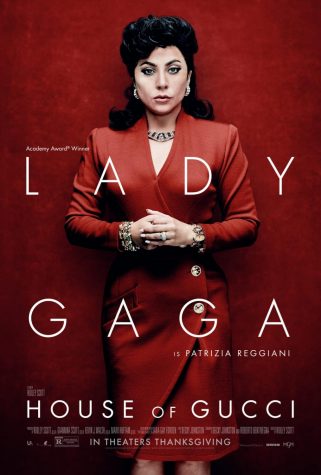 The House of Gucci is the movie to see this holiday season. Everything about this movie is amazing. 
The movie stars Lady Gaga as Patrizia Reggiani, the social-climbing, money-hungry wife of the quiet heir to 50% of the Gucci empire, Maurizio Gucci. Maurizio is played by Adam Driver. The movie is about their complicated relationship, which begins as a fairytale romance then quickly turns into a trainwreck. 
The acting throughout the film is amazing. Lady Gaga did a total vocal transformation for the role of Patrizia. When she speaks for the first time you would not recognize that it was her voice. Gaga has said in many interviews that she worked for months on the thick Italian accent of Patrizia, and her hard work paid off. Without Gaga as Patrizia, the whole film would not have been the same. 
"It didn't sound like Gaga at all," Michelle Wilkinson '23 said.
Adam Driver killed his role as Maurizio Gucci as he perfectly captured the shy, lanky Gucci heir. Driver was able to make the audience fall in love with him as Maurizio, and feel for him when he was cut off from his family. He was also able to make the audience hate him when he cheated on Patrizia. The other notable actors in the film such as Al Pacino, who played Aldo Gucci, also did a great job. 
You also want to see this movie to get a deeper look into the Gucci family. The family has many flamboyant members. Jared Leto played Maurizio's cousin Paulo Gucci, an eccentric and borderline crazy designer for Gucci. Paolo's character was a light-hearted addition, whose presence in the film was able to give the audience a few laughs. Salma Hayek played the role of Patrizia's fortune teller and personal confidante Pina Auriemma. Pina is a necessary character in the film. Without Pina, Patrizia would not have been able to successfully find a team to kill Maurizio. 
The House of Gucci is out in theaters now. There are showings at every theatre in Fort Worth, but you cannot stream this movie yet.
"It's now my favorite movie. Gaga did so well," Alex Long '23 said.