School Sneakers
An Investigation of FWCD's Footwear
I was a little bit out of my fashion expertise when I predicted that Wooden Clogs and Feathers would make a resurgence in 2021 fashion. Actually, I was very wrong. By now, I thought that US Division Head Peggy Wakeland would have transitioned the plaid uniform to complete denim for the sake of modernization; however, FWCD regalia has gained attention on social media for the pure insanity of high schoolers wearing jumpers.
As a student of FWCD, you surrender some rights as soon as you step on campus. For example, I am not allowed to publish anything about Helen Keller on The Quill which I believe is outrageous. As students, we are also required to adhere to the dress code of oxford shirts, khakis, and plaid jumpers. Our one form of self expression in our clothing is our footwear. 
We can wear sneakers, boots, dress shoes, and even wooden clogs if we so choose. I have something in between an affinity and an obsession for sneakers. I love learning about the history and heritage behind brands and particular models and colourways. In my free time, I've dabbled in reselling shoes, but I lost all my day-trading money on a very unwise investment in a pair of Air Jordan 5 Oregons that look like Mike Wazowski, if he was a shoe. I don't normally photograph feet, but I've taken the liberty of documenting some of FWCD's most unique footwear and compiling them in this article, all for the reader's pleasure.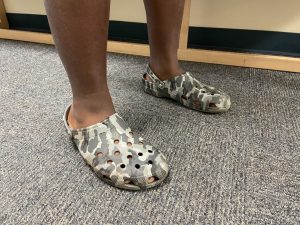 Aiden Boaitey '24:
Aiden Boaitey '24 is the first person that I have ever met with so much confidence, that he is above wearing socks to school. Crocs in any situation radiate a certain Florida level of maniacal tendencies from the wearer. Everything is fun and games until Mark Lichaj requires you to wear his gym shoes and socks because your Chemistry class is doing a lab involving fire, and you're wearing rubber clogs.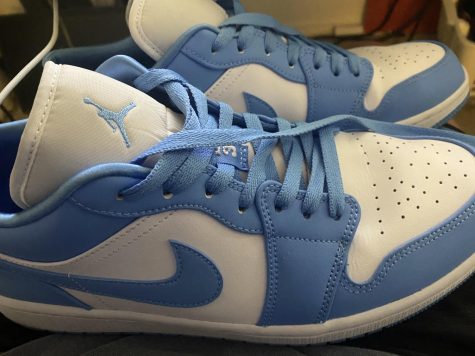 Connor Campbell '22:
Most FWCD students know Connor Campbell '22 for reportedly being a direct descendant of Andrew Jackson, being 100% American, owning a private island, and being a Federalist. His red mop may attract all the ladies, but so do his "Woman's Exclusive" Air Jordan 1 Low UNC. Yes, these shoes were only made in womens sizes. If you don't believe me here is proof: notice the "jumpman" on the tongue of the sneaker. This particular color has only been released on this model twice with only one major difference, besides the difference in gender sizing. The shoes designed for men's feet have a tag stitched into the tongue reading "Nike Air," whereas the "Women's Exclusive" traded the tag for the embroidered Air Jordan logo. Next time you see Campbell in the halls, congratulate him for excelling in his feminist pursuits.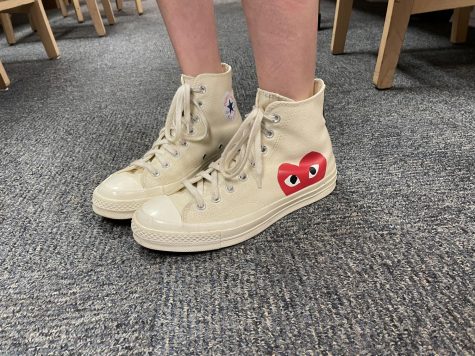 Holland Link '24:
The one person that I would dare say has the possibility to compete with my school day drip is Holland Link '24 (don't tell her this, but I'm jealous of her sweatshirts). Recently, Link wore the Converse x Comme des Garçons Chuck 70 to school. Not often do two brands come together to create a timeless piece of art, such as these shoes. For example, Swarovski joined forces with Nike to create a $450 Air Force 1, covered in retroactive crystals.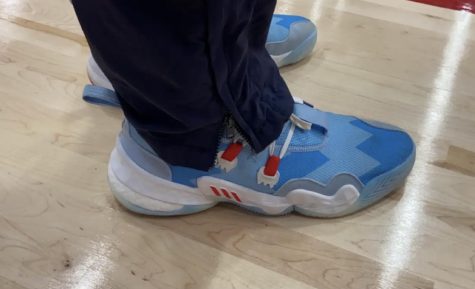 Carter Daly '22:
Trae Young is arguably the most hated man in New York City. Yes, even more than the musty Elmo in Times Square. During last season's NBA Playoffs, Young and the Atlanta Hawks defeated the 41-31 New York Knicks, knocking New York out of the tournament in the first round. This season, Young is averaging 27.3 points per game (the second most in the NBA), all while looking like a used lollipop with lint stuck to the top. As someone who has a significantly better haircut, Harvard Football commit Carter Daly '22 has decided to take a step back from football, this season, to focus on his true passion, balling out. This year, Daly is wearing the Adidas Trae Young 1 in the "Ice Trae" colourway to represent how cold he is from anywhere on the court. He has currently only made one three-pointer, in both games and practice, this season.
Marshall Lehman '24: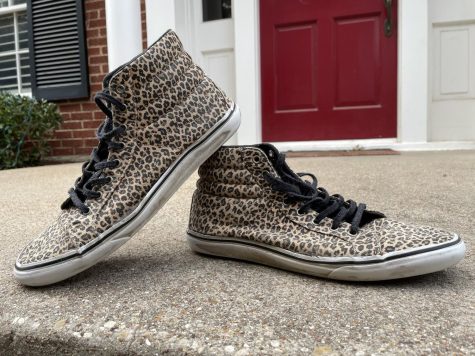 Is it narcissistic to write about my own sneakers? Of course it is, but I'm going to do it anyway. 2016 was a weird year. Drake, the Certified Lover Boy, confessed his love for Rihanna on live TV, to which he received a friendly peck on the cheek; Jake Paul was relevant; clowns were terrorizing people; and we all mourned a gorrilla. On top of all that, fifth grade Marshall Lehman walked into the FWCD's Mason Middle School with a leopard-print Vans SK8 high-top. Yes, I made a conscious decision to wear these to school. I strutted into school like I was about to perform "The Lion King" on Broadway. These shoes came into my possession rather unexpectedly. My grandmother gifted me some costumes that TCU's Theatre Department was discarding because they wouldn't use them. Along with these sneakers I also inherited a muscle padded shirt and a gilly suit, all of which sit in my closet till this day. Although these sneakers are held together by glue, they have made an appearance on the Quill before in my article, "The Renaissance of 2021 Revives Past Fashion Trends."
Although my sense of fashion is widely debated, I know for a fact that my opinions on sneakers are completely objective. I know more about shoes right now than I will ever know about Spanish. What started as an interest, became an obsession, then a disease. Consider this article therapy. With that being said, if any unsightly sneakers are spotted on the feet of FWCD students, don't be afraid to email me at [email protected]. Just remember: if you see something, say something.