Tasting Cinnaholic's Over the Top Rolls
We have all had cinnamon rolls before. You know the taste of the warm, gooey glaze, the sweet cinnamon taste, and the big, fresh spiral roll. But have you ever gone to a restaurant that just specializes in cinnamon rolls?
Cinnaholic is a gourmet cinnamon roll bakery. One of Cinnaholics' best qualities is that the cinnamon rolls are freshly baked and 100% vegan, dairy and lactose-free, egg-free, and cholesterol-free. Cinnaholic has bottomless flavors, offering 40 different frostings and toppings.
Cinnaholic was even featured in Shark Tank, an American business reality television series. The owners of Cinnaholic, Shannon Radke and Florian Radke, were offered 200,000 dollars in exchange for 40 percent equity by investor Robert Herjavec.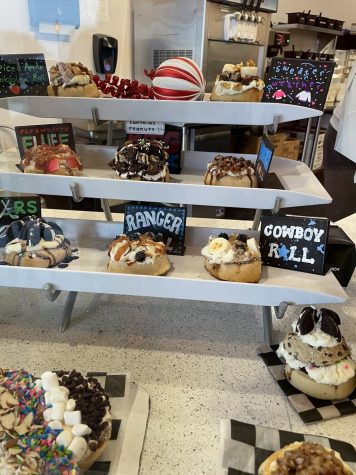 I decided to see what Cinnaholic was all about. I ended up getting three flavors: cinnamon, s'mores, and cookie dough, each for $5.88.
First, I tried cinnamon with low expectations because there was a lot of glaze, and it looked pretty average. However, good food isn't always pretty. The flavor is sweet but not too sweet and has a good, original cinnamon roll taste. The roll had an overall good consistency. The warm cinnamon roll melts in your mouth. It gives you exactly what you want in a classic cinnamon roll. I rate it a 10/10.
The s'mores looked very yummy. It had marshmallows, chocolate drizzle, graham cracker crumbs, and the cinnamon roll base. The chocolate drizzle tasted more like a dessert than breakfast food. The marshmallows are a good sweet topping. Overall, it's a good cinnamon roll, and people with a sweet tooth would love this flavor. I rate it an 8/10 because it was a little too sweet.
The cookie dough is a very pretty cinnamon roll. It has chocolate icing, chocolate chips, cookie dough chunks, and again, a cinnamon roll base. The cookie dough is an interesting combination with cinnamon. It is sugary, and chocolate-lovers would love this flavor. The consistency reminds me of a cake texture. I rate it a 6/10 for being too gooey and too chocolatey.
Overall, Cinnaholic had exactly what you want in a cinnamon roll. They had fun flavors and endless combinations for people with adventurous taste buds. If you are a cinnamon roll lover or sweet tooth, you should definitely go eat at Cinnaholic.