The People v. Falcon Quill: American Crime Story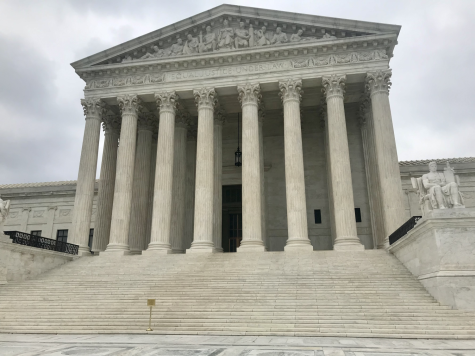 The Falcon Quill is under attack. As we speak, the Quill is gearing up for the biggest battle of its life, a legal battle.
On the morning of February 10, 2022, the Managing Editor of the Quill, Caroline Sanders '23, checked the Quill's official email to find a communication from the Law Firm of Higbee & Associates.
"I thought that it was a spam email," Sanders said.
Further inspection revealed that Higbee & Associates, on behalf of Reuters News Agency, was suing the Falcon Quill over a copyrighted image for as much as $150,000. Gasp. Sanders beckoned Wallace over to the computer. A second gasp. Wallace turned to address her students, informing them of the lawsuit. The newsroom erupted. Resident legal expert, Madeline Mehall '25, sprung into action, telling everyone that there was no worry to be had because the Quill doesn't garner a profit from newspaper sales and online views.
As it turns out, there was worry to be had. The hit podcast "WINGING IT," featuring Macie Mallick '22 and Olivia Neve '22, had raked in thousands of dollars for the paper and was known world-wide, achieving the accolade of second most listened to podcast on Spotify in 2021. With this knowledge, Higbee & Associates continued their attack on the Quill.
The image in question was of Florida State's Wide Receiver, Kelvin Benjamin, making a difficult catch over Auburn's Cornerback, Chris Davis Jr., resulting in a touchdown during the 2013 National Championship. Published with Garret Podell's '15 article, "The Time Was Right," in January 2014, the image didn't ruffle any feathers, however, eight years after the initial publishing of Podell's story, Reuters News Agency took issue with their image being used on an article that has gotten 51 online views since it's debut.
After absolutely zero discourse between Wallace and Higbee & Associates, a settlement of $1380 was offered. Mehall liked the Quill's chances in court, so they decided not to take the settlement, rather battle the charges in court. The Quill only raised $500 in ad sales this year, and already spent it on glossy paper for their latest print edition, so Wallace was forced to hire the FWCD Debate Team to defend the Quill in court because they couldn't afford a reputable law firm.
The trial has been set for 5 March, 2022. To support the Quill and the Debate Team, Upper School Head Peggy Wakeland has already approved an "out-of-uniform school spirit day" to support those representing FWCD in the American Judicial System. Admission to the trial will be offered to FWCD students on one condition: don't break the bench.