Iced Treats and Warmed Hearts
Located at the intersection of Camp Bowie and Merrick St and next to the Texaco gas station, Mr. Jon's Shaved Ice is a favorite place for FWCD students and families alike, being a Fort Worth staple for the last 17 years.
However, it was in 1991 when Jon Anderson opened his first ever snow cone or "shaved ice" truck. Named "Snow Delight," the truck was a spur-of-the-moment idea. Anderson had this stand open for about 14 years until he decided to move to his current location in Fort Worth in 2005. Anderson shared that he decided to move because it would be easier for him to work his stand through a truck and Arlington did not allow that. 
"I saw this empty little building in Arlington that used to be an old hotdog stand, one that you could drive through on both sides…and I just thought that could work as a snow cone stand," Anderson said. "I'd never done it before and I didn't know anything about snow cones. I just wanted to give it a try, and well, it worked out."
Anderson began his truck with no prior experience making snow cones. After coming up with his idea, however, he started researching and learning more about shaved ice. He even visited other snow cone stands in order to understand the creation process. But for the most part, he explained that he learned how to do it all on his own, mainly from experimenting and trying new things every day. 
"Even after 31 years of doing this [having a snow cone stand], I still learn new things all the time," Anderson said. "I might be working one day and realize that, after all this time, I've never made this flavor combination before.'"
Mr. Jon's Shaved Ice is known as being "New Orleans style" shaved ice. Anderson explained that this is because of his method of cutting ice, which originated in New Orleans. He orders his snow cone concentrate from New Orleans and then makes his flavors himself. He also uses a machine that shaves his ice very finely and horizontally. This is different from Hawaiian shaved ice, which actually cuts vertically and has a slightly different texture. Anderson stated that he tries to shave all of his ice at zero degrees or even sometimes at negative ten degrees in order to get a better product. 
Currently, Mr. Jon's Shaved Ice offers around 100 different snow cone flavors, allowing for possibly thousands of flavor combinations. Anderson said that his personal favorite flavor would have to be a classic, cherry, and his go-to combination to eat is cherry grape orange. According to his years of experience, the most popular flavor he sells is Blue Coconut. Anderson states that every year it is the flavor that outsells everything. 
Afterwards, when asked what his "weirdest" flavor was, Anderson said it would have to be "Pickle Juice."
"I don't have anything against pickles, but it's just not a regular shaved ice flavor," Anderson said. "So you would be surprised but, I sell gallons and gallons of it every year, it's pretty popular."
Mr. Jon's Shaved Ice also sells sour snow cones which have different levels. You can either get your snow cone "a little sour," "medium sour," or as Anderson likes to call it, "sour that can make you cry." He also gives out puppy snow cones, which are just shaved ice with a little cream on top.
"Definitely the people…I get so many young people that come by here and it's such an experience watching them grow up," Anderson said when asked what his favorite part of his job was. 
Mr. Jon's Shaved Ice sells snow cones with sizes ranging from extra small to extra large. He only accepts cash or change and his prices are all below $10, depending on what size and add-ons you request.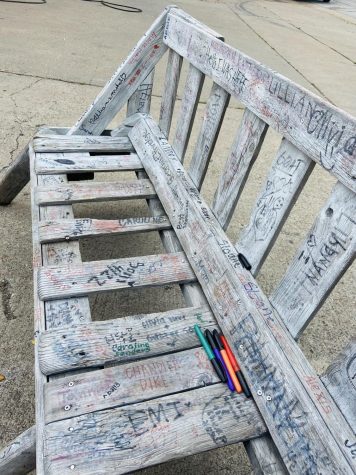 Another unique aspect about Mr. Jon's Shaved Ice is the benches he keeps outside his truck. Written all over them are signatures and names of customers who have visited his truck. Anderson leaves sharpies out on the benches for people to use. Anderson remarked how some people even draw pictures on the bench. However, because he gets so many signatures, Anderson power washes the furniture before every season so that there is room for more names.
Anderson recalled that, back when Instagram first became popular, a young lady that used to come by his truck frequently gave him the idea to start the account and actually set it up for him. Since then, you can always count on seeing one of his shaved ice posts on your feed or maybe even a picture of yourself on his account. 
"Mr. Jon's is a really convenient place to meet with friends for a good snow cone," Sutton Howard '23 said. "It's been there for as long as I can remember and I love going there, especially after practice or school."