The Stolen Heir Blows Readers Away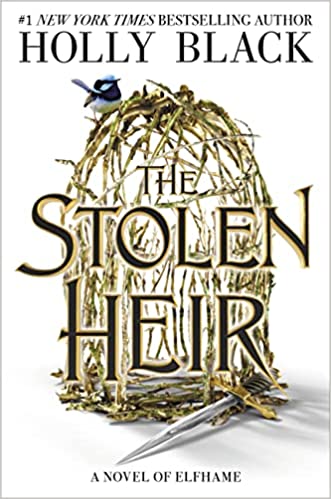 Enchanting, captivating, magical… There are not enough fantastical words that can begin to describe all the emotions I experienced while reading "The Stolen Heir" by Holly Black. This book was exciting and took the concept of plot twists to another level. 
"The Stolen Heir" takes place in the fantastical combining worlds of Elflame and "The Mortal World," which some readers may recognize, since this is the same universe in which "The Cruel Prince," took place. This is the story of what happens before Oak and Wren were still small children.
This book, however, follows the story of Wren, a runaway queen, in the mortal world where she hides out, taking small revenges on Elflame in any way that she can. This is where the story begins.
Oak, the prince of Elflame, is on a quest to save his father, Madoc, from Lady Nore, Wren's mother, and needs Wren to help him. 
Oak is known to be the show-off type. He is known for his lack of training in the battlefield and his egotistical demeanor. Wren is skeptical to follow in his path, but with the hunger for revenge over her mother, Wren agrees and both of them set off on their quest. 
Now this is not the first time that Oak and Wren have met, as they both grew up in court and were even promised to be married but with Wren running away all possibility of that happening ended.
Now, I want to make it clear that there are more people who follow along in the quest: Tiernan, Oak's guard, and Hyacinth, their prisoner. 
Tiernan was sworn to be Oak's guard appointed by the Queen of Elflame and both have been good friends ever since. Hyacinth was sworn to Madoc before, and because of his misplaced loyalty, is now a half-cursed flacon, embarking on the quest, bridled.
Black was able to make both side characters entertaining, while not taking over the story, And also making their dialogue relevant and amusing. Black makes the side characters  more interesting than what they seem at first glance.
"The Stolen Heir" is the first book in a confirmed duology. Its genre is Fantasy, and its major plot is about fey-politics with an enemies-to-lovers side plot. Which means that the book goes through power struggles and battles to see who can be on top and have the most power, while love is also found on the way. 
To some, the plot might have been deemed "predictable," and although I might have called some parts of the ending, there was still a lot that left my jaw hanging open. I was l-i-t-e-r-a-l-l-y shocked by some of the things that went down towards the end.
I'm excited to see how Holly Black will wrap up Oak and Wren's story, and I want to see more into the side characters' storylines, and maybe even read the next book from Oak's point of view. 
"The Stolen Heir" was a captivating story, but I would not recommend this book to any beginner fantasy reader or anyone looking for a love story, since that is not the point of the book. 
But, if this article awakened your fantasy book interest, I would recommend starting off with "The Cruel Prince" series. This trilogy will prepare and excite you for this upcoming duology, "The Stolen Heir."
All of these books can be found in the Fort Worth Country Day library, so no excuses. Get reading.