Upper School Students Parti at the Mardi
On Friday, February 24 the US Student Council hosted the second annual Mardi Gras Dance. The dance started at 8:00 p.m. and went until 10:00 p.m. 
The students were required to purchase a ticket to get into the dance. The tickets were $15.00 per person.
The dance was planned by the Student Council sophomore class representatives, including Lyle Crumley '25, Chappell Carter '25, Jack Homan '25, and sophomore  class president Elizabeth Dike '25. They put on a great party for the students of the Upper School. 
Senior Eti Lois '23 was the DJ for the evening, and kept the students and faculty very entertained with his music. 
"I like to play the music people want to hear. I hope to carry on my DJ career in college and later on in my life," Eti Lois '23. 
The US Commons were decorated in purple, yellow, green, and gold. There were colorful streamers, balloons, and many more decorations lining the Commons' walls and ceilings.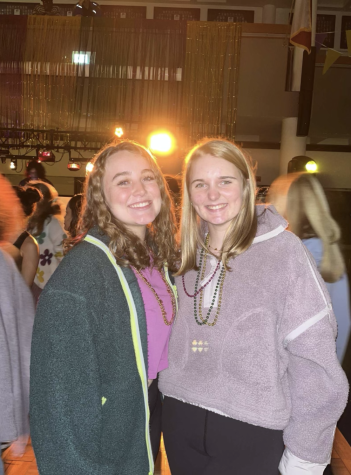 "I enjoyed going to the Mardi Gras dance with my peers and seeing all the hard work the sophomore representatives put into the dance," student Body President Jeremy Henderson '23 said.
There was a dance floor installed in the commons. The Mardi Gras dance is very similar to the howdy dance at the beginning of the year as well as the Homecoming dance in September. 
Many teachers chaperoned the Mardi Gras dance. The teachers were US History teacher Colin Douglas '06, US Spanish teacher Molly Risekwick, US Science teacher Mark Lichaj, US Science teacher Christy Alvear, US Math and Scince teacher Heather Peace, US Science teacher Stephen Dickey '89, Associate Director of College Counseling Sarah Casarez, Upper School Assistant Divison Head Paula Weatherholt, and Upper School Division Head Peggy Wakeland.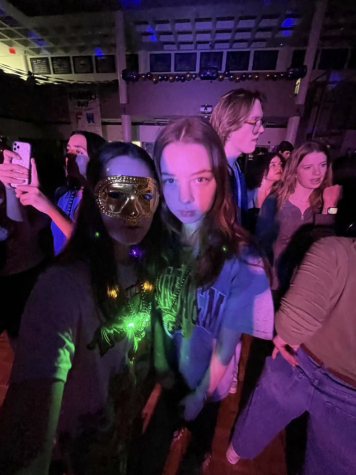 "It was a blast. It was fun to see the hard work of the student council pay off and for the kids to have a good time," US History teacher Colin Douglas '06 said.  
The school had many Mardi Gras-themed activities and treats leading up to the dance that Friday. The day before the dance, students were allowed to wear green, yellow, and purple shirts with uniform bottoms to school, along with beads and accessories. The Student Council also handed out beads and cookies to students on their way back from lunch on Friday. 
"I loved getting to work together with the rest of my representatives in my class to create a fun Mardi Gras dance for the upper school to enjoy," Elizabeth Dike '25 said.