There's a lot to say about Lance Stroll. For those who don't know, Lance Stroll is one of 20 drivers in Formula 1, one of the most esteemed motorsports in the world. Recently, the racing series has seen an influx of viewership, particularly in the United States, after the release of the Netflix series "Drive to Survive."  
While the sport has gained popularity, Stroll has not. Stroll drives for the Aston Martin F1 team, owned by his billionaire father Lawrence Stroll; nepotism if I've ever seen it. This bit of information could be overlooked if Stroll actually performed decently in the same car that his teammate Fernando Alonso, 2x Formula 1 World Champion, has scored several podiums in. Instead, Stroll frequently struggles to finish inside the top 10 each race weekend, while also hinting at rumors of making a career switch to professional tennis, which frankly, I would not mind as long as he is capable of defeating Novak Djokovic. 
But with his billionaire daddy giving him a place in F1 while many capable drivers are left sitting on the sidelines, and Stroll appearing to not be entirely committed to such a highly regarded sport, many are left wondering who would be most deserving of his seat in F1. Some might look internationally for competent drivers, but personally, I think we have a superb selection right here at FWCD in the form of our faculty and staff. So, who are the best of the best? Angeles Casanova? Myrna Sam? Melissa Williams? Let's find out.
Story continues below advertisement
Jon Shipley 
Coming in at number ten is Upper School English teacher Jon Shipley. A very wholesome and friendly guy and an incredible English teacher, Shipley has also shown his abilities behind the wheel of a car. After recently purchasing a brand new Mini Cooper, Shipley put his speed on display as he was peeling out of the parking lot one day after school; nearly hitting Jack Cimo '24 in the process. Some might be concerned by this, but I think the ability to make bold moves in crucial moments in a race is critical to being a successful racing driver, and Shipley has flawlessly demonstrated that he is capable of making those decisions. Not only that, but Shipley has lived long enough to be adapted to any type of driving surface, which will come in handy when having to transition from the Melbourne Park road course to the bumpy streets of Azerbaijan.
Adam Hogg 
Hogg, middle school history teacher, originally hails from Canada, the same country Lance Stroll is from. Canadian drivers have struggled recently in F1, the most recent (besides Stroll) being Nicholas Latifi, son of another Canadian billionaire, except this one does not own an F1 team. Despite being humorously dubbed the "GOAT" by countless fans, Latifi is now pursuing a degree in business at the London Business School, perhaps in hopes of owning his own F1 team someday. In the meantime, Canadians need a driver from their country to perform, especially since they host one of 22 F1 races in the season. Since Stroll is not getting the job done and Latifi abandoned the sport, Hogg may just be the next Canadian superstar.
Laura Terry 
Beloved former fifth grade math teacher Laura Terry comes in at number eight on this list. Recently, she has started working part time at FWCD, stirring rumors that in her free time, she has undergone intense training to prepare her for the rigor of Formula 1. Not only known for her algebra knowledge and her no homework policy on Monday nights, Terry is notorious for keeping her bottom floor hallway clear of any "chickadees" during recess. Her ability to defend this hallway is uncanny, and these skills would transfer nicely over into Formula 1, especially in the Aston Martin which typically starts near the front of the grid. 
Debby Arnold 
Don't let Arnold's friendly demeanor and slow-paced tennis warm ups fool you. When Arnold, middle school Spanish teacher and varsity girls tennis coach, gets behind the wheel of a car (or van in my experience), the other cars on the road don't stand a chance. I had the lovely opportunity to see first-hand Arnold's capabilities on the tennis team's van ride down and back to Austin. On the way down, Arnold successfully overtook several cars with ease in both rain and shine, making tactical lane switches to ensure that the team arrived at Buc-ees in time to quell our hunger and relieve our bladders. But it was the drive back to Fort Worth that was the most impressive. After an exhausting two and a half days in Austin, everyone was wiped out. Everyone but Arnold. Looking just as awake as she did on day one, Arnold cruised down the highway, unfazed, at a crisp 10 mph+ over the speed limit while vibing to "Memories" by Maroon 5 on the radio. In order to achieve success in Formula 1, you have to be able to keep a level head in a wide variety of situations, which Arnold seemed to handle exceptionally well. It's very possible we'll see Arnold behind the wheel of an F1 car by the end of the 2020s.
Jennifer Giroir
There's a lot that can be said about Upper School history teacher Jennifer Giroir, but most notable is her raw speed behind the wheel. When she realizes that she forgot to bring her Oregon Trail T-shirt to class on the day her students are playing the Oregon Trail game, it's game time for Giroir. Despite living 30 minutes away from campus, through grit and determination, Giroir is able to make it home and back within a stonking 15 minutes, including time to walk to her car. How Giroir does this is a mystery, but how someone can drive fast does not matter in Formula 1 as long as you can do it consistently. If she can keep the mindset that she needs to get home before her prized jambalaya turns cold and stale, Giroir has a solid chance at achieving multiple podiums in Formula 1.
Kristin Larsen 
Most students know Larsen, director of colleges counseling, as the person who meticulously revises their college essays or as the one to quietly curse (unsuccessfully), while trying to login to the Schwartz Room computer whilst several juniors count the minutes of their free period -sorry study period according to the administration -tick away. However, few have seen what Larsen is like zipping down Bryant Irvin. Her cheery attitude does not disappear and she will even hold a lengthy conversation with you, as per usual. Except this time, Larsen is going at a minimum ten miles per hour over the speed limit while only observing the road half of the time. So much for the Distracted Driving presentation. Looking at the positives though: if Larsen is able to maintain such a high speed while only half paying attention, imagine the possibilities if she were 100% focused driving behind the wheel of an F1 car. As a bonus, she could speak to her race engineer for the duration of the two-and-a-half hour race.
Cathy Gullo 
Kind, sweet, fun-loving Gullo. Gullo, Middle School theater teacher, has a similar driving style to Larsen. Both seem to have a pleasant smile on their faces when burning rubber, but while Larsen shows her speed on Bryant Irvin, Gullo does it on FWCD's campus, seemingly unfazed by the security, at least one of which is armed. Students would likely get a detention for this sort of activity, but Gullo is just too quick for former Detective Slayton to see tear through the guard gate while simultaneously running over Bob Booth, Upper School Spanish teacher. If armed security guards are not enough to slow Gullo down, then 19 drivers with mostly ridiculously wealthy parents would stand no chance. Penalties for speeding in the pit lane could cause problems for Gullo, but if she were to enter into F1, you would be seeing a lot of her on Victory Lane.
Mark Lichaj 
Legendary Lichaj. Lichaj, Upper School chemistry teacher, has connections all over the world. He grew up in Chicago, under the watchful eyes of his Polish parents, and eventually moved to Italy to "teach." But was that really what he was there for? As many of you probably already know, Italy is the home of one of the most prestigious car brands and Formula 1 teams in the world: Ferrari. So while Lichaj claims that he stayed in Italy for so long because he loved teaching the kids, which is obviously false, it's likely he was secretly working for Ferrari during this time. Eventually, the Ferrari team must have discovered Lichaj was not actually Italian, a crucial characteristic needed to be working for the team, and so they shipped him off to Fort Worth leaving Lichaj with two options: obtain Italian citizenship and rejoin the team or pool together a large sum of money and come back to the team as a driver. Lichaj seems to have chosen the ladder, heavily investing in the stock market while earning money on the side teaching high school students how to make meth and turn gloves into grape juice. In the coming years, it's very likely we will see Lichaj turning in his beige Volkswagen for the vibrant red prestige of a Ferrari F1 car.
John Cordell 
Instagram influencer and Upper School physics teacher John Cordell is one of the most knowledgeable people you will ever meet. Even if you don't know what he is talking about, it makes perfect sense in his head, including the physics behind constructing and driving a Formula 1 car to its fullest potential. It might take Cordell a little while to adjust from driving a 2015 Nissan Versa Note Hatchback to an F1 car, but if Cordell can handle holding a selfie stick and striking up conversations with strangers while rollerblading on the Trinity Trails, then he can handle the challenges of F1. He's also not afraid to try new things, such as lighting a model rocket engine in his classroom or attempting to break into an electrical box next to the Kindergarten playground. Sometimes you have to get a little creative on track, and now without the confines of teaching physics to a group of high schoolers, Cordell can let his creative juices flow, likely leading to several wins and championships in F1. He would also likely be very popular amongst the fans, as Cordell rivals the attractiveness of the Ferrari boys Charles Leclerc and Carlos Sainz, the two drivers all F1 fans swoon over.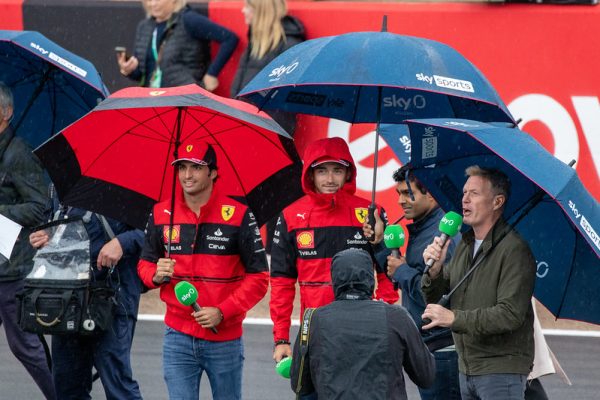 Bob Booth 
Finally, coming in at the top spot is the one and only Bob Booth, Upper School Spanish teacher. Booth is the faculty member most familiar with racing. Whether it's F1, Indy Car, or some of the smaller racing series, Booth has likely been to at least one of the races in person, and that's still probably an understatement. In the classroom, Booth is quite the presence. Unrelenting in his critiques of your Spanish or French speaking abilities, he quite honestly does not seem to care if a student can't handle his heat or if a student wants to make a jab at him. You have to be able to maintain a strong mentality in F1, especially with all of the fans and critics ready to jump on the first mistake you make, whether in a race or your personal life. This is right in Booth's wheelhouse, and to be perfectly honest, it would be the fans and critics that should be worried about Booth critiquing them. 
Well, that's everything. Make sure to be on the lookout in the next few years to see if any of these incredible faculty members have earned a spot in F1 or are still slumming it out at FWCD until a seat opens up.