2017-2018 FWCD National Merit Semifinalists, National Merit Commended Scholars, and National Merit Hispanic Scholars
Hang on for a minute...we're trying to find some more stories you might like.
Fort Worth Country Day announced their 2017-2018 four National Merit Semifinalists, eight National Merit Commended Scholars, and four National Merit Hispanic Scholars.
The National Merit Scholarship Program is an academic competition that began in 1955 to honor and award scholarships to high-achieving students. Participants enter the program by taking the Preliminary SAT/National Merit Scholarship Quality Test (PSAT/NMSQT) and by meeting the program entry and participation requirements. Although 1.6 million high schoolers take part in the competition, only the 50,000 students with the highest PSAT scores are recognized as Commended or Semifinalists.
FWCD's College Counseling honored Lexa Brenner '18, Michael Chan '18, Nikhil De '18, and Lance Mayhue '18 as this year's Semifinalists.
College Counseling also recognized the National Hispanic Scholars: Griffin Grubbs '18, Sydney Johnson '18, Dominque Madrid '18, and Westen Mulqueen '18.
The Commended Scholars are Ben Bauman '18, Ben Belton '18, Bridget Chambers '18, Sage Clay '18, Mack Newberry '18, Lucas Raynor '18, William Wade' 18, and Jason Wu' 18.
"Every year, we are very happy with our students' performance," Kristin Larsen, Director of College Counseling, said. This year was especially great… We are extremely proud of everyone." Larsen also said that the amount of FWCD's National Merit Semifinalists and Commended Scholars increased this year, which is impressive considering that only 16,000 Semifinalists and 34,000 Commended Scholars are recognized nationwide.
The National Merit Program also offers scholarships to a select 7,500 Finalists and 12,000 outstanding participants.
"I am really happy and grateful for the opportunity to be a part of [the National Merit] program," Brenner said.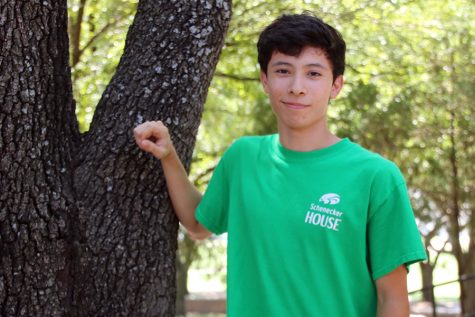 Diego Casanova, Editor in Chief
Diego Casanova is a junior at Fort Worth Country Day. He is a first-year reporter at the Falcon Quill staff. Outside of the Quill, he runs cross country...