Falcon Lacrosse Curse Lifted
Hang on for a minute...we're trying to find some more stories you might like.
One of the fastest growing sports in America is continuing to struggle to establish itself in the FWCD athletic community.
Ed Craver started the Falcon lacrosse program 11 years ago in 2004. Craver was the first program director and high school varsity coach. He was very successful during those years. However, he left the school in the 2012 spring season. Craver's previous assistant had been Michael Buriciga, who not only helped with the varsity team, but was also the head middle school coach. He left in 2012 as well to go back to his home in Austin. Buriciga went to college at Texas Christian University before accepting the lacrosse staff position at FWCD. He tried to help the program by talking one of his former teammates and fraternity brothers, Grant Gossett, into interviewing for an assistant coaching position with Frank Gendusa, athletic director. Gendusa, after hiring Gossett to be in charge of coaching the middle school team and in assisting with the varsity squad, informed Gossett that the new lacrosse program director would be Ralph Marino.
"[Marino] came from an older school for lacrosse. He tried to coach lacrosse like it was an established sport at FWCD but it isn't. Lacrosse is still a developing program here," Gossett said.
Marino coached only one varsity lacrosse practice before leaving his position due to a disagreement in terms of employment. His coaching style and attitude toward the game conflicted with many players on the middle school team whom he had a longer time to coach. One player, Finn Connor '18, left lacrosse during his seventh grade year to run track.
"Track seemed like the better option so I left the sport," Connor said.
He stayed in track during eighth grade year as well, but came back to play lacrosse this year as a freshman.
"I'm having a blast this year, we are getting better as a team, [and] we have a great head coach and staff," Connor said.
After Marino's abrupt absence, Gendusa promoted Gossett to be the next head lacrosse program director the very same day.
"I was caught off guard, but saw it as an opportunity to take the program forward," Gossett said.
Now there was just one lacrosse coach to be in charge of high school and middle school. Fortunately, Gossett soon received help from a FWCD parent knowledgeable about the game of lacrosse. Peter Tunnard, father of a returning player on the team, Adam Tunnard '17, helped the lacrosse program by coaching the high school players while Gossett took charge of the middle school team. After the 2013 season, the school got a new coach to help for another year while they attempted to find a permanent replacement. Jay Stouffer '09 came back after completing college, where he was captain of the club lacrosse team. Stouffer coached the middle school team and helped Gossett with the varsity lacrosse games. He could only coach for one season because he had plans of becoming a Marine. His dream of making the Marine Corps came true and he is currently in the service today.
The school was finally able to find a new head program director and middle school coach. The new program director currently coaching this year's varsity lacrosse team is Paul Reintjes. Reintjes played college lacrosse at Hobart (now Hobart and William Smith Colleges) in Geneva, New York and went on to be an assistant lacrosse coach at Rockhurst University in Kansas City, Missouri.
"One of my teammates from Hobart told me about a lacrosse head coach position at FWCD," Reintjes said.
He moved here to sell commercial insurance as well as to be head coach here at FWCD. During his first year here, his main focuses included lacrosse I.Q. and stick handling.
The new middle school head coach is Gregory Massman, who is currently a college student at TCU. Massman is good family friends with Reintjes and when he heard about Reintjes moving down to Texas for the coaching position, he asked if he could get a spot coaching as well. He was approved and has gotten the middle school team off to a great season.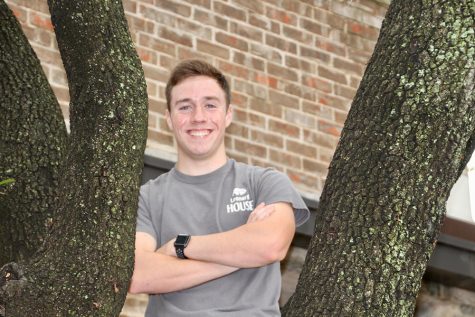 Nate Wallace, Online Editor-in-Chief
Nate is a senior this year at Fort Worth Country Day and plays three sports for the school: cross country, soccer, and lacrosse. He started going to FWCD...