Mardi Gras Parades Through Louisiana
King Cakes, pounds of beads, and tons and tons of floats. Mardi Gras Balls, no school for a week, and parties galore. 
Mardi Gras is a holiday in the South, celebrated the most in Louisiana. It comes the day before Ash Wednesday and the beginning of the Lenten season. Based on Christian practices, but also a Louisiana state holiday, Mardi Gras is widely celebrated throughout the South. In New Orleans, people crowd the streets to see the floats drive by and collect an array of beads, stuffed animals, and golden coconuts. Every adult on the float has a drink in their hand and a smile plastered on their face. 
My dad's family lives in Lafayette, Louisiana. This year, he and my sister, Courtney Comeaux '26, went to Mardi Gras in Lafayette, which is much more relaxed than New Orleans. You can actually move on the sidewalk around the parade route and there is space for people to bring lawn chairs (because the parades are long). The town brings firetrucks and police cars to ride in the parade with their sirens on, and groups of people on floats dress up in costumes to toss items to excited children. The float-riders are usually from certain Krewes, which are clubs of people that attend the Mardi Gras Balls and also hand out official doubloons (coin-style prizes) of their Krewe. The parade is topped off with a King and a Queen who ride on a float together and wave to the town. My uncle and aunt were on a float this year dressed as superheroes and one year, they dressed as alligators. My dad, Al Comeaux, rode in a Lafayette parade in 2004 on a float and was a guest of Bonaparte's Krewe. He really enjoyed the experience.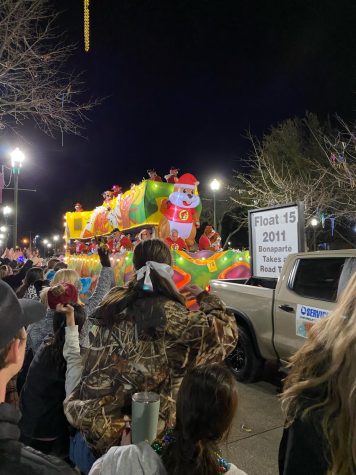 "It's the closest thing to being God," Al Comeaux said. "People were doing all kinds of fun things to get me to throw them a prize. For example, some had big posters with targets on them, many people had basketball hoops, some had upside down umbrellas, and others had other tactics. And the strange thing is, all of this stuff is worthless. Some of the items are worth three cents a piece."
Mardi Gras Balls are a big tradition in Louisiana and began in the 1740s. Everyone dresses up in decadent clothing and celebrates the French holiday. Krewes are a large part of the ball, as they wear masks so no one knows who they are. Some of the Krewes like to remain anonymous, and others don't care. 
Jennifer Giroir, Upper School history teacher and Student Council advisor, attended a ball in her hometown of Baton Rouge, Louisiana, this year. 
"The food, music, and dancing were my favorite parts of the ball. It is definitely one of the highlights of my year so far," Giroir said.
My uncle, André Comeaux, was the Lafayette Ball Captain in 2014. He planned the Ball and made props for the event.
"The great honorees of the ball were King Napoleon and Queen Josephine. I introduced them and their court," André Comeaux said. "I loved dressing up and building props. The Ball was Circus themed, so we had a clown car, an inflatable elephant, and even a spinning target that we strapped one of the circus characters onto for one of the acts. Everyone had elaborate costumes, and the Ball was like a promenade."
He explained the importance of the King and the Queen.
"After the acts, I introduced the King and Queen. They were celebrated and toasted and threw beads into the crowd of people," Comeaux said.
Another tradition during the Mardi Gras season is buying a King Cake. Cakes range from $30.00 to $100.00. One store in Lafayette, Ricky Meche's Donut King, ships King Cakes nationwide because people from out of state love the cakes and will spend crazy amounts of money to get a massive gold, purple, and green cake. The cakes are made of donut bread and are coated in donut glaze, frosting, and are filled with all sorts of creams. Before returning to Fort Worth, Courtney and my dad picked up a King Cake from Meche's that is filled with cream cheese. It is definitely the best King Cake I have ever had.
My family loves to spend Mardi Gras in Lafayette. One of my cousins, Alex Hernandez, from Lafayette, loves the season. 
"Mardi Gras is an amazing time for people to party, get together, and enjoy the traditions of Louisiana. It reminds us of who we are and what makes us different from other places in the world," Hernandez said. "I enjoy watching floats pass by and catching beads and other fun prizes with friends."
My dad loves the tradition of Mardi Gras and shares it with me and my sister. We have attended a few parades and family parties, beginning when we were barely walking. We collect pounds and pounds of beads, frisbees, doubloons, and sometimes stuffed animals.
Some schools get the entire Mardi Gras week off, but Hernandez only got Monday through Wednesday off. Parades in Lafayette began on February 10 of this year and lasted all the way through February 21. School bands walk in the parade while twirling batons, playing instruments, and carrying banners. When attending a parade, people must be attentive the whole time to avoid getting hit in the head with beads, which is surprisingly painful. 
I love the tradition and I suggest you attend Mardi Gras in one of the cities in Louisiana to learn more about this large part of southern culture.