Match Met
My View on FWCD beating TVS in the SPC Tournament
BOBI rematch. Revenge. Time to dominate. I'm not choking this one away. These were some of the more tame and appropriate thoughts running through my head at 8:00 a.m. on April 29, 2023. For the first time in decades, the FWCD Boys Varsity team had won a match in the SPC tournament and was now playing for 3rd place against TVS, home of the worst tennis courts on Bryant Irvin.
Earlier in the season, our tennis team, short five varsity players, played against TVS. We almost beat them, and even though we were using some of our JV players, I felt responsible for the loss. I had been up 4-3 in the final set of my match, but I let it get away from me and lost the set 4-6, thus gifting TVS their final needed win. That moment sucked. It wasn't just because we lost to TVS, which was definitely a part of it, but I also felt like my teammates wouldn't be able to trust me to win matches in crucial moments ever again. It also upset me that I had never beat that opponent across my three seasons on the team, and I would never get the chance to do so since he was a senior. Previously, I had lost to him 0-6, 0-6* my freshman year and had lost to him earlier in my junior year 2-8 in a practice match. Now, I had just lost to him 0-6, 6-4, 4-6. I truly didn't believe I would get another chance to play him until TVS embarrassingly lost to Casady in the semifinals of the end-of-year SPC Tournament, which lined up a rematch against our full-strength varsity lineup. Thus, the chaos began.
I went up early in the first set, taking a 5-2 lead. My opponent was making uncharacteristic mistakes, which made me think that things were about to change. They did. He reverted to his old ways, pushing, or consistently hitting the ball back (lightly), every point until he was up 6-5. Luckily, through my incredible grit and determination, or it might have been the anger fuelling me, I was able to come back to win the set 7-6 (7-4). And then, smash! I looked over to the bench and saw my opponent obliterating one of his rackets. $250 down the drain in two seconds. I'm not going to lie, this made me happy. Disappointingly, my elation would only last for the next 10 minutes.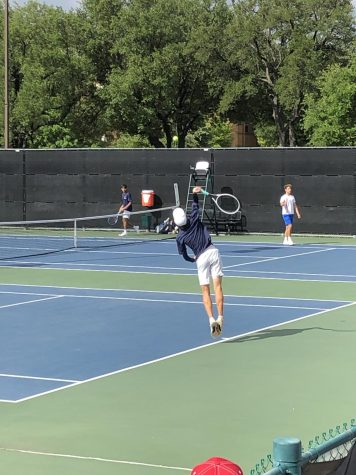 One thing to know about me is that I despise people who cheat or lie and then come out of the situation better than ever. I absolutely hate it. So, when I had won the game that would have put me up 3-2 in the second set, I was honestly (pun intended) shocked when my opponent decided to argue that it was 15-40, and not game, even after I was able to perfectly describe every point that had occurred in that game. Alas, maybe I was being too harsh. Something to know about tennis is that when an argument like this occurs, your teammates will defend you vehemently, whether you are right or wrong. Unfortunately for me, my teammates were supporting one of our doubles teams as they were struggling in their match, so I was alone on the court with no one to support me, while my opponent had several of his teammates supporting him from the stands. Eventually, I decided to move on and just win another point, mostly because I was tired of my opponent's father shouting from the crowd that the score was 15-30, which was completely wrong. But I never won the point. This was the type of thing that ticks me off, so I spiraled for the rest of the set, and lost it 3-6. That left it all up to me. We had won two and lost two of the other matches, meaning if I won, we would achieve a deserved 3rd place finish, but if I lost, we would be left in fourth place behind the terrible Trojans. So I forced myself to regroup.
The 3rd set started as a continuation of the 2nd set, and within 20 minutes, I fell behind 2-4, two games away from choking away another match against this annoyingly consistent, yet hot-headed, opponent. But, with the help of my teammates as well as the Casady tennis team, which I found to be quite amusing but also a little heart-warming, I won the next game, putting me down only one game behind in the deciding set. 
What happened next needs some context. Up until this point in the match, my opponent had already smashed one of his rackets, but he had also dropped at least 25 f-bombs. His teammate on the court next to me, playing against FWCD's very own Matthew Lobo '23, had smashed two rackets and made a similar amount of audible obscenities. So, the USTA official was brought over to our court to make sure no other incidents would occur. But of course, something did happen. 
Yet again, my opponent failed to count correctly, and argued with me that the game was not over. I much more emphatically this time (unfortunately filled with several voice cracks) argued with him. Since I was right about the score, the official awarded me the game. I then went to the bathroom, leaving my fuming opponent to curse at somebody else, resulting in him getting a warning, meaning he would automatically lose a point the next time if he were to do or say something inappropriate. While waiting to get into the singular, occupied bathroom, Jackson Grace '23 and Marco Olmos '24 came to give me some encouragement, which I honestly can't thank them enough for, because it helped relieve a lot of the stress I was dealing with at that point. Eventually, since whoever was in the men's bathroom was having some trouble, Paige Chisholm '87, the head middle school tennis coach, allowed me to use the women's restroom and guarded the door. That day was really filled with some wild experiences, which would continue across the next 15 minutes.
Returning to the court, I felt confident and relaxed, so naturally I won the next two games in the set, putting me in the lead for the first time 5-4, one game away from glory. I don't think I had ever been so nervous. Despite his warning, my opponent was still kicking the back fence and yelling many more audible obscenities, this time with a little more variety. Unfortunately, the USTA official did not penalize him, yet. I managed to take a 40-30 lead in the final game, but much to my chagrin, I lost the next two points, giving my opponent the opportunity to win the game and extend the match. But I was not about to let this erratic senior get away with all of his antics. So, after alternating winning and losing points, I finally got myself to match point, but that's where the match ended. After winning the previous point, I had turned away from the court to go pick up a ball, but while this was happening, my opponent, in front of the official, slammed his racket against the net, screamed yet another profanity, and was disqualified from the match. That was it. Pure elation ensued. I threw my racket and hat into the air, let out a massive "LET'S GO," and turned towards the gate where my teammates were standing. Coach Hatcher was the first to come onto the court and gave me a massive hug. Chris Baker '23 was right behind him and did the same. Then the rest of the team came flooding onto the court, which led to a lot of jumping and screaming. As we walked off the court, my opponent's father came down from the stands to argue, unsuccessfully, with the USTA official. What an ending.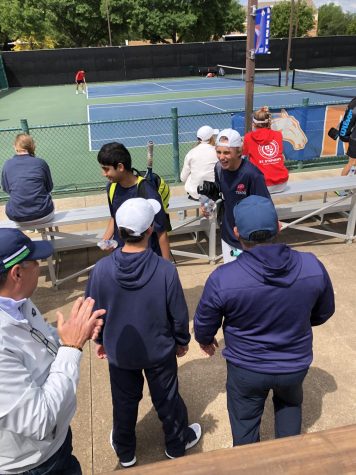 As we boarded the bus, all with smiles on our faces, our coach reminded us of our first day of practice. That day, he had told us that every match, win or lose, we would conduct ourselves in a respectful and honorable manner that was becoming of FWCD's core values. All season, we did not waver away from these words, and it paid off, finishing our season off with a BOBI win and 3rd place finish in SPC.
*See Double Bagel story for more details